okgourmet.com&nbsp &nbsp Home of Steve's Restaurant Reviews
Inca Latin Cuisine (Closed)
3929 N. College Ave.
Bethany, OK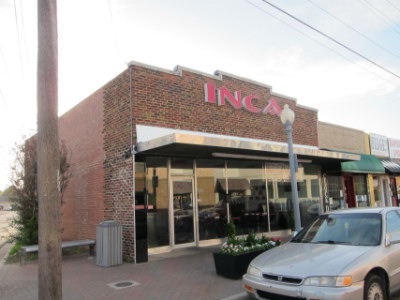 Inca Latin Cuisine is an offshoot of the very popular Inca Trail Restaurant in Oklahoma City, which closed in 2014. Some web sites show this restaurant as the new location of Inca Trail, but I believe it has a different owner, and I have found that the menu has changed somewhat.
It is going to be fairly easy to review Inca Latin Cuisine, because the food has not changed appreciably from what I tried at Inca Trail. Some items seem to have been dropped from the menu, but the items I have ordered have tasted the same as at Inca Trail.
Inca Trail was the Peruvian restaurant I considered to be the best in the city. Since that time some new Peruvian places have opened that I have not yet tried, so assuming that Inca Latin Cuisine is a continuation of Inca Trail (which it seems to be), I will just say that the food is very good. At Inca Trail I particularly liked the rice and side dishes, and so far this has been the case at the Bethany restaurant.
Peruvian food is not particularly spicy, and unlike Mexican food, does not include chips and salsa when you are first seated. Many of the flavors are very similar to Mexican food, though, and at Inca Latin Cuisine customers seem to get a true taste of Latin American that has not been Americanized.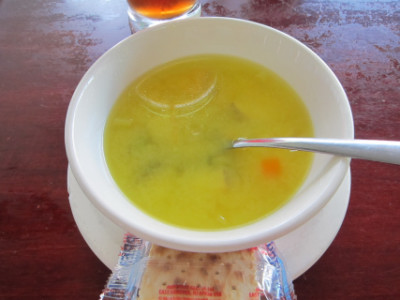 Chicken soup
Even though there are no chips and salsa, all customers are treated to a complimentary bowl of Chicken Soup (the same soup which was served at Inca Trail, although other appetizers served on a rotating basis at Inca Trail are not available at Inca Latin Cuisine). I believe the chicken soup is a good choice to start out the meal, since it is flavorful, and is just filling enough to get me ready for the main meal.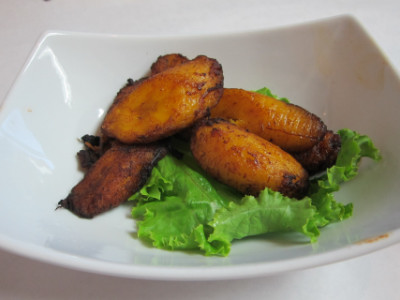 Plantains
Some of the side dishes I like can be ordered from the menu, including the delicious Plantains, which provide a sweet and flavorful treat. They are also very filling, though, which is the reason I usually just stick with the side dishes that come with each dinner.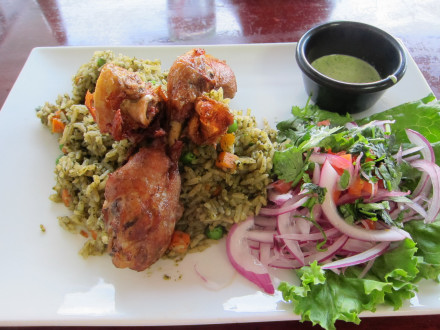 Arroz con pollo
Arroz con Pollo was one of my favorite dishes at Inca Trail, and it continues to be just as good here. To me the best element of this dish is that it comes with flavorful drumsticks (the best part of the chicken when it is done right, as it is here). The perfect dish might combine the Asian style rice served with the pollo saltado (a dish I tried several times at Inca Trail), but the rice with this dish filled with peas and other vegetables had enough flavor and variety to be satisfying. This dish was non-spicy, as is the case with all of the food I have tried at Inca Trail/ Inca Latin Cuisine.
I have never been able to fully appreciate the side salad which tastes much like pico de gallo (without being spicy), but this South American version of it does provide some extra flavor to the meal.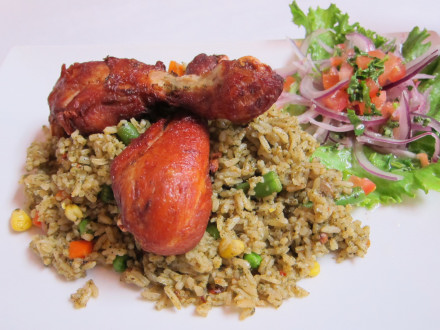 Pollo a la brasa
Pollo a la Brasa is a rotisserie style chicken that comes in a whole, half, or quarter chicken (the dish in the photo was a quarter chicken). The meat was marinated for two days, and it is normally served with an aji amarillo sauce and a green cilantro sauce. The way this is cooked makes it one of the best choices for chicken at Inca (and it is also the least expensive chicken dish if you get the quarter chicken).
The french fries are excellent, and there are several other items from Inca Trail which I have added to my list of "Best Items" here (since the food at Inca Latin Cuisine has not really changed any from the old restaurant). Some items from Inca Trail have been deleted from the new menu, and I think these are mostly appetizers (but for now I have listed all of the items in the "Special Ratings" which I tried at Inca Trail).
Both "Inca" restaurants have been a little on the upscale side when it comes to serving large portions of what I consider to be "special occasion" types of meat (such as the steak, adobo de puerco, and fish). The chicken is more downscale, but the pollo a la brasa is also a rather upscale type of meat (except that the order of a quarter chicken is less expensive than the other meats). The result of all of this is that I am able to enjoy it as both an upscale and a "regular" restaurant, depending on my mood, level of hunger, and budget.
My Comments in a Nutshell
What I like most:
Steak or adobo de puerco when I want something upscale
Pollo a la brasa or arroz con pollo for the best chicken
More "authentic" than most Mexican restaurants in the city
Disappointments:
Some menu items from Inca Trail have been dropped at the new restaurant.
I am disappointed with the choice of side dishes on most dinners. My two favorite sides are plantains and beans. Plantains come with lomo saltado. Beans come with adobo de puerco. I do not know of any dinners which come with both. Most dinners do not have either one.
Things to know:
This is the same restaurant as the former Inca Trail on N. May in OKC
Full service restaurant
Parking is on the street--this is part of the "downtown Bethany" revitalization which has taken place in the past few years
There are certain things you can order which are not indicated on the menu--for instance I can usually specify if I want dark or white chicken meat
RESTAURANT DETAILS
RATING: 23
Cuisine: Peruvian
Cost: $$
Hours: Open Daily except Sun. dinner
Smoking: No Smoking
Accessible: Yes (but parking is on the street with no designated handicapped spaces)
Most Recent Visit
Nov. 1, 2014
Number of Visits: 3
Best Items
Adobo de Puerco, Arroz con Pollo, Sudado de Pescado, Anticuchos, Pollo a la Brasa, Plantains
Special Ratings
Pollo Saltado:


Lomo Saltado:


Adobo de Puerco:


Ceviche de Pescado:


Arroz con Pollo:


Pollo a la Brasa:


Plantains:


Beans:


Chicha Morada:

Deleted Items
Items from Inca Trail which I believe have been dropped from Inca Latin Cuisine's menu
Anticuchos:


Sudado de Pescado:


Pollo a la Brasa Salad:


Tamal Peruano:


Papa a la Huancaina:


Maracuya:

MORE ABOUT THIS WEB SITE