okgourmet.com&nbsp &nbsp Home of Steve's Restaurant Reviews
Hunan Chinese Restaurant (Closed)
9211 N. Pennsylvania Pl
Oklahoma City, OK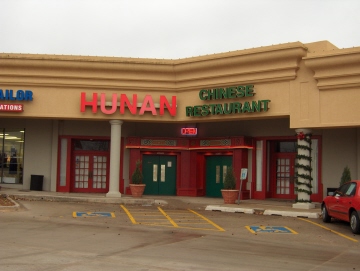 Hunan has been a favorite of mine for a long time, but it is only recently that I have discovered some truly memorable dishes.
My first encounter with the restaurant was eating from the lunch buffet. It was more flavorful and offered more choices than most--buffets are not my favorite way to eat Chinese food but I always enjoyed the green beans that were always served (they were some of the best I have tried). Items in the buffet have MSG but it has never bothered me. The restaurant makes an effort to provide variety on the buffet as well as the standard dishes most people expect.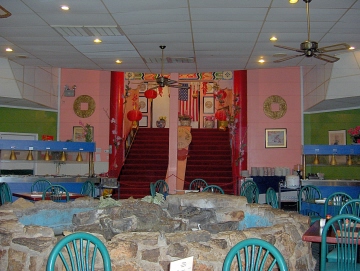 The building used to be a Pancho's Mexican Buffet, and the fountain dates from that time
It was not until recently, though, that I discovered that Hunan had some truly high quality Chinese dishes, comparable to Grand House and Dot Wo. Hunan has a new owner who has tried (successfully, in my opinion) to make the food lighter, more authentic, and less Americanized. Although the menu still largely caters to American suburban tastes, I am quite happy with some of the changes that have been made recently.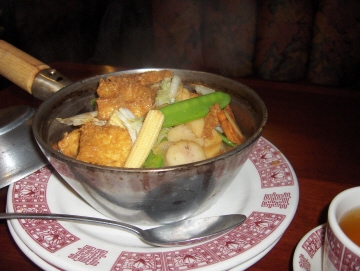 Bean curd hot pot
The Bean Curd Hot Pot, for example, (and other hot pot dishes) is something that is available at very few restaurants. Of the Chinese restaurants that serve it, Hunan has the best version as far as I am concerned. Chows and Grand House probably have a better sauce, but I like the overall preparation at Hunan the best in OKC. I love the way the tofu is cooked, the assortment of vegetables is good, and the sauce is quite flavorful. You can also request additional items such as ginger. The portion size is larger than most, and in fact is almost too big to be eaten by one person (but it is so good).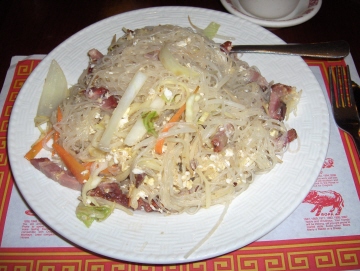 Barbecue pork rice noodles
Rice Noodle dishes are placed inconspicuously at the back of the menu, where I have learned to look in many restaurants for the most flavorful and non-Americanized dishes. The rice noodles are "dry," meaning that they are not swimming in soy or other types of sauces, but they do have a light sauce to go with the noodles, vegetables, and meat. The noodles at Hunan were as good as ones I have had in other restaurants where I was assured they were "Chinese style." Even if the dish were not authentic, it would still be one of my favorites in terms of flavor when I want to eat something light (the thin rice noodles do not fill me up the way some of the heavier Italian style noodles do).
The Bean Curd Family Style is another dish I like--the one here has a "chicken broth" taste that is not my favorite way for it to be made, but otherwise it is very good.
The Sichuan Chicken is actually chicken with garlic sauce, and is one of the better versions I have tried with a nice blend of flavors so that the garlic is not overpowering.
The Hot and Sour Soup here is good but not my favorite in OKC.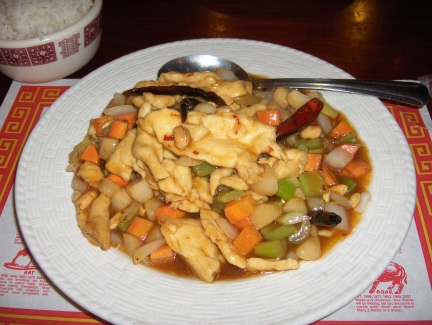 Kung pao chicken lunch special
The lunch menu is not very adventurous, and I would advise avoiding it entirely if you want the best food Hunan has to offer. The buffet can sometimes be pretty good because the owner sometimes includes new dishes that have not yet been added to the menu.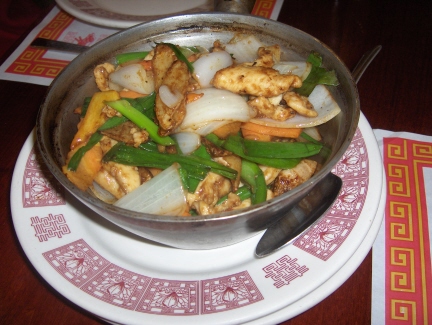 Chicken with ginger hot pot
I am quite impressed with Hunan, and although it doesn't have the selection of items found at some other restaurants, there are enough delicious items here to make me quite happy.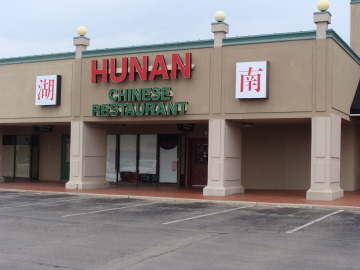 In 2008 Hunan moved to its new location on N. May Ave.--this later became the site of Inca Trail Peruvian Restaurant
RESTAURANT DETAILS
RATING: 21
Cuisine: Chinese
Cost: $$
Hours: Open Daily
Accessible: Yes
Tea: Jasmine (brewed)
MSG: Yes
Smoking: No Smoking
Alcohol: Beer, Wine, Sake
Buffet: Mon.-Sat. Lunch & Dinner
Most Recent Visit
Jun. 3, 2008
Number of Visits: 10+
Best Items
Bean Curd Hot Pot, Rice Noodles, Green Beans
Special Ratings
Bean Curd Hot Pot:


Sichuan Chicken:


Rice Noodles:


Kung-Po Chicken:


Hunan Chicken Strips:


Bean Curd Family Style:


Green Beans:


Hot and Sour Soup:


Chicken and Corn Soup:

MORE ABOUT THIS WEB SITE