okgourmet.com&nbsp &nbsp Home of Steve's Restaurant Reviews
Humble Pie
1319 S. Broadway
Edmond, OK
(405) 715-1818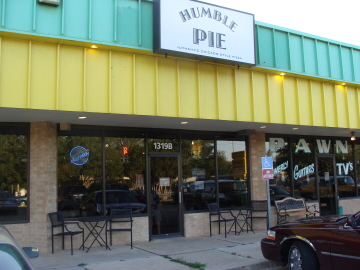 I have found good New York style pizza in Oklahoma, but going to Humble Pie was the first time I ran across Chicago style pizza that I thought was more than just making a thick crust and calling it "Chicago style." In fact, the owners of Humble Pie are from Chicago, and have gone to great lengths to provide authentic pizza that is like the ones served in the Windy City.
Humblie Pie offers both Chicago and New York style pizza, and the Chicago style comes in either thin or thick crust. I do not know how authentic any of it actually is, but I am confident that they know what Chicago pizza is supposed to taste like, and I can confirm from sampling it that the one at Humble Pie is very good.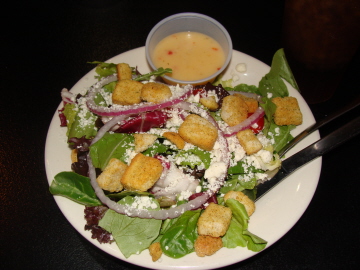 Garden salad (half order)
The menu does not have a lot of choices-- other than pizza one of the few other items offered is salad. The Garden Salad I tried had good greens, and I would say this is especially true for pizza restaurants.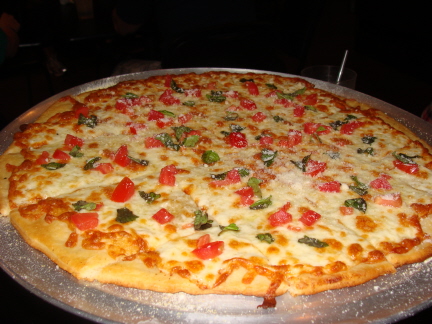 Thin crust Chicago style margherita pizza
When I visited Chicago I was very impressed with the thin crust pizza, and I actually never tried the supposedly more famous thick crusted variety. To me, though, thin crust is very good and very representative of Chicago. I thought the thin crust Margherita Pizza at Humble Pie was quite good, and was notable for its freshness and quality of ingredients. Even though it looks as if there is a lot of cheese in the photo, I liked the fact that there was much more to this than just the cheese-- the sauce was superb and the basil and tomato toppings were among the best in the area. In fact, there was really less cheese on this pizza than I usually find, and the flavors of the other ingredients made it memorable.
The pizza here comes with a crispy crust (at least for the Chicago pizza that I tried). The owner explained some differences in ingredients of the crust in the different pizzas, but all are cooked to perfection and make them some of the more memorable pizzas in the area. The Chicago style pizza was cut into squares rather than pie-shaped slices, but the crust was so crispy I could hold any piece without it being droopy. The emphasis here is on quality ingredients, so that the crust was good but the toppings were so memorable that the crust was just a small part of the experience.
Several restaurants in the Oklahoma City area have excellent pizza, and the differences are mainly in style. Although I have not yet tried the New York style pizza at Humble Pie, I believe the Chicago style pizza is one that should be tried by any serious pizza aficionado in the area. Many of us cannot go to Chicago to get our "pizza fix," but now we do not need to.
RESTAURANT DETAILS
RATING: 23
Cuisine: Pizza
Cost: $$
Accessible: Yes
Smoking: No Smoking
Most Recent Visit
Jun. 25, 2011
Number of Visits: 1
Best Item
Margherita Pizza
Special Ratings
Margherita Pizza:


Garden Salad:

MORE ABOUT THIS WEB SITE