okgourmet.com&nbsp &nbsp Home of Steve's Restaurant Reviews
House of Hunan
2137 W. Edmond Rd.
Edmond, OK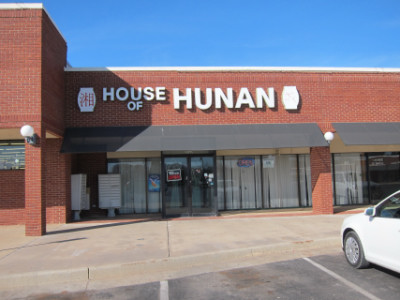 House of Hunan's tenure of over twenty years in Edmond can make it fall somewhat lower on people's radar screens than the newer and flashier restaurants in this fast growing suburb. Located in a strip mall at Edmond Road and Santa Fe, this is certainly not a place that would attract a lot of attention just by looking at it from the outside. The interior, though, was certainly as attractive and comfortable as any I have seen in the city.
I visited House of Hunan in 2008, but apparently it has changed owners between that time and my second visit in 2014. The menu is different, and the current employees indicated that they have never offered the "Chinese menu" that was available on my earlier visit. The special menu had a variety of authentic Cantonese dishes that was very much like the food served at several Asian District Chinese restaurants, and I was not only impressed but also surprised to find these choices available in this suburban location. Although there has obviously been an attempt to keep the same food that has made House of Hunan popular during the more than twenty years of its operation, the special menu was apparently not something they felt could be continued.
My first visit after the menu change was on Sunday, and whether because of this or another reason, the menu I saw did not seem to match the take-home menu I picked up. The take-home menu has quite a few dishes that are served in either a large or small portion, which I either did not notice on the restaurant's menu or else they are not available when I went (which would have been the dinner menu). The small plate offers quite a substantial savings on the price, and I found that the large plate I ordered was more than I could eat. So I would say there are good prices at lunch, but I am not sure if dinner is as expensive as I experienced or whether I just missed some things that were on the menu.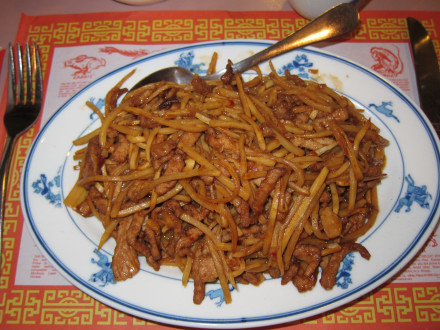 Dinner portion of chili pork
The chef recommended that I try the Chili Pork as one of the restaurant's most authentic dishes. This was a pretty good choice, with the dish being full of meat and Chinese vegetables (such as bamboo shoots). People ordering this will go home being satisfied with the quantity of food, and I would say the flavor is pretty satisfying as well.
The chili pork was very sweet, though, and I cannot say that I thought the sauce was close to being authentic. Many customers will likely enjoy the sweetness on this type of dish, but I would not necessarily recommend this to people who are strictly looking for an authentic dish. I thought I was ordering it "medium spicy," but it was way down close to the bottom on the spice scale. The chef brought a jar of chile oil, which not only made the spice level acceptable, but it also improved the flavor quite a bit. In fact, I would not exclude going back to House of Hunan even though the food seemed very "American." I would say, though, that it would not be very good as a take-out order if you forget to ask for chile oil on the side (or another type of chile to make it spicier).
House of Hunan used to serve the best and most authentic Chinese food in Edmond (in my opinion), but even though the "Chinese menu" option is no longer available, there are other choices for non-Americanized Chinese food. Dot Wo has a few traditional dishes, but at least two new restaurants have opened since 2008, serving traditional food (Wa Ha Ha and Szechuan Bistro which is on Memorial Rd. in Oklahoma City).
House of Hunan seemed to honor their pledge to be "MSG-Free" when you ask, and I thought it was comfortable with good service.
RESTAURANT DETAILS
RATING: 19
Cuisine: Chinese
Cost: $$
Hours: Open Daily
Accessible: Yes
Tea: Jasmine (bags)
MSG: Yes
Smoking: No Smoking
Buffet: No
Most Recent Visit
Feb. 23, 2014
Number of Visits: 2
Best Item
Chili Pork
Special Ratings
Chili Pork:

MORE ABOUT THIS WEB SITE