okgourmet.com&nbsp &nbsp Home of Steve's Restaurant Reviews
Hideaway Pizza
5950 W. Memorial Rd.
Oklahoma City, OK
(405) 470-4777

Update 2019: This is an old review being kept as an archive copy.

*** An updated review is located on Steve's Food Blog.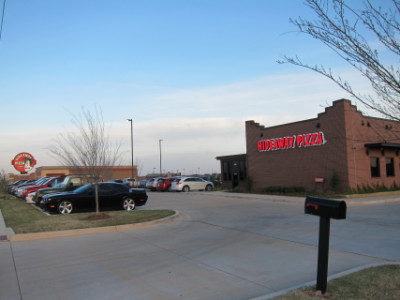 The latest menu I picked up at Hideaway Pizza lists thirteen locations throughout Oklahoma. I think there is good reason for its popularity, especially because of its famous "Hideaway Red" sauce, a sauce that no other pizza chain seems to be able to match. I was wondering why the original location in Stillwater was not listed, and I learned that they sold the franchise to the company that operates the other restaurants, which are collectively known as "Hideaway Number 2."
"Hideaway No. 2" (not to be confused with the original restaurant) seems to fit firmly into the category of "chaindom" with its thirteen locations (and counting). I think this sometimes involves some negatives, such as the way they changed the menu in 2015, deleting a number of items. This was probably done for efficiency in operating all of their restaurants, but it has had a negative effect on my experience here. For instance, I did not realize the menu had been changed and I accidentally ordered the wrong margherita pizza, not knowing that the one I usually ordered (the "Old World") had been deleted from the menu.
They told me after the fact that if you want to order one of the "old" pizzas you can do so, but this requires knowing what they are. It just seems to me that chain restaurants tend to make this type of menu change quite often even though to me there seems to be no apparent reason for it (but I am happy I can still make a special order for the "Old World") .
The menu still has a good variety of pizzas, including "Build Your Own." They also have sandwiches and pasta dishes. Some of the salads are good, and this is another reason I like the restaurant overall.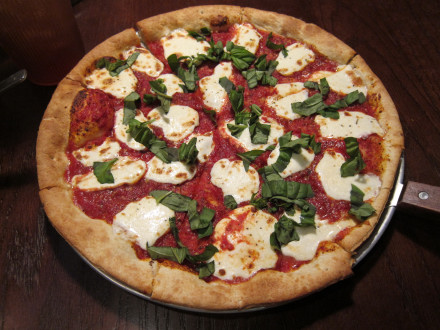 "Old World" Margherita pizza from the old menu (but still available by special order)
The Margherita Pizza I would recommend is the "Old World," which has now been dropped from the menu (but is still available by special request). This comes with red sauce, mozzarella, basil, and a Parmesan-herb shake. To me its best features are the basil and the red sauce (this pizza has lots of it). The cheese is good, and the crust is average (but is the same as on all the other pizzas).
The new menu's version (formerly called "Hideaway Style") substitutes tomatoes for the red sauce, still has the basil and Parmesan, and has so much garlic that this is what I think is mostly wrong with it (although the lack of red sauce is a pretty big deal also). Rather than ordering this pizza again I think just about any of the meat pizzas would be more satisfying.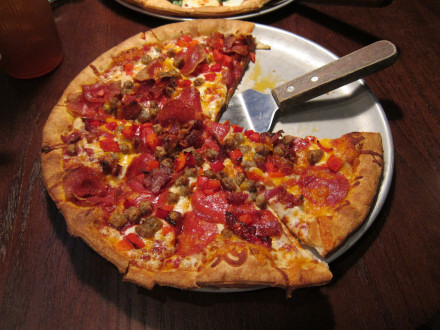 "The Boz" with bacon, pepperoni, and sausage
"The Boz" is a good example of how satisfying the meat pizzas can be at Hideaway. Named for University of Oklahoma football star Brian Bosworth, I suppose it is natural for this pizza to be loaded with different types of meat. The amount of bacon, pepperoni, and sausage they pile on this pizza may in fact have led to a pork shortage contributing to Divine Swine's going out of business (OK, I admit this may be a stretch, but this pizza does have a lot of meat!). I liked it quite a bit, and I also liked the fact that the flavor of the red sauce came through to supply a contrast to the meat.
The Sicilian was lacking any vegetables, while I think the red bell peppers and jalapenos in "The Boz" gave it a better flavor. There are a great number of pizzas I have not tried, but I think the key is to get something with red sauce and at least some vegetables.
The Capone is a meat pizza that has enough vegetables (mainly black olives) to give it an interesting flavor. Although I liked it better than the Sicilian, I would still pick "The Boz" as my favorite meat pizza. The meats are also different on each pizza, and this factors into the equation.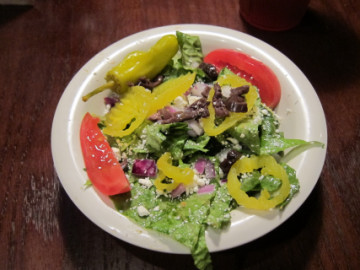 Greek salad
The Greek Salad was disappointing to me with a dressing that was very tart, and a salad that seemed to be a little skimpy for the money you pay. The "Just-A-Beginner" salad, in contrast, was very satisfying, less expensive, and a perfect complement to the pizza.
There is a choice of crust with all pizzas--hand tossed (thick), thin crust, or cracker crust. I like the hand tossed or thin, but neither one is a standout in my opinion. A waitress told me that the thin crust has more sugar than the hand tossed (I think so it will cook better) so probably I would say the hand tossed is better. The cracker crust is the original one used in the Stillwater restaurant, but for me it just does not add to the taste of the pizza (plus it is gluten free and they charge extra for it).
Although I have done quite a bit of editorializing, I will do a little more. One of the down sides of the new menu is that I find a lot of combinations that I just do not want to order. For instance, the Sicilian would be good except for the fact that it does not have any vegetables. Many other pizzas have three or four good meat toppings but one or two I either do not like or do not want on a pizza. When you "build your own" the pizza ends up costing more than if you get the same toppings on a combination pizza. It just seems that if they dropped their best pizza (the "Old World" margherita), some other good ones may have been deleted from the menu as well that I have not yet had the chance to try.
Still there are ways to get around this and to have the pizza you want. All I know is that the pizza I want will include the Hideaway red sauce.
RESTAURANT DETAILS
RATING: 20
Cuisine: Pizza
Cost: $$
Accessible: Yes
Additional Locations: 6616 N. Western Ave., Bricktown, 5501 Northwest Expressway (Warr Acres), 116 E. 5th St. (Edmond), 577 Buchanan (Norman), Stillwater, Tulsa (3 locations)
Smoking: No Smoking
Alcohol: Beer
Most Recent Visit
Dec. 23, 2015
Number of Visits: 6
Best Items
The Boz, Old World Margherita (by special order)
Special Ratings
Margherita Pizza:

Old World (from the old menu)
Margherita Pizza:

Hideaway Style (on the new menu)
The Boz:


ATW:


Sicilian:


The Capone:


Beginner Salad:


Greek Salad:

Restaurant Web Site
Hideaway Pizza
MORE ABOUT THIS WEB SITE