okgourmet.com&nbsp &nbsp Home of Steve's Restaurant Reviews
Golden Dragon Chinese Restaurant (Closed)
5934 N.W. 122nd St.
Oklahoma City, OK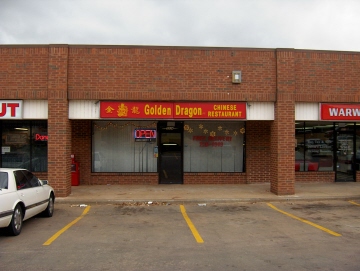 Golden Dragon is a small neighborhood restaurant that is probably best known for its very cheap lunch specials and lunch buffet. Although strip mall Chinese restaurants are normally not very noteworthy, Golden Dragon has become one of my favorite places because of the hospitality of the owners and their willingness to go beyond the menu to cook authentic Chinese food.
Golden Dragon does not fit my normal format for reviewing a restaurant since I have moved away from ordering food from the menu, and most of the menu items I have tried have been with previous owners (of which Golden Dragon has had several over the past few years). The menu has stayed pretty much the same from the time the restaurant opened, but I believe the cooking styles have varied somewhat. Any preferences I had for certain dishes may no longer apply to the current restaurant.
Some spicy Szechuan dishes are on the menu from the original owner of the restaurant who originally worked at Lotus Mandarin, a restaurant that specializes in spicy Chinese food. I have not ordered these dishes in a while, but customers should be aware that they are available (and I know they used to be good).
One of my favorite dishes at Golden Dragon has been the Noodle Soup. This soup has changed with the various chefs that have prepared it, and all have been by special request since it is not listed on the menu. This can be a light meal or a full one, depending on the size of the soup that is ordered. Noodle soup has been a good choice when I want traditional style Chinese food and when I have not had time to call in advance for some of the restaurant's Shanghai style dishes.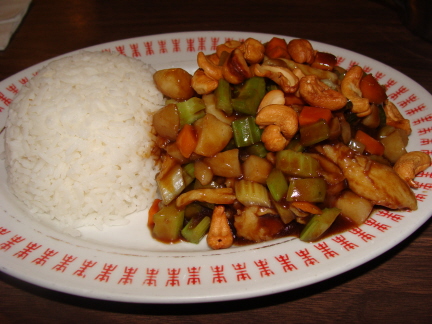 Cashew chicken
I have tried the Cashew Chicken with the current chef, and although the vegetables were good, the sauce was too dark (with soy sauce) for my taste.
MSG has been used during the time I have been going to Golden Dragon, and as far as I know is still used. I have eaten the Hot and Sour Soup with no ill effects (and it was very good). I think almost all the entrees, though, can be prepared without MSG if requested, and this is the main reason I have not had any problems eating here.
SPECIAL DISHES
Note: Special dishes usually need to be ordered in advance. Check with the restaurant for availability.
The distinctive feature about Golden Dragon at present is the special food that is not on the menu, but which has been some of the best Chinese food I have tasted in Oklahoma, or anywhere. In fact Golden Dragon may have the only authentic Shanghai style food available in Oklahoma (I have had some in Seattle and other cities for comparison, so I believe the food here to be quite authentic). The problem is that this food has to be special ordered (I think at least a day in advance), and sometimes it will not be available (so check with the restaurant to see what they can prepare).
I believe some of the items are more available than others, so I will list some of the items that I think are easiest to order (and for which the ingredients are available). I would encourage people to order this food, and if the restaurant cannot keep up with the demand I will post any change in its availability of which I become aware. For now, though, I do not think it is a problem to order this food as long as the restaurant agrees.
The following photos will serve as a brief introduction to Shanghai style food, as well as my experience about the items that are the easiest to order at Golden Dragon.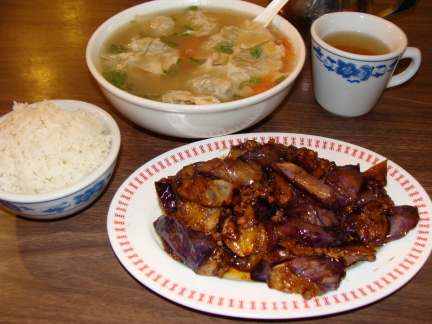 Shanghai style eggplant
Shanghai Style Eggplant was crispy and sweet, with a flavor that I associate with high-end gourmet style Chinese food. It does take advanced notice to order this dish, but the ingredients are generally available, so this is one of the easier special dishes to order (as well as one of the best). Chow's Restaurant at N.W. 30th and May has a similar dish prepared Sichuan style (spicy), but with a very similar flavor to the Shanghai style dish (so this would be a good alternative if it is not available at Golden Dragon).
The soup shown in the photo is one of the special soups I have tried, being so varied that I cannot pin down a certian type of soup to recommend. All of them have tasted home made, though, and I would say that any traditional Shanghai style meal should include some soup.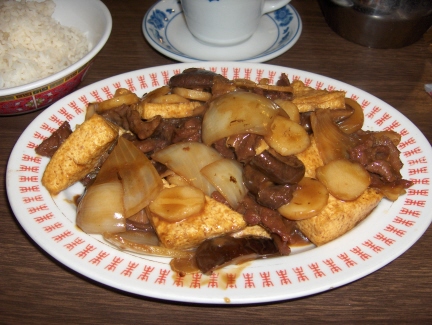 Black mushrooms with beef, special sauce, and tofu added
Black Mushrooms with Beef is possibly another dish that can usually be special ordered, although with all of the ones listed it is essential to call ahead to check for availability. The key to this dish may have been the special sauce. Tofu was added, and it came with ginger, onions, and water chestnuts. These are all basic ingredients in Chinese food, but it was the way this dish was prepared that made it one of the special ones I have tried.
Chicken and chinese broccoli
Steamed Chicken with Chinese Broccoli was made with a dark, thick, and somewhat sweet sauce that was also one of my favorites.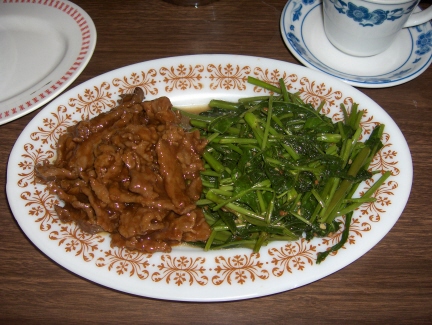 Water spinach and beef with sesame oil
Water Spinach and Beef with Sesame Oil gave me a complete, balanced meal with both meat and vegetables on one plate. It was also quite delicious.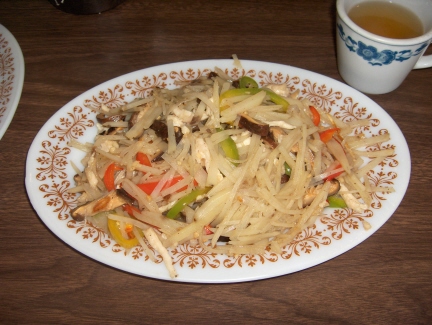 Shredded potatoes with chicken and mushroom
Shredded Potatoes with Chicken and Mushroom also included bell peppers and red peppers for a somewhat spicy (but not overly so) balanced meal of meat and vegetables. I would guess this is something that cannot be found in many Chinese restaurants (but as is the case with most of my meals at Golden Dragon I did not order it, I simply asked them to prepare me something "Shanghai style").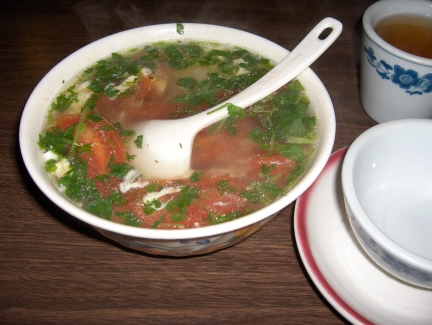 Tomato soup with egg and potato
I have had several varieties of Tomato Soup at Golden Dragon, and in fact I think there are so many ways to prepare it that each chef develops their own favorites. This one was made with egg, potato, and cilantro. Egg is usually included in the soups, and may be the authentic version of "egg drop soup" commonly found in American style Chinese restaurants. The cilantro is a favorite ingredient used in Shanghai during the summer.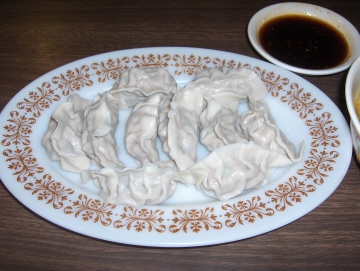 Shanghai style dumplings
Shanghai Style Dumplings do not look as colorful in the photo as other dishes, but in terms of flavor I think they are one of the best, and are very typical of Shanghai style cooking. This is one items I have been able to specifically order, and thus I think it is always available provided you give the restaurant enough time to prepare it. The tangy sauce is better here than at just about any other restaurant I have tried.
I should point out that usually the best time to order the special food (when it seems to be easiest for them to prepare it) is on weekends. I do not know what they will be able to prepare if you call ahead, I just know that everything is good. Just about everything is made with meat or a meat broth-- this is the standard Chinese style. Many times the bulk of the dish consists of vegetables, with some meat included for flavor.
One of the best features of Golden Dragon is the jasmine Hot Tea, brewed with loose leaves floating in the water instead of the standard tea bags.
My rating for a restaurant is usually based on food from the menu, so it is probably not appropriate to try to give one to Golden Dragon based mainly on the special food I have tried. Everything pictured in the photos, though, would get my five-star rating.
RESTAURANT DETAILS
RATING: *
Cuisine: Chinese
Cost: $ (Special Items $$ to $$$)
Hours: Closed Sun.
Accessible: No (no handicapped parking)
Tea: Jasmine (loose leaves)
MSG: Yes
Smoking: No Smoking
Buffet: Lunch
Most Recent Visit
Apr. 21, 2012
Number of Visits: 10+
Best Items
Noodle Soup, Hot and Sour Soup, Special Order Shanghai Style Dishes
Special Ratings
Noodle Soup:


Tofu Homestyle:


Cashew Chicken:


Wonton Soup:


Hot and Sour Soup:

MORE ABOUT THIS WEB SITE