okgourmet.com&nbsp &nbsp Home of Steve's Restaurant Reviews
Giovanni's Gelato (Closed)
2652 W. Britton Rd.
Oklahoma City, OK &nbsp The Village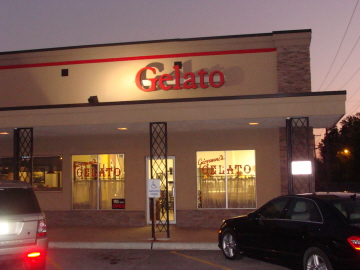 Gelato, the Italian version of ice cream, is a trend that is becoming more popular in the United States right now, and for good reason. Containing less fat but more sugar than conventional ice cream, this frozen treat will satisfy the sweet tooth of just about any dessert lover in Oklahoma City.
Giovanni's Gelato, located in the northern Oklahoma City suburb of The Village, is in the middle of the area where I have seen a number of new types of restaurants open within the past few years. Giovanni's serves only gelato, but it is in the same building as Johnnie's Charcoal Broiler, one of the best sources of hamburgers in the metro. An interior door connects the two establishements, so I supect Giovanni's is open during the same hours as Johnnie's (seven days a week).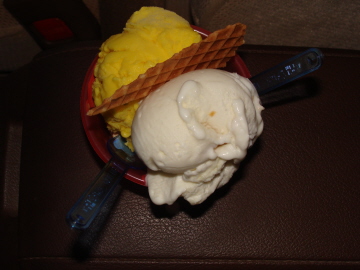 Two of the many flavors of gelato served at Giovanni's
Although I do not think I have ever met a dessert I did not like (to take liberties with Will Rogers' quote), I do not always recommend desserts at restaurants as being worth the money. In fact, most of the time I think a satisfying meal provides enough pleasure in itself that I am not craving something sweet to top it off. In those times when a sweet treat seems in order, though, Giovanni's gelato is one of the best choices I can recommend. I am not yet an authority on gelato, since I have had little exposure to it in the Southwest. However, Giovanni's compares favorably to any ice cream with which I am familiar, and I personally think Braum's ice cream is one of the best I have found in the United States.
Giovanni's offers a multitude of flavors, and it would do no more good to try to find a favorite flavor than it would at an ice cream store. The two I tried on my first visit were equally enjoyable. I am sure the same would be true with the other varieties.
I sometimes give credit to readers for helping me find good places to eat. In this case I have to credit my mom, who I consider to be Oklahoma City's leading authority on desserts (as well as several other subjects), for recommending Giovanni's. Unfortunately the Johnnie's on Britton Road is the only one that has a Giovanni's next door, but I think the gelato is that much better for being prepared in small quantities and not being part of a chain.
RESTAURANT DETAILS
RATING: *
Cuisine: Gelato
Cost: $
Smoking: No Smoking
Alcohol: No
Most Recent Visit
Aug. 20, 2009
Number of Visits: N/A
Best Item
Gelato
Special Ratings
Gelato:

MORE ABOUT THIS WEB SITE