okgourmet.com&nbsp &nbsp Home of Steve's Restaurant Reviews
Garbanzo Mediterranean Grill (Closed)
4130 Northwest Expressway
Oklahoma City, OK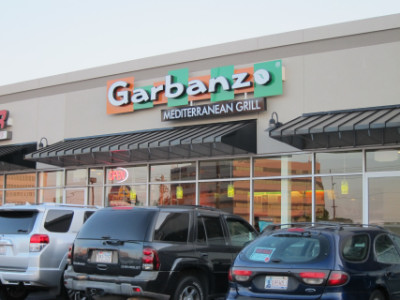 Garbanzo Mediterranean Grill is proof to me that not all chains are bad, providing fresh and healthy food that really does not taste like chain restaurant food. At the same time, it has the added advantage of "fast food" restaurants which have your order ready within minutes.
What Garbanzo does is serve Mediterranean (Middle Eastern) style food in the form of platters, sandwiches, and soups suitable for take-out or a quick meal in the restaurant. The restaurant has a fast food ambiance (it is comfortable enough, but not to the point that I would probably stick around for a leisurely meal). I think the menu, which is relatively small for Middle Eastern restaurants, lends itself to ensuring that everything is fresh and that they do not have "slow sellers" sitting around for a long time. I do not mind this tradeoff, and I think they have done it successfully.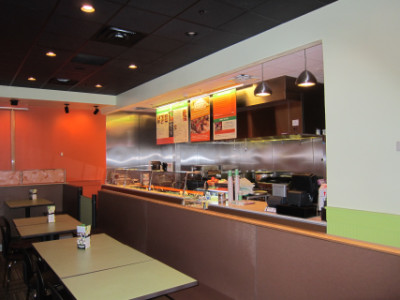 Orders are taken at the counter, and then brought to your table
The down side of its being a chain was that the dinners were mostly "combination deals" (my first visit was in the evening when I usually have a larger appetite). The "deals" give you quite a bit more food for not much more money, but I feel that the "$" price category I have seen on other web sites is misleading because the less expensive plates really would not fill me up.
I ended up paying almost as much for my meal as at Capers, a Mediterranean buffet restaurant which is literally less than a half mile away from Garbanzo. I felt that Garbanzo offered good food, and I was happy with it overall. The main point of getting so much food, though, was that I like a good variety of things when I get Middle Eastern food. I had good meat, salad, and side dishes, but it was a lot of meat for me and I would have preferred to order some more side dishes instead. A buffet such as Capers gives you this choice, but I was not able to do this at Garbanzo. This is not really a big deal, since I enjoyed Garbanzo, but my first impression is that there are better choices at other restaurants.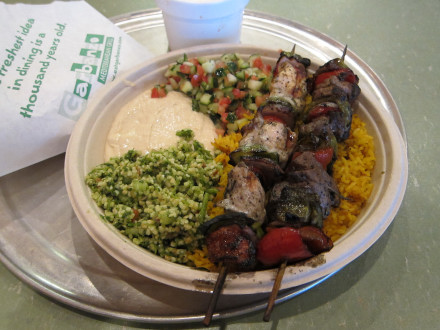 Kabob platter
The best deal I found for my particular craving was the Kabob Platter, which comes with a choice of chicken, steak, or both. The chicken I ordered was good, and is what I consider to be the best item I had at Garbanzo. The beef was enjoyable as well, and both kabobs together were really more meat than I wanted (in this case I shared it).
The platter came with a side of Hummus which was very good, but again I would not call it the best in OKC. The main down side was that it is a spread rather than the more traditional versions which are more pureed and have olive oil poured on top.
The "signature" Vegetable Salad was somewhat bland, and this was one of the things I wish could have been substituted with something else.
My side order of Lentil Soup turned out to be less exciting than several others in OKC, but still pretty good.
I had a taste of the Tomato Bisque, and thought it was as flavorful as the lentil soup (both were soups I would like to order again).
The bisque was ordered with a "combo deal" consisting of a drink and a side item. Our choice of a side was an order of four Dolmas. This was the least satisfying item I tried at Garbanzo, and it really made me question whether the "Combo Deal" was worthwhile (the other choices are Garbanzo's chips, 5 falafel, or apple). If they had offered something such as two dolmas and two falafel I might have liked it better, but this is an example of why I think the buffet at Capers works better for me.
The sandwiches (pita or laffa) look pretty good for a smaller meal, and of course I would think this was way better than other fast food choices such as hamburgers or pizza (or even Subway). I really cannot knock Garbanzo's, but only point out the fact that this is fast food and not upscale dining.
Garbanzo is located in a few other cities (and now has a location in Edmond), and I would consider any of these to be a good opportunity to get a healthy and tasty meal.
RESTAURANT DETAILS
RATING: 21
Cuisine: Mediterranean
Cost: $$
Hours: Open Daily
Accessible: Yes
Additional Location: 1389 E. 15th St. (Edmond)
Smoking: No Smoking
Most Recent Visit
Sep. 7, 2013
Number of Visits: 1
Best Items
Chicken Kabob, Hummus
Special Ratings
Chicken Kabob:


Steak Kabob:


Hummus:


Dolma:


Vegetable Salad:


Lentil Soup:


Tomato Bisque:

MORE ABOUT THIS WEB SITE