okgourmet.com&nbsp &nbsp Home of Steve's Restaurant Reviews
Fusion Café
760 W. Main St.
Norman, OK
(405) 217-2477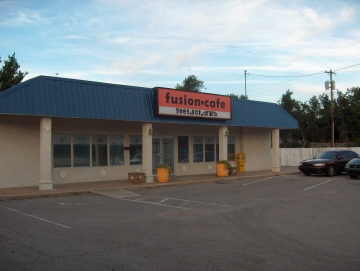 The former location in Moore
Note: In 2015 this restaurant moved to Norman. This review was for the former location at 1224 N. Broadway Ave. in Moore.
When a restaurant is recommended to me as strongly as Fusion Cafe, this is usually an indication that I might find an undiscovered gem. With little publicity from the newspapers or Internet reviews that I have seen, Fusion Cafe might be considered as "undiscovered" except by those who are in the neighborhood and might have seen it or eaten here. I certainly consider it a "gem," with home cooked style Asian food that is some of the best in the Oklahoma City metro.
Fusion Cafe is a combination restaurant and drink bar where people are encouraged to come and spend time even if a meal is not in their plans. I did not get a menu of the drinks available, but one that is popular with meals is Green Iced Tea with different fruits, such as peach. I thought this made an excellent refreshing drink with the spicy food that is served.
Much of the menu consists of Japanese dishes, but I cannot comment about them since I did not try any. With the menu being written in English and Korean, this gives a clue about the restaurant's specialty, and the reason I thought it was so good. Many people wonder why there are no Korean restaurants in north Oklahoma City, but I have certainly found that there are some good ones on the south side (including the suburb of Moore). Fusion Cafe is one of the best I have tried.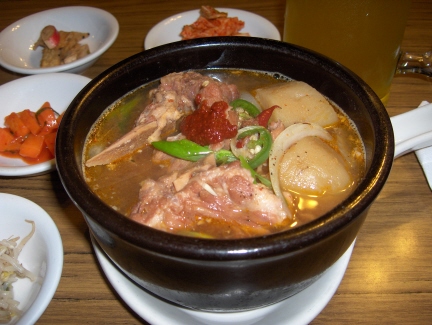 Spicy potato stew is one of the chef's specialties
I got a little help from the waitress in deciding what to order, with the Spicy Potato Stew being suggested as one of the best and most popular dishes served. I cannot do any better than to quote the description from the menu, which says it is a "spicy pork bone stew that is considered a traditional Korean dish which is hearty and rich in flavors, complex taste of the rich broth which is made from boiled pork backbone." I have found that slow cooked meats and stews represent some of the best of Asian cooking, and this was one of the best Korean dishes I have had. As the photo indicates, most of the chile was placed in a dab on top of the meat, so this could also be removed or omitted for those who would like to try Korean food, but are not fond of the spicier dishes. Other stews are available with kimchi, tofu, seafood, chicken, or goat (another one of the chef's specialties). Although grilled bulgogi style meat is what I traditionally see in Korean restaurants (and is available here), the expanded choices at Fusion Cafe seem to be a great opportunity to try some more unusual dishes.
It turned out that the potato stew was very popular when the owner lived in Washington State, and she had many people ask for the recipe (but I do not know if their requests were granted). I do know that the one at Fusion Cafe is hard to beat (and the price is reasonable as well).
The side dishes were very good, and I always think this is one of the best parts of Korean food.
It was pointed out that Fusion Cafe is the only Korean restaurant in Oklahoma City that uses no M.S.G., although I think that other restaurants can serve food with M.S.G. omitted. I know that Fusion Cafe was as good or better than other Korean restaurants I have tried, but with a limited number of meals at each one it is hard to make a definitive comparison.
Japanese food is known for being non-spicy, so this would probably be a safe choice for those who do not want to eat any quantity of hot chiles. I am sure, though, that any dish here can be cooked according to the customer's request.
RESTAURANT DETAILS
RATING: 23
Cuisine: Korean & Japanese
Cost: $$
Hours: Closed Sun.
Accessible: Yes
Tea: Green Tea (Iced) with Fruit
MSG: No
Smoking: No Smoking
Buffet: No
Special Features: Lunch specials, drink bar
Most Recent Visit
Jun. 20, 2008
Number of Visits: 1
Special Ratings
Spicy Potato Stew:

MORE ABOUT THIS WEB SITE