okgourmet.com&nbsp &nbsp Home of Steve's Restaurant Reviews
Fung's Kitchen BBQ & Seafood Chinese Restaurant
3231 N. Classen Blvd.
Oklahoma City, OK
(405) 524-4133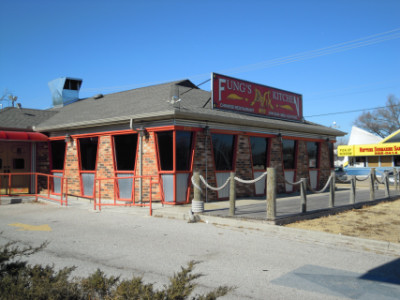 If the menu at Fung's looks familiar, it may be because it is similar to the one at Dot Wo, a local mini-chain of Chinese restaurants owned by the same family. When Fung's Kitchen was in its old building on N.W. 23rd Street I used to think it was quite a bit less expensive than Dot Wo. Now with Fung's "bistro" concept at its new location the prices do not seem to be much different than at Dot Wo. It is still not very expensive, though, and I think it is worth going for the food even though the prices have gone up.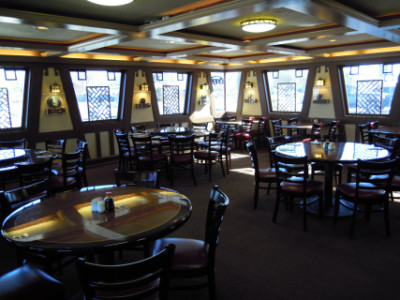 The outside of the building does not give a clue to the modern interior
One feature that distinguishes Fung's Kitchen from Dot Wo is Fung's extensive Chinese menu of traditional dishes served "family style." These are mostly Cantonese style dishes, although some represent other regions of China. Dot Wo is more limited on its traditional Chinese dishes, so it is many times worth the trip to Fung's Kitchen for this type of food.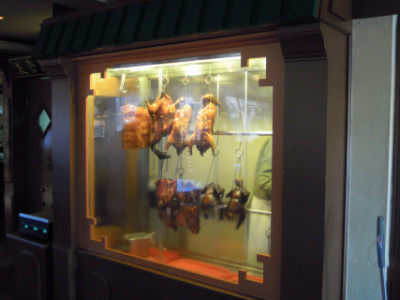 Roast duck and other animals are on display
Fung's Kitchen is one of two restaurants I have found in the city that offer whole roasted ducks (whole and half ducks are available on the Chinese menu, as well as individual servings). I have been told by friends that these are not the ducks found swimming around in Martin Park, but are farm raised. This is a significant step in bringing authentic Chinese food to Oklahoma City, and is an indication that they are serious about the food they serve.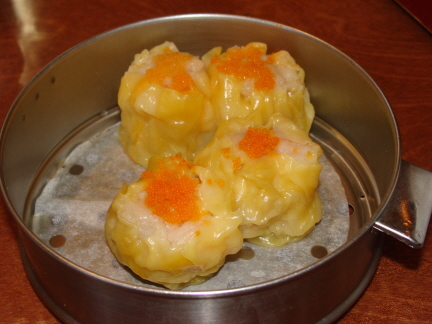 Pork and shrimp dim sum
Since Fung's Kitchen reopened on Classen Boulevard it also began serving dim sum on weekends and holidays. The Pork and Shrimp Dim Sum I ordered was a very good introduction to what is probably Fung's most well known feature, and came close to west coast quality dim sum (although from what I read on the Internet, even west coast dim sum does not compare with Vancouver, Canada). I thought the dim sum was quite flavorful, and had every indication that it was freshly made. The waiter warned me that it had MSG, but I was able to split an order and suffer no ill effects from eating these two individual pieces.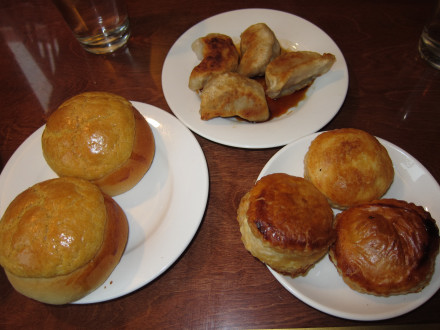 Egg cream bun, potstickers, and chicken pie dim sum
A variety of dim sum is always good, such as the one shown here.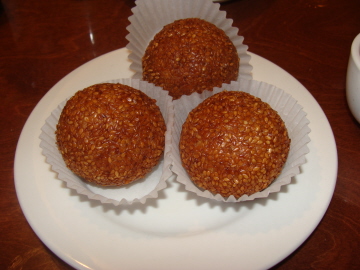 Sesame balls
One of the best features of the dim sum is the choice of desserts. A traditional and delicious choice is the Sesame Balls with a red bean filling.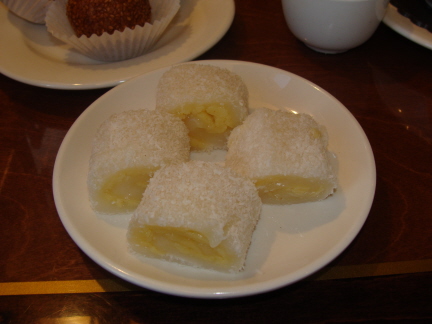 Coconut and custard dessert
The Coconut and Custard dessert is a little more sweet than the sesame balls, and also makes a delicious dessert.
The regular menu is available every day (with both a Chinese and American style menu). One problem I have encountered at both the old and new locations of Fung's Kitchen is that they give me the regular (American style) menu, but I have to ask for the Chinese menu (it took several visits at the old restaurant before I even discovered they had another menu). The old restaurant had a buffet and I would say that probably a small proportion of the customers were interested in ordering from either of the menus. Now, though, with ducks on display in the glass case, this would be a good indication to me to ask for the Chinese menu (even if I did not already know that they had one).
The old restaurant on N.W. 23rd Street used to have a changeable board listing traditional Cantonese and Hong Kong style specials. These have all now been added to the menu so that they are available any time (but I just have to be sure that I get the right menu to order them).
The same items from the American style menu I have enjoyed over the years at Dot Wo are also available at Fung's Kitchen. Foremost among them is the Hot and Sour Soup, which I consider to be among the best in Oklahoma City. In fact, when it is prepared as it is at Fung's Kitchen it is closer to the authentic hot and sour soups I have tasted in Sichuan style restaurants in Seattle than the American style soups that are common at the nation's Chinese restaurants.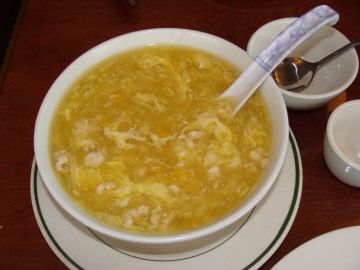 Chicken corn soup
Chicken Corn Soup is an example of food that I would characterize as "Americanized," but the one here was better than several I have sampled at Chinese restaurants around the metro.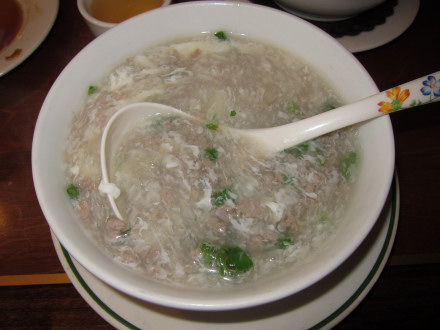 Westlake beef soup
Although I have always known Westlake beef soup as being a Chinese food delicacy, the one here tasted pretty much like egg drop soup with beef in it. For me, there would be better soups to order.
Hong Kong Crispy Noodles wih Vegetables was an item from the regular menu that I consider to be more authentic than Americanized (and the regular menu includes several traditional Chinese dishes). This plate had an excellent brown sauce over lightly toasted noodles, and kept an appealing texture and flavor throughout the meal (with the noodles getting soft from the sauce but not too soggy). The vegetables were very good, and overall I was quite pleased with it.
The Kung Pao Chicken served at Dot Wo is probably the best in the city that I have tried (but I have not ordered it at Fung's Kitchen).
Salt and pepper crabs, and several other "Chef's Specialties" as well as Hong Kong style noodle soup and other dishes are available on the regular menu. Based on my experiences at Dot Wo, I would say that even sticking to this more familiar and less exotic menu would offer better Chinese food than could be found in the great majority of OKC restaurants.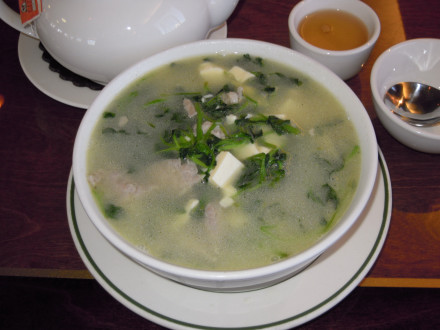 Water cress and sliced pork soup
Water Cress and Sliced Pork Soup is an example of a more traditional Chinese soup (one that can be used either as a meal or an appetizer). Listed under the "Soup and Fire Pot" section of the menu (number S6), it was a excellent flavored soup with tender meat and a thick broth that was almost a meal in itself. Probably most impressive was the fresh water cress vegetable that was neither too chewy nor too soft, and which I think I would have a hard time finding in most of the city's other Chinese restaurants.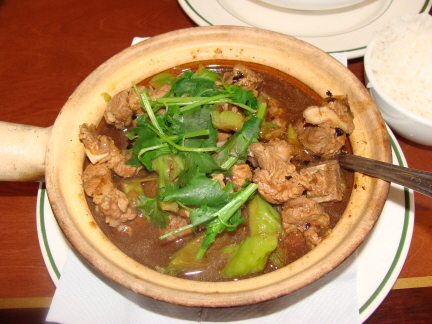 Bittermelon with spare ribs hot pot in black bean sauce
Bittermelon with Spare Ribs Hot Pot was a dish I initially tried at the N.W. 23rd Street location as a special, and which is now on the Chinese menu. Bittermelon is a green vegetable that tastes exactly as the name describes, and is not recommended unless served with the right meat and/or the right sauce (such as the black bean sauce in this dish). The only problem, both at the old and new restaurant, was trying to eat it all, since it was meant to be served "family style" (and normally would be shared by more than one person).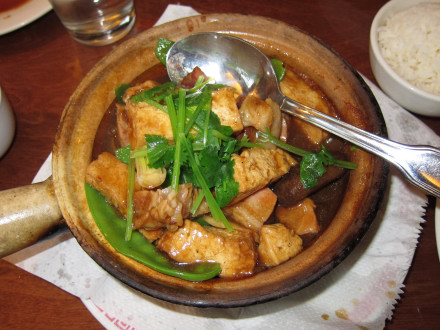 Roast pork tofu hot pot
I am a long time fan of the hot pot dishes at Fung's and Dot Wo. One good one is the Roast Pork Tofu Hot Pot, made with crispy pork prepared the traditional way. Fung's has several good hot pot dishes, and the common denominator between most of them is a very flavorful brown sauce.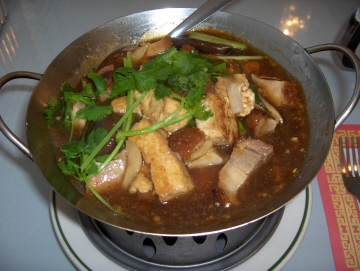 Eggplant with Salty Fish in Hot Pot
Eggplant with Salty Fish in Hot Pot was a dish I tried at the old restaurant from the "specials" board, and is now available on the Chinese menu. The salty fish, like the bittermelon, was not as intimidating as it sounded, since the chefs at Fung's know how to do it right (the fish is quite salty, though, if you eat it "straight"). Eggplant is a vegetable I do not normally like, but the one here was good (Asian eggplant is longer and skinnier than the American vegetable, and I think this has something to do with it). The eggplant was floating in an oil, but I have seen this same type of oil used in other Chinese eggplant dishes, so I think this must have something to do with balancing the flavors. In any case, this is another recommended dish that I am glad I tried.
This eggplant dish was not as sweet or as spicy as the Sichuan version served at Chow's, Szechuan Bistro, or other restaurants, so it is not a matter of one being better than the others (they are simply recipes from different parts of China).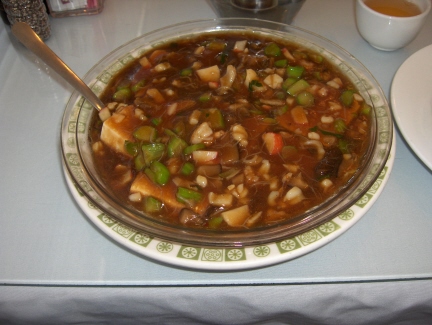 Fujian tofu
Fujian Tofu is a dish on the current menu (number VG6 on the Chinese menu) that I tried at the old restaurant, and which was quite impressive. This was a waitress's recommendation, and it seems the employees' suggestions have not yet steered me wrong. This delicious casserole dish had a thick sauce with soft tofu and so many other ingredients that they would be hard for me to list. This seems to be one of the dishes from a region other than Guangdong that they do as well as the Cantonese food. Fung's has long been known for having one of Oklahoma's most celebrated Chinese chefs, and I definitely think it is worthwhile experiencing the different creations served here.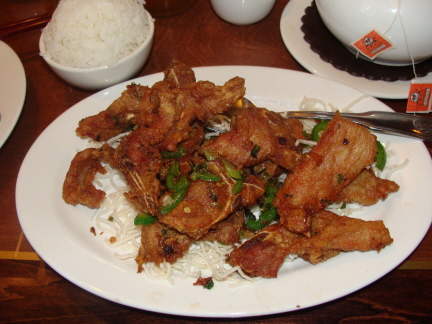 Pork chops with salt and hot pepper
The Pork Chops with Salt and Hot Pepper was another very good dish, but with as much meat as is served the plate is probably best for sharing. The flavor was much like the traditional "salt and pepper" style, but with jalapeños added this did not seem to be a traditional Hong Kong style salt and pepper dish. It was on a bed of rice noodles, so the dish was not just meat (but I do not think the jalapeños really qualify as vegetables).
It is worth noting that I keep seeing improvements at Fung's, and it seems that I enjoy it more just about every time I go. The old restaurant (on N.W. 23rd) had a problem with adding MSG to the food when I asked them to omit it, but I have not seen this at the new location. When I first went to the new restaurant they did not include steamed rice with some of the "family style" dishes (dishes from the Chinese menu), but now they do. I would have to say that the food seems to taste better now and be more consistent than in the past, and all around it is one of the few places that I can say is improving over time.
There are only a few restaurants in the city that offer the variety of authentic Chinese dishes served at Fung's, so I think it is certainly worth a try.
My Comments in a Nutshell
What I like most:
One of the top 3 or 4 places in OKC for "real deal" Cantonese food
The only one of the "top 3 or 4 places" which serves dim sum
Disappointments:
Some food has MSG, and in some cases they cannot exclude it from the food (particularly the dim sum)
Things to know:
If you do not look Chinese they will rarely if ever offer you the Chinese menu upon sitting down at the table. The best food, though, is on the Chinese menu (so I recommend asking for it).
The owner is related to the owners of Dot Wo. If you ask for food from the Americanized menu, it will taste like Dot Wo's food (and in some cases, such as the hot and sour soup, they have the best in the city).
Dim sum is on Saturday, Sunday, and holidays at lunch time. I do not think most of the dim sum is particularly great, but I love the desserts.
This restaurant and Golden Phoenix sell whole roast ducks hanging in a display.
RESTAURANT DETAILS
RATING: 24
Cuisine: Chinese Cantonese
Cost: $$
Hours: Open Daily
Accessible: Yes
Tea: Jasmine (bags)
MSG: Yes
Smoking: No Smoking
Most Recent Visit
Feb. 9, 2013
Number of Visits: 9
Best Items
Dim Sum, Tofu Hot Pot Dishes, Spare Ribs and Bittermelon, Fujian Tofu, Water Cress and Sliced Pork Soup
Special Ratings
Spare Ribs & Bittermelon:


Fujian Tofu:


Water Cress and Sliced Pork Soup:


Pork Chops:


Hong Kong Crispy Noodles:


Roast Pork Tofu Hot Pot:


Eggplant with Salty Fish Hot Pot:


Westlake Beef Soup:


Corn Soup:

Dim Sum Ratings
Pork and Shrimp:


Sesame Balls:


Coconut and Custard:

MORE ABOUT THIS WEB SITE