okgourmet.com&nbsp &nbsp Home of Steve's Restaurant Reviews
Fortune Chinese Restaurant
12315 N. Rockwell Ave.
Oklahoma City, OK
(405) 722-3032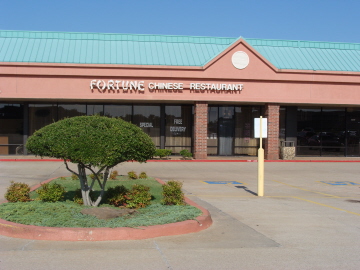 Fortune is a small family run restaurant in far northwest Oklahoma City that from the outside looks like most of its competitors. All the standard dishes are served, and the menu is pretty typical for Chinese restaurants. A good portion of the restaurant's business is take-out, and if you dine in it will be easy on the budget. While Fortune may be everything that is expected in a suburban Chinese restaurant, close examination reveals quite a few features that are not normally found.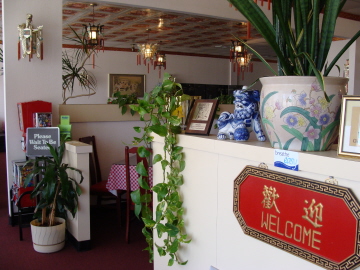 Fortune's interior is comfortable and inviting
Upon entering the building one may notice the ample space that makes it possible to hold large family gatherings, and there are even large round Chinese style banquet tables. The new chairs, green plants, and clean environment invite a leisurely meal, or food can be served quickly enough for those who have a time constraint.
The menu may not provide as extensive a selection as can be found in the three menus at Grand House, but some interesting choices are available such as Cantonese noodle dishes. The family at Fortune suggested that I try Mi Fun, or Hong Kong style rice noodles. These were soft noodles lightly soaked in sauce so that they were more like the "dry" style served at Grand House and other restaurants. When the family prepares it for themselves they usually include shrimp and chicken, although the meat can be prepared to order.
The chefs at Fortune are also able to prepare special orders and items not listed on the menu. Bean Curd Homestyle was one such item that I asked the cooks to prepare, being one of the "benchmark" dishes I use to compare different restaurants. The sauce turned out to be rather dark with an over-generous amount of soy sauce, but I enjoyed the fact that it did not have a highly salty taste. I think just informing the cooks that you do not want your food "Americanized" will result in many items having a lighter sauce with more of a Chinese taste.
Another unique aspect of Fortune is the fact that it offers hot pot dishes served the traditional Chinese style. The one dish listed on the menu is a seafood hot pot, but other styles are available. The Bean Curd and Vegetable Hot Pot I requested was much like the one on the menu but without the seafood. I found this dish to be quite good, with the vegetables being the standout feature. The sauce was very good also. Even the tofu, which I would normally cosider undercooked, went well with the dish, and was in keeping with the traditional cooking methods used in large city Chinatown restaurants.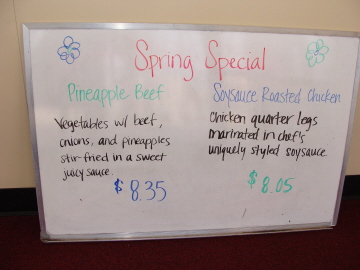 Seasonal dishes from Spring 2009
Periodically the restaurant introduces new dishes that are served as specials, with some later being added to the menu or available on request. One such dish is Citrus Chicken that was offered as a special during summer 2006. This dish had a sauce made with orange juice and lemon, and while flavorful, was breaded and heavy on the meat with virtually no vegetables included. This is not quite what I would classify as traditional Chinese cooking, but it neverthess reflects Fortune's effort to introduce the public to more "gourmet" Chinese cooking. It was also one of the dishes that convinced me to return to the restaurant to try other dishes.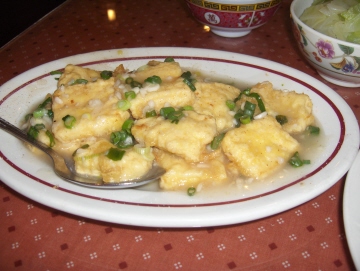 Crispy tofu Guangzhou style
Crispy Tofu was offered as a special in winter 2007, and has since been added to the menu (although for some reason it is only printed on the take-out menu). I think is an excellent example of traditional Chinese cooking, and it is probably my favorite menu item. These lightly fried pieces of tofu come with a light Guangzhou style sauce that was so delicious it even won over some of my carnivore family members. I may be one of the few persons who enjoys tofu as a main dish, but dishes such as this one can be ordered family style along with meat or other dishes for a well balanced and flavorful meal.
Most of the regular menu items are served the same way they have been since Fortune Restaurant opened more than twenty years ago. I have not found much from the regular menu that I would rate as highly as the special dishes, but the American style Chinese dishes will appeal to many of Fortune's long time customers. The important thing is that the restaurant does their best to give everyone the type of food they want.
SPECIAL DISHES
Fortune Restaurant has been generous enough to introduce me to quite a few traditional Chinese items that are not included on the menu when I have given them advanced notice I was coming. Many of these are special dishes they prepare for their own meals, and they are prepared on a rotating basis as the necessary ingredients are available at the market. All are authentic Guangzhou style (Cantonese) dishes that are more like home style meals than the typical "mass produced" dishes served in restaurants.
If you are interested in anything special that is being prepared it is a good idea to ask. Some items can be prepared any time and others require advanced notice.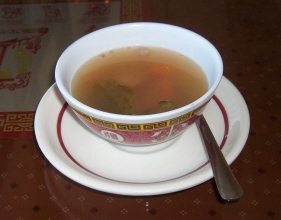 Chinese style vegetable soup
It is hard to know where to start when describing the special dishes that may be prepared. Many different types of vegetable soups are prepared, including wintermelon, green vegetables of all types, and ones containing whole soy beans and other legumes. Yan Kit's Classic Chinese Cookbook refers to one of the soups served as "stock," and this is the type of everyday soup found in the typical Chinese home, but which is seldom served to customers in American Chinese restaurants. I consider any of these soups to be a real treat, with the variety I have experienced in multiple visits being a bonus. Many of these soups take several hours to cook, so the key in ordering them is giving the restaurant sufficient notice and to allow flexibility in the ingredients that are used.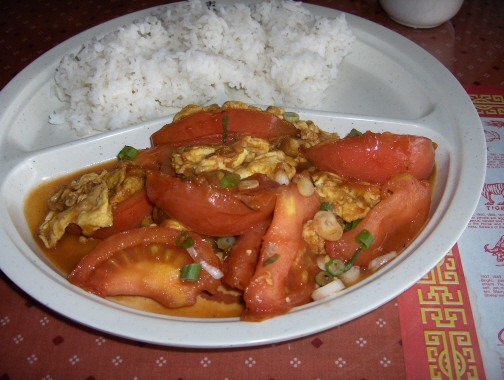 Eggs with tomato are simple yet delicious, and can be served any time
Some of the special dishes can be prepared any time. These can be anything from tomatoes and egg to various types of meat dishes. Simple beef and potato dishes have a flavor level much above many of their American counterparts. Noodle dishes are good, and they can also prepare noodle soup. Most of these dishes can be prepared in a relatively short time, but some might take a little longer. I would say that all such food has the benefit of a long Chinese cooking tradition that makes it relatively simple yet well balanced.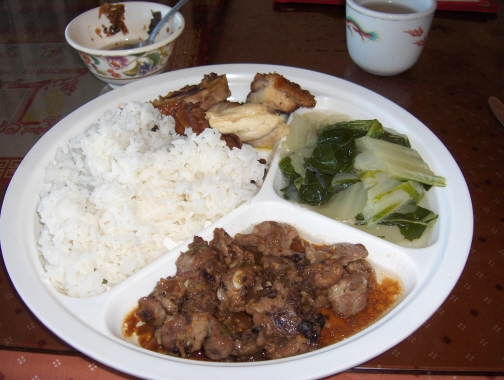 Clockwise from bottom: spare ribs with black bean sauce, rice, steamed chicken with ginger sauce, Chinese vegetables
Fortune also offers special dishes that are almost always available, but are not on the regular menu because they take a long time to cook. These include the meats that need to be slow cooked, dumplings, and some of the soups. For these it is advisable to call ahead for any order you wish to place.
One such special dish is Pork Ribs with Black Bean Sauce (shown in photo), that is slow cooked. I have learned that it also takes a lot of practice to get the black bean sauce just right, and here I believe they do.
Steamed Chicken with Ginger Sauce is also available on request (and is shown in the preceding photo). The ginger sauce is served separately, and can be added as desired. This sauce is noteworthy for not being overly sweet as some ginger sauces are, and is a well balanced liquid that adds all the flavor needed to the steamed chicken. I believe this type of chicken can be cooked while you wait if you are not in too big a rush (but it is always best to ask).
In my opinion if you ask the chefs to prepare anything that would be to their taste it will be good, regardless of what type of food it is. Since most of these items will be based on the ingredients they have purchased at the market, this will be the limiting factor concerning the items that can be ordered. I usually do not order anything specific, though, I just ask them to prepare what they have.
Traditional Cantonese cuisine prepared here is based heavily on meat items, but is balanced with delicious soups and vegetables. All of it is "healthy for the body," as attested to by my sensitive stomach that previously did not do well with meat products and some of the same items served at Fortune but cooked differently.
The food is true Cantonese style from the Guangdong province of southern China. It has been explained to me that what passes for Cantonese food in many restaurants-- the gloppy sweet and sour and the crispy fried food-- is actually considered as "fast food" in China. Of course these items are available on Fortune's menu. I do believe, though, that this restaurant offers the opportunity to open up to a different world of Chinese food. The more authentic food is available to anyone who is open to it, and in some cases extra time is required for it to be prepared.
If some readers are not in the habit of eating Chinese food, perhaps it is because high quality authentic cooking has not been available. Fortune might provide a good opportunity to try something different, and most likely better, than has been experienced in the past. I have enjoyed literally everything that has been recommended by the chefs.
My Comments in a Nutshell
What I like most:
Can always prepare some authentic Cantonese dishes, and by giving advanced notice you can get a greater choice of these items
Lettuce wrap, black bean sauce, and brown sauce are better than at most competitors
Disappointments:
Watch out for MSG in some of the menu items
Things to know:
Authentic food is not only excellent, but is MSG free
Fortune can prepare an excellent Chinese New Year dinner or other special meals if you order them in advance
Free delivery with a $12 minimum order
The shopping center has handicapped parking spaces in front of the restaurant, but if you need a ramp you either have to go south to Nhinja Sushi or north to the tanning salon
The restaurant is open daily, and only closes on Christmas, New Year, and July 4th
RESTAURANT DETAILS
RATING: 22
Cuisine: Chinese
Cost: $$
Hours: Open Daily
Accessible: Yes
Tea: Jasmine (bags)
MSG: Yes
Smoking: No Smoking
Alcohol: Beer
Buffet: No
Most Recent Visit
Sep. 8, 2014
Number of Visits: 10+
Best Items
Crispy Tofu, Chicken with Ginger Sauce, Lettuce Wrap, Non-Menu Authentic Chinese Dishes
Special Ratings
Crispy Tofu:


Noodle Soup:


Crispy Duck:


Tomato Beef:


Ma Po Tofu:


Lettuce Wrap:


Egg Drop Soup:


Hot and Sour Soup:

Non-Menu Items
Chicken with Ginger Sauce:


Bean Curd Hot Pot:


Mi Fun:


Spare Ribs:


Tomato and Egg:

Restaurant Menu
DELIVERY.COM menu
MORE ABOUT THIS WEB SITE