okgourmet.com&nbsp &nbsp Home of Steve's Restaurant Reviews
Flip's Wine Bar & Trattoria
5801 N. Western Ave.
Oklahoma City, OK
(405) 843-1527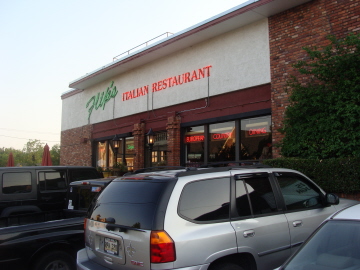 When an article in the Oklahoma Gazette proclaimed Flip's Wine Bar and Trattoria as one of the three most authentic Italian restaurants in the Oklahoma City metropolitan area, it became a place I had to try. Now that I have experienced it, it has become a place I am very anxious to try again. If being "authentic" means it serves excellent food, I think Flip's fits the description.
I did not know what to expect with a "Wine Bar," but it was quite comfortable with a large dining room and a bar on one side. The music was quite pleasant (the songs were Italian but patrons were not subjected to endless Frank Sinatra songs as seems to be the case at too many Italian restaurants). I think the word "Trattoria" best describes Flip's, with freshly prepared and flavorful food as I would imagine is served in Italy.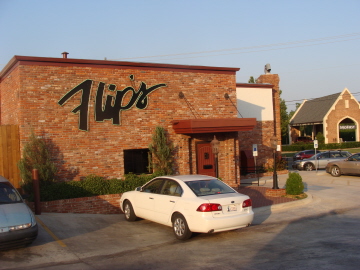 Flip's rear entrance
The parking on Western is rather limited, and additional parking is located in the rear off of Grand Boulevard. The accessible entrance is located on the south side of the building, on the ramp that connects with the rear parking lot.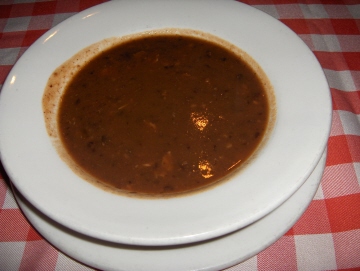 Bean soup
Bean Soup was an excellent start to the meal, tasting fresh and home made. I appreciated the fact that they let the flavor of the beans dominate the dish, and did not try to cover it up with bacon or other meats.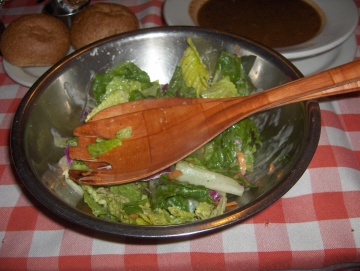 Flip's fresh salad
The Salad was excellent as well, with fresh greens and a very well prepared dressing. I could tell this was not a restaurant that cut corners when it came to food quality because of the salad and soup that were served. Even though dinners are fairly expensive, I believe customers get a good deal since both the soup and salad are included.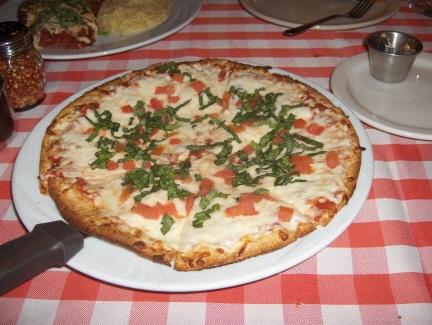 Margherita pizza
Margherita Pizza was one of several types that were available, and I thought it was excellent. The thin whole wheat crust was especially notable, and set this pizza apart from many that are served in other restaurants. Flip's does not have a wide variety of pizzas on the menu, but the ones served are certainly good.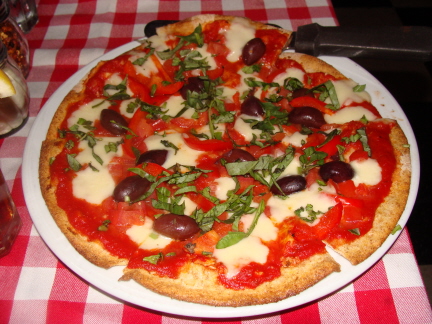 Lombardy pizza
The Lombardy Pizza was another vegetarian selection with two kinds of mozarella, olives, sun dried tomatoes, and basil. I thought this was even better than the margherita pizza, probably because of the added ingredients included on the Lombardy style. The basil provided the best part of the flavor mix, and I personally liked the fact that it had less cheese and more tomato than the margherita pizza. Like the margherita, it had a thin, crispy, and perfect crust.
One drawback to ordering a pizza is that it does not come with a soup and salad, thus ordering pizza as a meal might be more expensive than ordering one of the regular dinners. The pizza itself is one of the most expensive I have ordered in Oklahoma, and I only do this when I am willing to splurge for good quality (I believe Flip's pizza to not only be one of the best, but also one of the most authentic ones I have tried). I do not know if this pizza is wood fired or not, but everything else tastes like ones I have eaten that were certified as authentic by people who have been to Italy.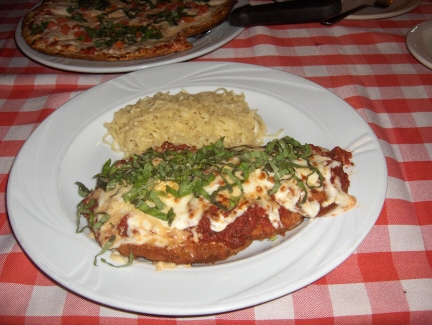 Eggplant parmesan
The Eggplant Parmesan was one of the best I have ever eaten, with everything coming together perfectly (even the eggplant had the right texture and flavor, something I consider rather hard to accomplish). The cheese and tomato sauce were fresh, and the dish was not overwhelmed by spices. A serving of linguini pasta on the side tasted home made, and was unlike any other pasta I have had in Oklahoma City (in a good way). Every Italian restaurant has certain dishes that are my favorites, and I believe this is one that will prove to be excellent every time I order it at Flip's.
Oklahoma City is blessed with several good Italian restaurants, and I do not believe any one of them is the best for every dish. For eggplant parmesan and soup, though, it is pretty hard to conceive that any other restaurant in OKC could be better than Flip's.
Flip's also has my favorite pizza (the Lombardy), but I have tried so many others in the city that were good I am not yet ready to give up on others that might be contenders.
RESTAURANT DETAILS
RATING: 24
Cuisine: Italian
Cost: $$$
Hours: Open Daily
Accessible: Yes
Smoking: No Smoking
Alcohol: Beer, Wine, Drinks
Most Recent Visit
Jun. 9, 2011
Number of Visits: 2
Best Items
Lombardy Pizza, Eggplant Parmesan, Bean Soup
Special Ratings
Eggplant Parmesan:


Margherita Pizza:


Lombardy Pizza:


Salad:


Bean Soup:

Restaurant Web Site
Flip's Wine Bar
MORE ABOUT THIS WEB SITE