okgourmet.com&nbsp &nbsp Home of Steve's Restaurant Reviews
El Pollo Chulo
5805 N.W. 50th St.
Oklahoma City, OK &nbsp Warr Acres
(405) 792-2300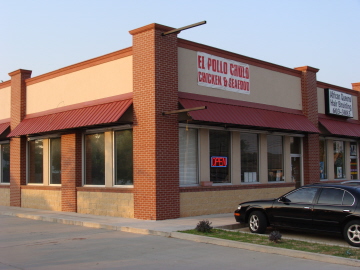 There are not many Mexican or Latin style restaurants that offer something unique, but El Pollo Chulo truly is, and attracts a loyal following for a reason. A large grill is located near the entrance where the meat is slow cooked, and customers can see the choices of meat available before ordering. The flavors of the meat are what really sets El Pollo Chulo apart from other restaurants in the city, and the method of slow cooking is not common among the restaurants I have seen.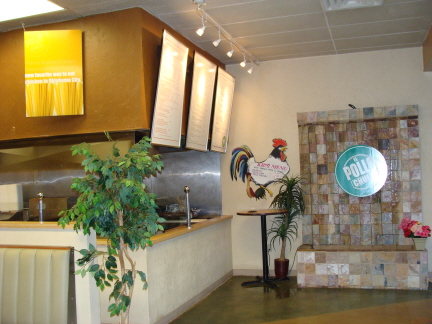 Orders are taken at the grill where meats are cooked
El Pollo Chulo's specialty is chicken, but all meats are charbroiled over the grill. I cannot tell that there are any vegetarian dishes on the menu, but it does include wild salmon, shrimp, and white fish. The "Baja fish tacos" and other items made me think that the menu was Mexican, but the owner explained that the food was Spanish. There seems to be a lot of overlap with food served in Mexico, though, with items such as burritos, street tacos, and the Santa Fe wrap (made with charbroiled chicken, rice, and beans, with sour cream and salsa added).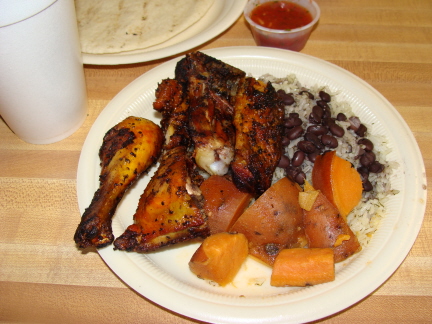 Half chicken with sweet potatoes and mixed rice and beans
The Half Chicken was excellent, and I think points to the reasons that El Pollo Chulo is different from other restaurants. The chicken was citrus marinated and charbroiled, giving it an excellent flavor and texture. The chicken was small, making a half chicken about the right size for an individual (but in my case I was able to share part of it and still have enough to eat). This was the good kind of small chicken, standing in contrast to many of the giant chicken pieces I find in restaurants that are filling, but devoid of the flavor I think good chicken should have. The Chinese consider the small chickens (that are not overly fattened through the factory farm process) to be the best, and the same was true of the chicken at El Pollo Chulo-- I found it to be of superior quality. A quarter chicken is also available, but I would advise people that this would probably not be enough for most appetites (although it would be the same superior quality).
Side dishes also come with the meal, and I found them to be very good but not as exciting as the chicken. Mine came with a mixture of black beans and white rice mixed with cilantro. The owner indicated that he ate this combination beans and rice dish every day, and I can see that this would be a healthy and enjoyable dish. Other side dishes were also available, and the Sweet Potatoes I chose were very good.
The Tortillas were excellent, as was the Salsa (although this is not like Mexican restaurants were chips are served with the salsa).
I have been to Mexican restaurants in El Paso that served citrus marinated chicken such as the one served here, but I will have to say that El Pollo Chulo is better than others I have tried. There is not much offered other than grilled meats, but what they serve is excellent, and worth the trip to try it.
RESTAURANT DETAILS
RATING: 22
Cuisine: Spanish
Cost: $$
Accessible: Yes
Smoking: No Smoking
Most Recent Visit
Jun. 6, 2011
Number of Visits: 1
Best Item
Chicken
Special Ratings
Chicken:


Sweet Potatoes:


Mixed Rice and Beans:


Salsa:


Tortillas:

MORE ABOUT THIS WEB SITE