okgourmet.com&nbsp &nbsp Home of Steve's Restaurant Reviews
Eischen's Bar
109 S. 2nd St.
Okarche, OK
(405) 263-9939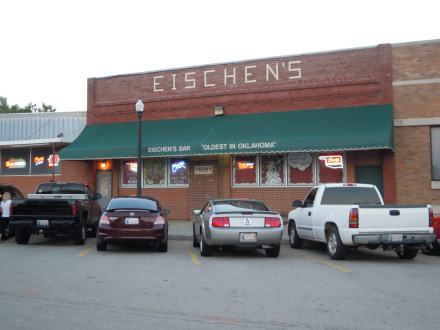 When Eischen's Bar opened in 1906 in the heart of Oklahoma wheat country it served as a local gathering place for the town of Okarche and a place to refresh in the days before air conditioning existed and when travel to any other community would be somewhat difficult. I was fortunate enough to visit the original bar and restaurant before it was destroyed in a fire in 1993, and to experience the laid back and friendly feel of "Oklahoma's oldest bar" (a claim that does not seem to be disputed by anyone).
The current Eischen's was opened adjacent to the original restaurant in the former Eischen's IGA grocery store (in what had been the oldest IGA in the state). The old building was quite large, but the new one occupies almost a half city block, including the adjacent liquor store. When I visited on a Wednesday night (one of Eischen's traditional "slow" nights) the entire building was occupied by customers who had mostly come to order one of the best known fried chicken dishes in Oklahoma. Because of the fact that Okarche is within reasonable driving distance from a good portion of Oklahoma City, it is typical, particularly on Friday and Saturday evenings, for the place to be so full that there is a substantial wait time for a table. In fact, many people who go to Eischen's plan on having to wait a long time, both for a table and for the food.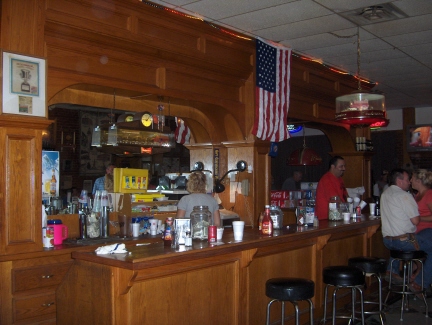 Eischen's bar, where you can come in for a beer or pop
The concept of a "bar" was probably a little different in the early 1900's than today, with the idea being as long as Eischen's has been open that it is really a family place. Children are welcome if accompanied by adults, and in that respect it is no different from most restaurants where beer is served. A wood paneled bar near the building's entrance is a good place to sit while waiting for a table or to get something to drink (Eischen's has beer and pop, but no iced tea). The standard procedure is to place an order when you arrive, and wait for a table to become available while the food is cooking. The chicken takes 15 minutes to cook, but the wait for food to be served is usually anywhere between a half hour to over an hour (depending on how busy the kitchen is) waiting for fryers to become available. The employees can advise customers when orders will be ready.
I did find on my latest visit, though, that there was no waiting either for a table or for the chicken to be cooked. The restaurant was not full, but it seemed that they were cooking the chicken in anticipation of customers arriving. It was hot and fresh, though, just as it was when I had to wait for it to be cooked.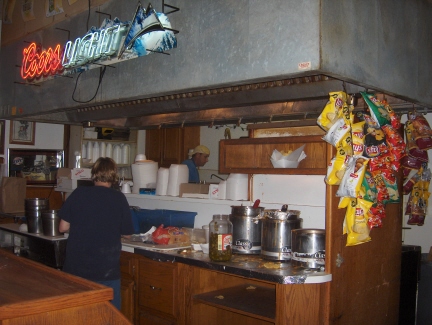 Eischen's kitchen is visible from the bar
From looking at the kitchen it is little wonder that such a small facility might get behind on the orders when the restaurant is busy. Eischen's should really be considered a restaurant even though its official name is "Eischen's Bar." Most out of town visitors (including a party who arrived in a limousine when I was there) come for the fried chicken, although a couple of other items are also available. I suppose locals might want to try the other things for variety, but certainly most of the guests who travel some distance to Okarche do so for the chicken.
I do not usually comment on the "drink" portion of a bar, but the beer at Eischen's is excellent, and in some ways is an equal part of the equation that brings visitors here.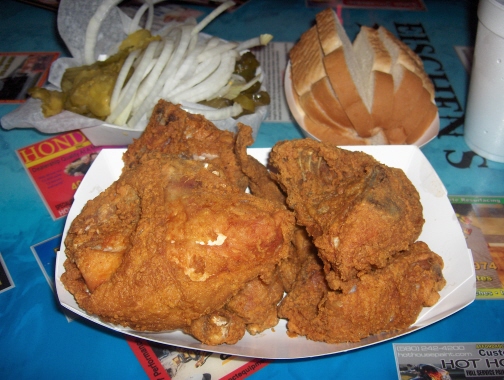 Eischen's serves whole fried chickens along with a side order of pickles and onions
The Fried Chicken is made with a secret recipe, and I thought it was one of the best I had ever eaten. The white and dark meat were equally good (usually I like white meat better), and the crust was not too greasy. I definitely thought it was worth making a trip to Okarche for the chicken.
Only whole chickens are served, and this leads to the strong possibility that you will either want to share it or take some home as leftovers. When trying to decide how much to order, though, I tend to think that each person can eat more than the normal number of pieces that are usually ordered at other restaurants (thus it is better to order too much than too little). For one thing, the chicken was so good I almost could not stop eating it. Another factor, though, was that this was chicken the way it used to be when I was growing up--normal sized chicken that did not seem to be genetically modified to produce huge pieces of meat or injected with fluids to make it larger. While I think one chicken for two adults is plenty, most people could easily eat more than that.
Sides are also available, and the Okra is the one that gets the most raves by customers. I thought the okra was enjoyable, but not special enough to stuff myself with it when I was no longer hungry.
All orders come with sweet and sour pickles, as well as onions. Normally this would not be very exciting, but the pickles here seemed quite special to me, almost to the point that no other side dish was really needed.
Fresh white bread is also served, and is almost addictive it is so good.
No plates or silverware are provided, but customers can eat off of sheets of wax paper.
I did not see that tables had individual waiters, instead it is best to place an order when you walk in with somebody working in the bar or kitchen area so that it can begin cooking.
Eischen's is definitely downscale (jeans or shorts would be in order for attire), and the place is quite loud when it is full. Probably close to half the tables had children, so from that standpoint I would call it a "family restaurant."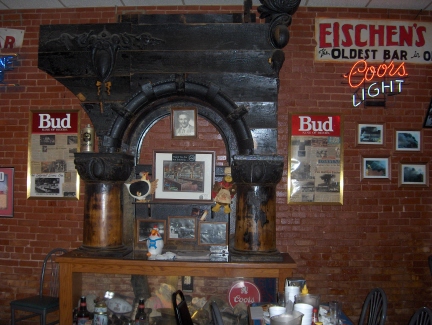 This arch is the only part of the original bar that survived a fire several years ago
Only some charred pieces of wood remain from the original bar that was engulfed in a fire several years ago. The new building is actually two converted buildings that have been turned into adjacent dining rooms, but with the additional space has come greater popularity with visitors, so that it still gets quite full. I have only distant memories of the original Eischen's, and I do not remember it being as popular as it is now. With so much of the chicken produced today getting much larger in size but losing its flavor, people are apparently willing to make the drive to a small town northwest of OKC for the "old fashinoned" kind. A stop at the bar is also worthwhile, though, even if you are not hungry enough for a whole chicken.
RESTAURANT DETAILS
RATING: 24
Cuisine: American
Cost: $$
Hours: Closed Sun.
Smoking: No Smoking
Alcohol: Beer
Most Recent Visit
Sep. 9, 2010
Number of Visits: 3
Best Item
Fried Chicken
Special Ratings
Fried Chicken:


Pickles:


Okra:

MORE ABOUT THIS WEB SITE