okgourmet.com&nbsp &nbsp Home of Steve's Restaurant Reviews
Eddy's Steakhouse (Closed)
4227 N. Meridian Ave.
Oklahoma City, OK


At one time there were several outstanding examples of Lebanese steak houses that were quite popular in Oklahoma City and Tulsa. Only a few of the original ones still exist, and any of them would be worth a visit at least out of curiosity to experience a type of restaurant that does not exist in many other parts of the country.

One of the best (if not the best) is Eddy's Steakhouse in Oklahoma City. The word was out that Eddy's planned to close at the end of 2007, but the owners' decision to remain open has given customers a second chance to enjoy the unique food here (this has come about largely due to customer's requests that the restaurant not close on the announced date). I would urge people to take advantage of it, and enjoy the food at Eddy's that continues a forty year tradition.

A characteristic of the Lebanese steak houses is that they serve Oklahoma style steaks, but you get Lebanese side dishes in addition to the typical salad and potato. One could argue that the side dishes make this restaurant more healthy-- I would argue that they make it much more delicious. In fact it has been difficult to find any Middle Eastern restaurants that serve appetizers that surpass the quality of the ones here.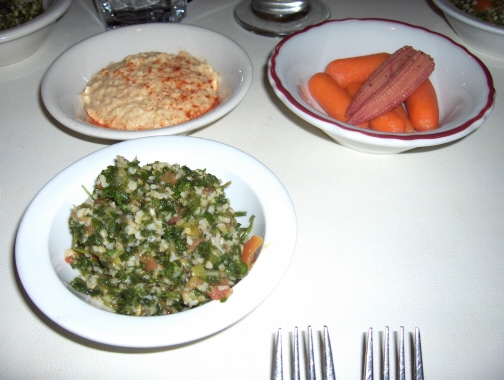 Eddy's tabbouleh and hummous are some of the best anywhere
Appetizers are brought to the table upon being seated, with every customer receiving a small bowl of Tabbouleh. The one here was fresh and light, and would make an excellent salad (except that most dinners also come with a traditional salad). It seems that the more versions of tabbouleh I try the harder it is to determine which one is best. I just know that Eddy's tabbouleh was among the best.
A small bowl of Hummous is also supplied, along with saltine crackers. When the hummous is spread on top of the crackers it goes a long way, and it does not really matter that only one bowl of the appetizer is brought per table. However, servers offer to bring another bowl when the first one is finished, and I do not think I could refuse an additional amount of what I consider to be the best hummous I have ever tried.
Some marinated carrots and baby corn round out the appetizers. To me it is the variety as much as the quality of appetizers that make them notable.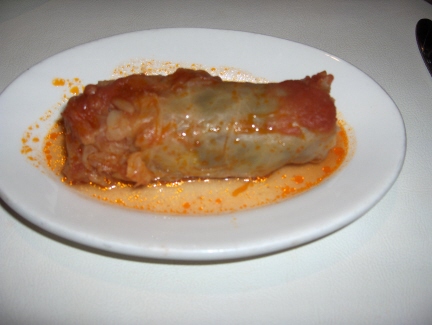 Eddy's stuffed cabbage is one of the appetizers served
Eddy's makes a three-course meal out of the appetizers, with a Stuffed Cabbage coming out next. These are so good they are also offered on the menu as a meal. I thought one of the best parts was the sauce.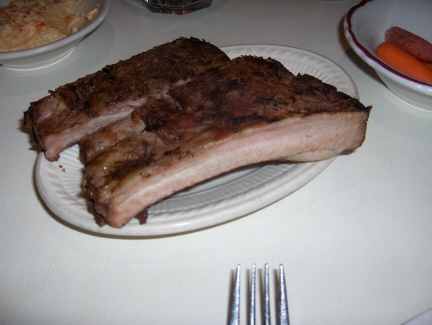 Each party at Eddy's gets ribs for the third course of appetizers
The big surprise to me was the third course of the appetizers, a plate of Beef Ribs served to each customer. While the Lebanese appetizers stuck in my memory from years past, I really had no recollection of how good Eddy's ribs were, probably having avoided them on at least one occasion when I was avoiding large quanties of meat. When one is ready for a real meat dish, though, this is one of the best. You know ribs are good when they can be eaten on their own and enjoyed just as much without barbecue sauce, with each bite of the meat's flavor being savored as if it were a special treat. You also know they are good when they are as tender as these are. Barbecue sauce is supplied for those who want it, though.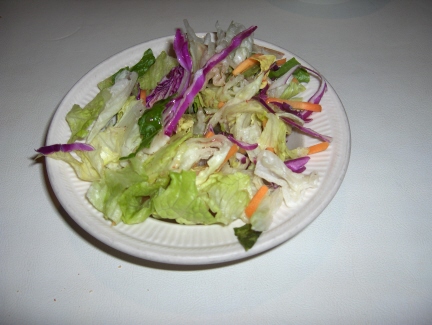 Eddy's dinner salad comes after the Lebanese appetizers have been served
If all of these appetizers were not enough, many dinners also some with a Dinner Salad of lettuce and mixed greens. This salad, although not as exciting as the other appetizers, was still quite good compared to those served at the average steakhouse.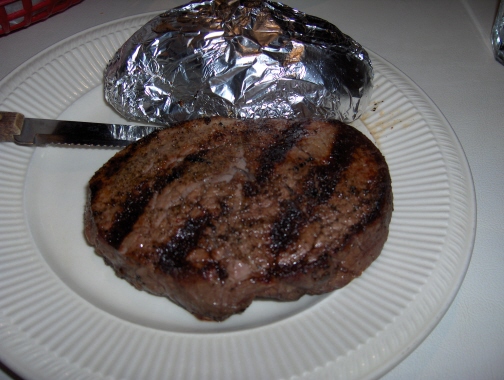 Eddy's large fillet is more than enough for one person
Eddy's steaks were somewhat unmemorable to me in past years, but I cannot say whether it was any fault of the restaurant or whether I was so used to good steaks in Oklahoma I did not pay that much attention to the ones here. What I can say, though, is that the Fillet I ordered on my last visit was a tender, perfectly cooked steak that was a very special treat. It comes in two sizes (the large one seemed just right for sharing between two people). This was the type of fillet that stood out in my mind as having the melt-in-your-mouth texture and rich flavor that seemed to have disappeared years ago in many of the restaurants that claim to be upscale steakhouses.
The Chicken I sampled was just as good in terms of flavor, and would most likely be my choice if I were not ordering steak.
The farm-raised Atlantic Salmon I ordered on a previous occasion was clearly not up to par for me with the steak and chicken. I think coming to Eddy's for the Lebanese side dishes would be an enjoyable, and maybe even a once-in-a-lifetime experience, and that it would not matter what type of meat (or meat substitute) was ordered. However, after having tried all types of salmon in the Pacific Northwest, I am usually disappointed by the ones served in Oklahoma.
The Baked Potato that comes with all dinners was cooked correctly, as I would expect. Even though all the other dishes were quite filling, the potato went especially well with the steak.
Bread is served with meals as well, but I did not find it to be as memorable as the other side dishes. With everything else that was served, I could not have eaten much bread even if it were the best in Oklahoma City. Although not the best, the bread was perfectly respectable.
The announced retirement of Mr. and Mrs. Elias has put customers on notice that we need to enjoy the food at Eddy's while we can. The owners are trying to find someone to take over and continue operating the restaurant, and many are hoping this will be the next stage in the long life of this successful restaurant. If Eddy's ends up closing, though, as it was originally announced, those of us who have been going over the years will still have the memories of one of OKC's special places.
RESTAURANT DETAILS
RATING: 25
Cuisine: Steaks & Lebanese
Cost: $$$
Hours: Closed Sun. & Mon.
Accessible: Yes
Smoking: No Smoking
Alcohol: Beer, Wine
Most Recent Visit
Jan. 19, 2008
Number of Visits: 6
Best Items
Fillet, Lebanese Side Dishes, Ribs
Special Ratings
Steak Fillet:


Chicken:


Salmon:

Atlantic
Ribs:


Tabbouleh:


Hummous:

MORE ABOUT THIS WEB SITE