okgourmet.com&nbsp &nbsp Home of Steve's Restaurant Reviews
Dot Wo Garden (Closed)
6161 N. May Ave.
Oklahoma City, OK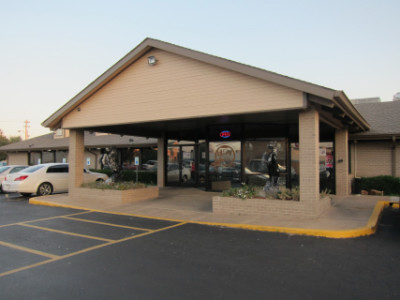 I like to think of the new Dot Wo Garden as a sign that Dot Wo has "come of age." Dot Wo was one of the original Chinese restaurants in Oklahoma City which offered "authentic" Chinese food to the public, and the restaurant on Portland Avenue was one that merited a special trip for many people I knew who wanted especially good Chinese food. Dot Wo opened restaurants in south Oklahoma City and Edmond, and they have continued the tradition by offering at least a few traditional Chinese dishes from the Chinese menu.
The new Dot Wo Garden on North May Avenue near N.W. 63rd Street is the old Portland Avenue restaurant transported to a new building (the old restaurant on Portland is still called Dot Wo, but it now has different owners and is not part of the Dot Wo chain). I say Dot Wo has come of age because the new restaurant now has a building which matches what the food has always been-- high quality special experience Chinese dining.
Just as the building which houses Dot Wo Garden is a step up from the old one, a similar situation may have happened with the food. My introductory trip to Dot Wo Garden treated me to possibly the best Chinese food I have had from a restaurant menu in Oklahoma City. I have been ordering food from the Chinese menu at Dot Wo and its cousin, Fung's Kitchen, for a number of years, so it is not as if I discovered something new at Dot Wo Garden. I just thought Dot Wo Garden prepared better quality and tastier food than I had experienced in the past.
Dot Wo Garden still has an American menu (offering American style Chinese food), so outwardly it is not that different from the former Dot Wo Restaurant. They offered me the American menu when I sat down, and I still had to ask for the Chinese menu (and I had to know to ask for the Chinese menu). I hope this is something the restaurant will change, but otherwise I was more than pleased with all aspects of Dot Wo Garden.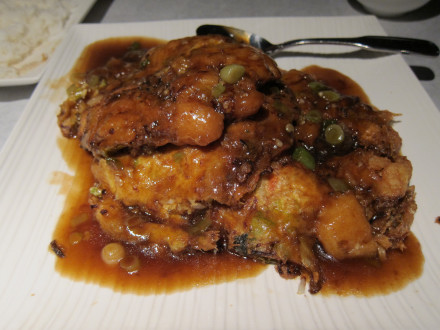 Egg foo yung
Although it was not something I ordered, I had the opportunity to sample the Egg Foo Yung. This is an Americanized dish, but it was one of the best versions of this dish I have had. The sauce was on par with dishes from the Chinese menu, and I thought the omelette part of it had a very crispy and non-oily taste.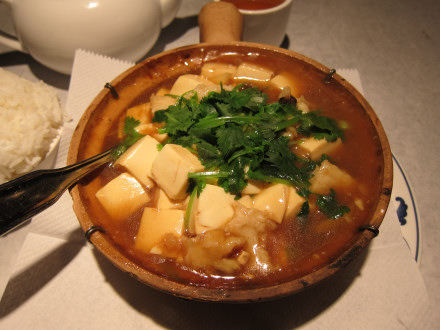 Tofu with chicken and salty fish pot
I ordered the Tofu with Chicken and Salty Fish Pot on the waiter's recommendation, and I was not disappointed by it. Salty fish is usually one of my favorites at restaurants which have a Chinese menu, so I had a certain level of expectation. The one at Dot Wo Garden, though, exceeded this expectation. It seemed to have an especially good sauce and tofu, and the salty fish gave it a hint of extra flavor without overwhelming it (and I would say this is a good thing). My feeling was not so much that I picked the best thing on the menu, but that Dot Wo Garden delivers very good quality food (although I do think the waiter made a very good suggestion with this dish).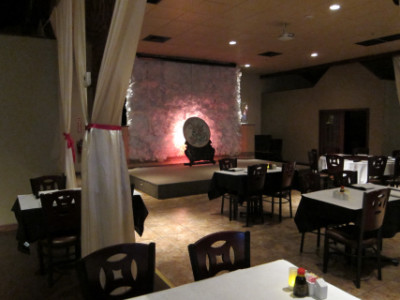 A view of Dot Wo Garden's interior
At the old Dot Wo on Portland there was usually a blackboard with a list of specials (authentic Chinese dishes not listed on the menu). Now they tell me that these dishes or ones similar to them are on the menu, and you can order them any time. The catch, though, is that they are on the Chinese menu, and I almost always have to ask for this menu before they offer it to me. I would definitely recommend asking for it, and I promise that most items listed do not present as much of a culture shock as the salty fish might be to many people (although the salty fish became one of my favorites once I tried it).
RESTAURANT DETAILS
RATING: 25
Cuisine: Chinese
Cost: $$
Hours: Open Daily
Accessible: Yes
Additional Locations: 10600 S. Pennsylvania Ave., 64 E. 33rd (Edmond)
Tea: Jasmine (bags)
MSG: No
Smoking: No Smoking
Buffet: No
Most Recent Visit
Aug. 31, 2013
Number of Visits: 1
Best Item
Tofu with Chicken and Salty Fish Hot Pot
Special Ratings
Tofu with Chicken and Salty Fish Pot:


Egg Foo Yung:

MORE ABOUT THIS WEB SITE