okgourmet.com&nbsp &nbsp Home of Steve's Restaurant Reviews
Coit's Root Beer Stand (Closed)
5001 N. Portland Ave.
Oklahoma City, OK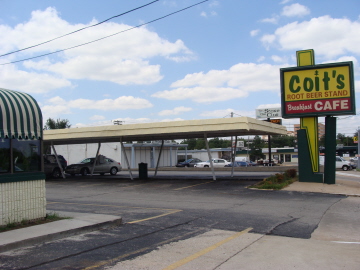 All of us have memories of special experiences growing up, and it is a special treat when you can go back and relive it today. Such is the case with the root beer float at Coit's Root Beer Stand in Oklahoma City. For those who did not have Coit's root beer as a youngster, the test would be whether this root beer compares to the best that is served elsewhere. I have made it one of my life's missions to try root beer from around the country, and I believe the one at Coit's is one of the best. This is their own brand, and is not served anywhere else.
Enjoying the root beer with ice cream in a "float" makes it an extra special experience. Most customers order from their car under the large canopies, and carhops make the deliveries. All drinks, including the floats, can be served in a cup to go, but I think the best treat is drinking it from a mug, available at the same price (but customers have to specify that they want the mug).
Many of my "ten plus" visits over the years have involved ording food items from the menu. Most or all of them are fried, and include the basic drive-in cuisine such as hamburgers, hot dogs, etc. My mom likes the BLT, but I have not tried anything recently in order to give a description here. To me, though, the root beer float is reason enough to go to Coit's.
RESTAURANT DETAILS
RATING: *
Cuisine: American
Cost: $
Additional Locations: 4001 N. Pennsylvania, 2500 S. Western
Alcohol: No
Special Features: Serves breakfast, Drive-In (dine in car)
Most Recent Visit
Jul. 13, 2010
Number of Visits: 10+
Best Item
Root Beer Float
Special Ratings
Root Beer Float:

MORE ABOUT THIS WEB SITE