okgourmet.com&nbsp &nbsp Home of Steve's Restaurant Reviews
Chubby's Chicken and Grill (Closed)
7640 Northwest Expressway
Oklahoma City, OK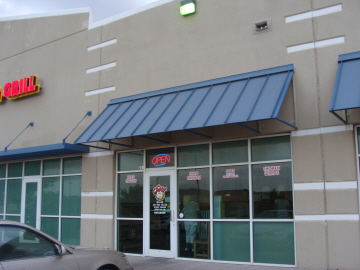 Finding anything besides chicken might be a little difficult at Chubby's unless you can make a meal out of the side dishes that are available. However, several types of chicken are served, and while fried chicken seems to be the specialty it is not the only way chicken is prepared. Chubby's menu offers grilled chicken salad, a chicken wrap, chicken wings, chicken fried chicken, and chicken chunks.
Before going to Chubby's I read that people were comparing the fried chicken to the one at Eischen's Bar in Okarche. Before Chubby's relocated from Yukon, many customers were in close proximity to both restaurants and the comparison was natural. I only found out about Chubby's, though, in 2011 when it moved to its present location on Northwest Expressway in front of Sam's.
Besides offering several types of chicken, Chubby's also has several side dishes that Eischen's does not serve (although the list here is not extensive). The kid's menu includes a corn dog and mac 'n cheese. Fried pickles are supposed to be one of the restaurant's specialties (although free pickles are served with the meals).
One difference from Eischen's is that Chubby's apparently does not serve beer, while Eischen's is as much of a bar as a chicken restaurant. Personally I prefer this aspect of Chubby's business plan, mainly because I did not find good alternatives to the beer served at Eischen's.
Chubby's serves half and whole chickens, and I think this is a better setup than at Eischen's (which only serves whole chickens). I did not try the other types of chicken served at Chubby's, but I can understand that they might be better choices in certain situations.
Chubby's fried chicken
When I ordered a Half Chicken at Chubby's it was ready very quickly, but if you are in a hurry it might be a good idea to ask how long it will take (at Eischen's I have sometimes had to wait quite a long time for the chicken, and I understand the same is true at Chubby's). To me the flavor here was comparable to Eischen's, especially with the batter. The chicken crust here was flavorful and not too greasy (although I did not consider it quite as perfect as the one at Eischen's).
The biggest difference with Eischen's was in the chicken itself, as I found the pieces of chicken here to be much larger. I personally do not think this is a good thing, since the most flavorful and natural tasting chicken is usually when it is smaller (going to Eischen's was proof of this proposition to me). In terms of flavor the white meat was good, and I would compare it favorably with most restaurants in the city, but it just was not very memorable. The dark meat, though, tasted greasy and I really did not care much for it (in contrast to Eischen's, where I thought the dark meat was better than the white).
Two types of Cole Slaw were available and I ordered the one with vinegar. It turned out to be pretty standard for the cole slaw I have found served in restaurants (mostly barbecue restaurants).
With the Mashed Potatoes I found the best part to be the gravy, and the potatoes were acceptable.
Having had bad fried chicken in other places in OKC, I can say that the chicken at Chubby's is very good. I just did not think it was as good, though, as the one at Eischen's.
RESTAURANT DETAILS
RATING: 18
Cuisine: American
Cost: $$
Hours: Open daily
Smoking: No Smoking
Alcohol: No
Most Recent Visit
Jul. 25, 2011
Number of Visits: 1
Best Item
Fried Chicken
Special Ratings
Fried Chicken:


Mashed Potatoes:


Cole Slaw:

vinegar
Restaurant Web Site
Chubby's
MORE ABOUT THIS WEB SITE