okgourmet.com&nbsp &nbsp Home of Steve's Restaurant Reviews
Chow's Chinese Restaurant
3033 N. May Ave.
Oklahoma City, OK
(405) 949-1663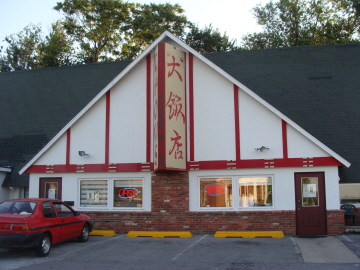 Chow's Chinese Restaurant is definitely one of Oklahoma City's best sources for authentic Chinese food, with a wide variety of dishes at reasonable prices and many items not found at any other restaurant in OKC. Situated in a somewhat unlikely location away from OKC's "Asian District" in a nondescript building across the street from the high school I attended so many years ago, there is little on the outside to distinguish it from the typical suburban Chinese restaurant.
The menu reads like many found in large city "Chinatown" Chinese restaurants, with a large selection of fish, duck, meat, noodles, soup, and even casserole (hot pot) dishes. Most dishes are Hong Kong style, with a few spicy items available. The "familiar" dishes, such as orange chicken, can be ordered, and are better than most. The great opportunity in going to Chow's, though, especially if you have to travel a good distance to get here, is to be adventurous. The menu gives English explanations of all items, and even a Vietnamese translation of everything listed. Specials are also listed on a board that changes daily, and you can also ask if there is anything special that is available.
I was concerned when I heard in 2011 that the long time owners were retiring and selling the restaurant, since one of the keys to Chow's success in preparing authentic Chinese food was being a family run operation. What I found was that they were working with the new owners in the kitchen to prepare the dishes as they had always been done in the restaurant, and to make sure that the transition was as seamless as possible. When I visited the food was the same as it had always been at the restaurant, and I have every reason to believe it will remain this way.
One change that was obvious in 2011, though, was that Chow's began serving lunch as well as dinner (previously lunch was only available on Sunday). I hope this will allow a greater number of people to try the food.
It is always a benefit to me when I can observe what the staff chooses to eat, since this gives an indication of special food that might be available, or something on the menu that I have not yet tried. On my initial visit I viewed the remains of a fish on the "staff table," and was informed that it was a flounder that came from the Gulf of Mexico and was being served as a special. While this may not be a traditional Chinese fish, it promised to be fresh, and was prepared Chinese style as Flounder with Ginger and Scallion Sauce. The fish was prepared either steamed or fried, but the waitress suggested that I try it fried. The whole flounder was covered with a delicious seasoned crust, and the brown sauce with ginger and scallions was served on the side. The flounder itself was probably as good as fish I have eaten on Padre Island, and the sauce was equally excellent. I found that parts of the fish were better plain (including the fins, which the waitress suggested I eat as a "good source of calcium"), while the white meat was good with the sauce. Overall it was a top-notch Chinese dish, with every bite being delicious (and eating the fins is optional).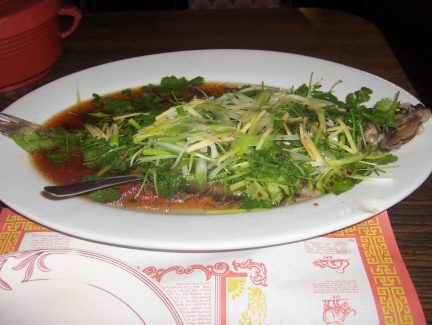 Steamed fresh fish with ginger and scallion
I have since discovered that steamed fish is usually my preference rather than fried, and several types of fresh fish I have tried have all been good. All have to pass the chef's freshness and taste test in order to make it onto the menu as a regular dish, be on the changeable board as a special, or be available as a "verbal special" that the wait staff will be glad to explain. Some types of fish are also served stir-fried.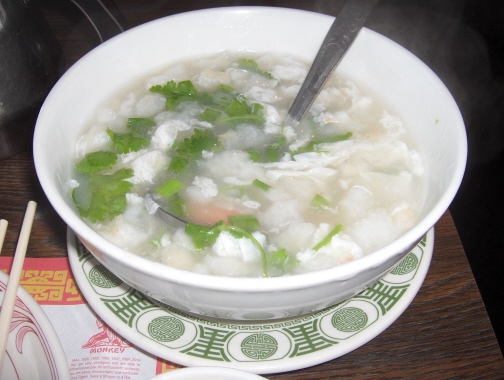 Fish maw soup with crab meat
Fish Maw Soup is one of the healthier seafood dishes, with a flavor and texture that will be apprieciated by those who enjoy some of the more exotic Chinese food. I probably would not care much for fish maw served plain, but it is delicious in the soup (this is one of the better versions of fish maw soup I have tried).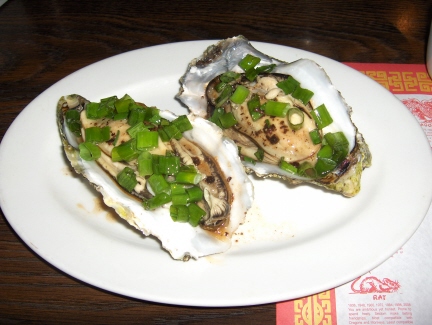 Fresh oysters
Fresh Oysters were a "verbal special," and are available when the ones at the market are of a sufficiently good quality to be served. Personally I did not care for them quite as much as the fish maw soup, but I suspect the opposite would be the case with most people (these oysters were quite good!). The sauce makes them even better.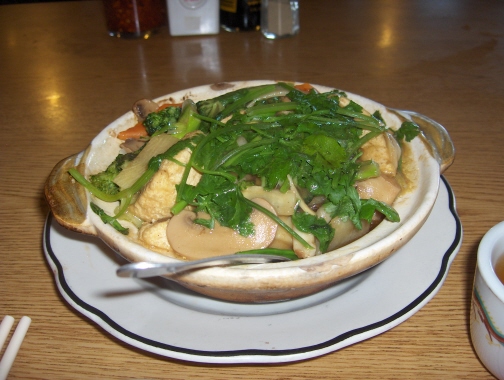 Vegetable bean curd hot pot
One of my tests for a Chinese restaurant is the Fried Tofu with Vegetable Hot Pot. The fact that Chow's even offered it was a major plus for the restaurant, but the one here was probably as enjoyable as most I have eaten on the west coast. The sauce was delicious, and was probably the best part of the dish. The tofu was excellent-- a critical element for me. Whole garlic cloves were included, probably one of the factors making this an outstanding dish. I think the one at Dot Wo in Edmond is probably better, but this one was quite good.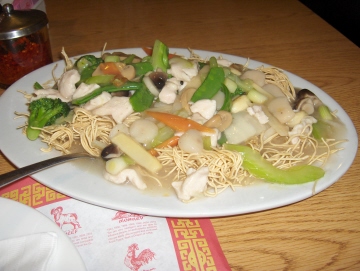 Pan fried noodles
Chicken Pan Fried Noodles served as one of my ventures into authentic Hong Kong style noodle dishes. Chow's served it on top of crispy egg noodles (rice noodles may also be ordered) that became soft when exposed to the white sauce poured over the top. The chicken white meat was excellent, and the vegetables tasted as if they had been lightly stir-fried. This dish excited the taste buds as well as the other senses, with the crispy noodles providing a pleasing texture in both the crunchy and soft state, and the entire dish offering interesting flavor contrasts. I found the white sauce to be one of the best I have ever experienced, and worthy of ordering just to see what white sauce can become when prepared by competent chefs.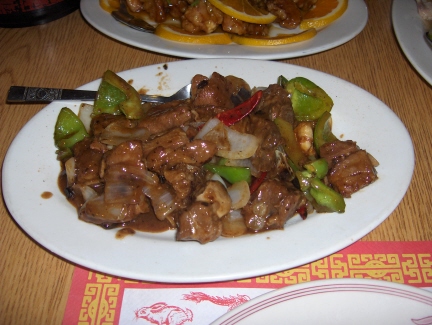 Spare ribs with black bean sauce
For a substantial meat dish Spare Ribs with Black Bean Sauce is a good choice, with the pork ribs being slow cooked for extra tenderness.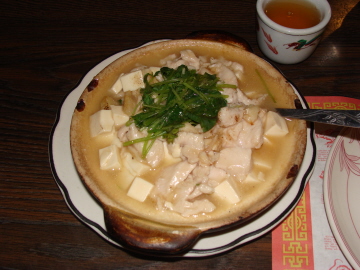 Salty fish with tofu
Salty Fish with Tofu is one of the dishes I order at Chow's because it is so hard to find anywhere else. The name probably keeps many non-Chinese people from ordering it, and the fact that visually it looks like a white soup with tofu floating on top probably does not help. This is a favorite, though, among many who like traditional Hong Kong style food, and the salty fish provides a subtle rather than overwhelming flavor enhancement to the tofu and cilantro. I like this as a main dish, but for those ordering it for the first time I would probably say to order it as something to be shared among several persons to see how each person likes it.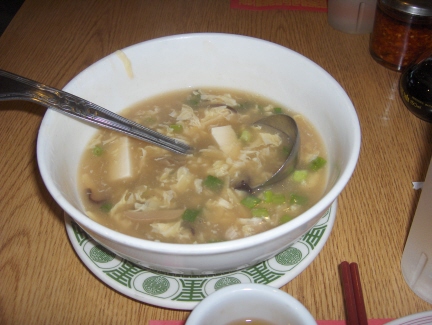 Hot and sour soup
Some Chinese style soups make a good meal, but the soups traditionally served as pre-meal appetizers are good as well. A case in point is the Hot and Sour Soup that had all the complexity I associate with good versions of the soup.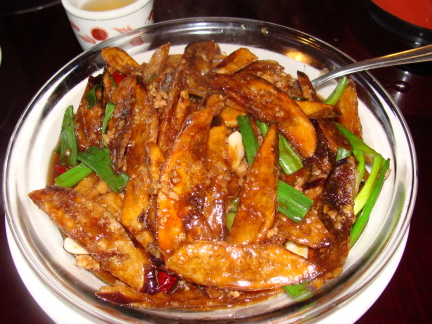 Szechuan eggplant
On my first visit after the "change" (which I think is really not a change in the way the food is prepared) the waitress suggested ordering Szechuan Eggplant, a spicy and somewhat sweet dish that uses Chinese food's complex blend of flavors for an outstanding dish. Normally I would probably not order a Sichuan style dish in a restaurant known for Hong Kong style food, but I have come to trust this particular waitress' suggestions, and I was rewarded with one of the best dishes I have tried. I do not normally like eggplant, but Asian eggplant (which I understand is long and skinny) is much better, particularly when prepared by outstanding chefs. This had an outstanding sauce, and I thought the spiciness was just right (it was not as spicy as dishes I have tried in Sichuan style restaurants in Seattle). In fact, I had a similar eggplant dish prepared at Golden Dragon in OKC and I thought both of these dishes were equally excellent (but the one at Chow's is available any time without making a special order).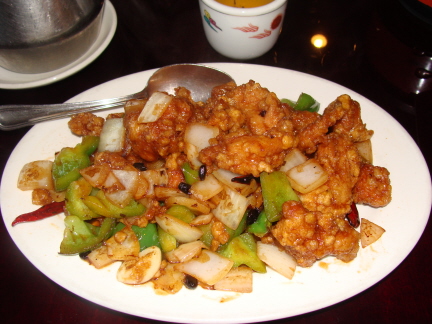 Chicken with black bean sauce
My dining companion ordered Chicken with Black Bean Sauce, which I probably would not have ordered because I consider breaded chicken to be "American style." As I have usually found at Chow's, though, even things I think will be ordinary turn out to be very good, and this was no exception. The flavor was stong and balanced, and was far from any Americanized breaded items I find in Chinese buffets (also I think the "breading" here is not like the ones found in the buffets).
Orange Chicken and other items I tried in the past turned out to be much like the chicken with black bean sauce-- they were much better than I expected and better than they would have been at restaurants that specialize in serving American style Chinese food. Here items come with a Chinese flavor, even if they are items I typically associate with being "American style."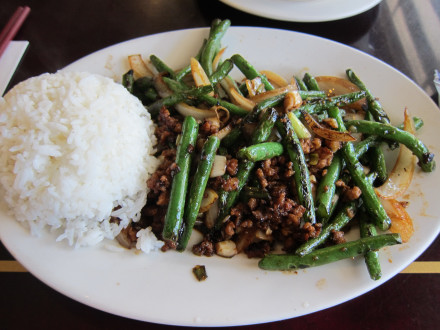 Dried green beans with minced pork lunch special
Dried Green Beans with Minced Pork is one of the Chinese style lunch specials that is available, providing an excellent opportunity for a change of pace from the usual Americanized dishes (although Chow's can provide some of these too if you want). It was a real treat to have traditional Chinese flavors on a lunch special, and I think this dish would not be out of the comfort zone of people who like any type of Chinese food (traditional or Americanized). The Chinese style lunch specials also include dishes with shrimp, chicken, or beef, and the Buddha Delight from the regular lunch special menu would be a good vegetarian choice (Chow's also seems willing to prepare special requests).
Thanks very much to Boogie Y, who wrote and suggested that I visit Chow's and review it as a public service to Chinese food aficionados. Boogie suggests trying the Crab Meat with Fish Maw Soup, Shrimp with Snow Pea, Beef with Green Onion, and Steamed Chicken with Ginger Scallion. I do not think a person can go very far wrong, though, with anything that is served.
RESTAURANT DETAILS
RATING: 25
Cuisine: Chinese
Cost: $$
Hours: Closed Tue.
Accessible: Rest Room is not Accessible
Tea: Jasmine
MSG: Yes
Smoking: No Smoking
Alcohol: No
Buffet: No
Most Recent Visit
Aug. 12, 2015
Number of Visits: 10+
Best Items
Special Fish in Season, Fish Maw Soup, Spare Ribs, Szechuan Eggplant, Salty Fish with Tofu, Pan Fried Noodles
Special Ratings
Flounder:

with ginger scallion sauce
Hammerhead:


Fish Maw Soup:


Salty Fish with Tofu:


Spare Ribs:


Szechuan Eggplant:


Green Beans with Minced Pork:


Fried Tofu with Vegetable Hot Pot:


Chicken Pan Fried Noodles:


Orange Chicken:


Chicken with Black Bean Sauce:


Chicken and Corn Soup:


Hot and Sour Soup:

MORE ABOUT THIS WEB SITE