okgourmet.com&nbsp &nbsp Home of Steve's Restaurant Reviews
Cheever's Cafe
2409 N. Hudson Ave.
Oklahoma City, OK
(405) 525-7007

Cheever's Cafe is well known for being one of Oklahoma City's more popular upscale restaurants. It is located in the former Cheever's Flower Shop at Northwest 23rd Street and Hudson, an area that used to be known as the "Uptown" retail center before the suburban malls were developed.

Cheever's is part of a group of restaurants that incudes Iron Starr Barbecue and Red Prime Steaks, all of which are known for having some of the city's best food. Although Cheever's serves steaks, its focus is on "contemporary comfort food" that includes salads, sandwiches, lunch plates, fish, chicken, and Mexican food.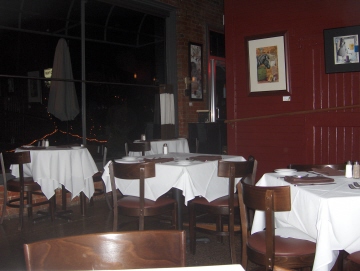 Cheever's dining room
Given the reputation of these restaurants, I was expecting Cheever's to be more expensive than it turned out to be. The steaks were definitely on the expensive side, but they are known to be among the city's best (as are the ones at Red Prime Steakhouse). For most of the things on Cheever's menu, though, I think good food is served at a reasonable price. The wood paneled former flower shop provides a comfortable setting, and the service was typical of upscale restaurants. Many dishes did not seem to be priced at the point, though, that people would have to consider this a "special occasion" restaurant. I would speculate that the restaurant makes quite a bit of profit from the wine and other drinks, although I did not order any. I also thought the desserts looked expensive, but they also looked very good.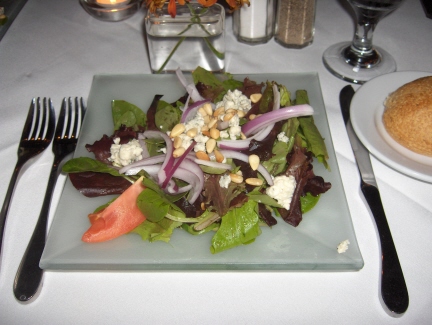 Sharolynn's salad split into a half order
I discovered that the salad is one of the standout items at Cheever's, and in my opinion almost makes it worth the trip. All of the salads on the menu included so many ingredients I thought they would end up with something that would spoil it rather than making it better.
In the case of Sharolynn's Salad I thought the bleu cheese would not be very appetizing, but I ended up loving the combination of flavors that was put together. The pine nuts and maple vinaigrette dressing were the best features of the salad, and the fresh greens were quite good. I now have confidence to go with the way the chefs prepare the salads rather than to question whether the end result will be something that is appetizing.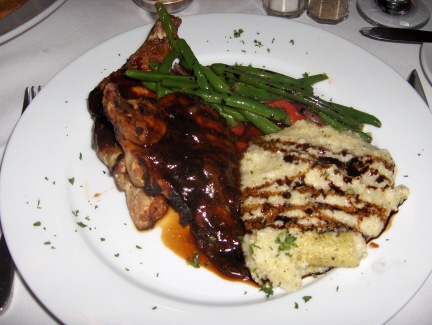 Molasses roast chicken breast
The Molasses Roast Chicken Breast was another dish in which I had to trust that it would come out all right, since it was not the normal type of dish I find in most restaurants. This was a very well cooked and well seasoned dish, though, that I thought was excellent. It came with Green Tomato Grits that were quite interesting, as well as fresh green beans. The side dishes, bread, and salad really showed me why Cheever's was a better restaurant than many others that also serve good entrées. Here the whole meal ended up being much more than just the main dish.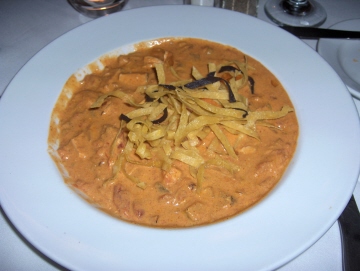 Cheever's chicken tortilla soup
Cheever's also serves several Mexican dishes including tacos, tamales, and buffalo picadillo (yes, served with buffalo meat). Most of it did not look like traditional Mexican food, but was more the type of thing I would call "Southwestern."
I tried Cheever's Chicken Tortilla Soup and found it to be somewhat different from the ones I have had in most Mexican restaurants. The soup was very thick, and was spicy without having a lot of flavor. As impressed as I was with the rest of the meal, I thought Cheever's probably should have stayed away from this Mexican dish. I suspect some of the other Mexican or Southwest dishes on the menu are better.
I appreciate restaurants such as Cheever's that give the customers choices that are not available at most restaurants, and that make us think about what to order. I know that everything will be interesting, and that the chefs put a lot of work into everything that is offered. I think most customers will be happy with the results.
RESTAURANT DETAILS
RATING: 25
Cuisine: American
Cost: $$$
Hours: Closed Sun.
Accessible: Yes
Smoking: No Smoking
Alcohol: Beer, Wine
Most Recent Visit
Nov. 3, 2008
Number of Visits: 1
Best Items
Molasses Chicken, Sharolynn's Salad
Special Ratings
Molasses Chicken:


Sharolynn's Salad:


Tortilla Soup:

Restaurant Web Site
Cheever's
MORE ABOUT THIS WEB SITE