okgourmet.com&nbsp &nbsp Home of Steve's Restaurant Reviews
Charleston's
5608 W. Memorial Rd.
Oklahoma City, OK
(405) 470-8169

Charleston's was already very popular around Oklahoma City before they built their newest restaurant on Memorial Road, and this location provides a comfortable place to enjoy a good meal. Described by the restaurant itself as "casual dining," this is certainly not the highest priced restaurant you can find. It is, however, someplace where you pay a little more than usual and you can find a relaxing atmosphere.

Sandwiches, steaks, and prime rib are probably the restaurant's signature dishes, although there is a list of "specialties" which include chicken fried steak, pork chops, catfish, and salmon. What seems to be missing is any sort of meatless dish (unless you want the kale salad), but this is pretty typical of Oklahoma City restaurants. I can say that this is one of the restaurants in town which just about everybody says is good.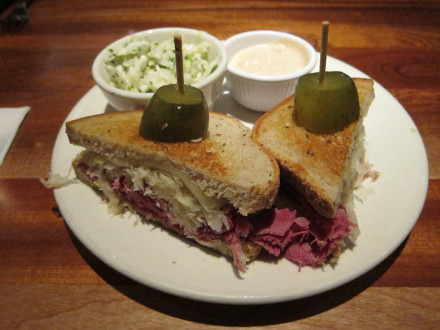 Reuben sandwich
The Reuben Sandwich is one of the popular items from the sandwich menu. These are sandwiches that are large enough to make a meal, and come with cole slaw or french fries. I did not get to taste the sandwich, but it looked good.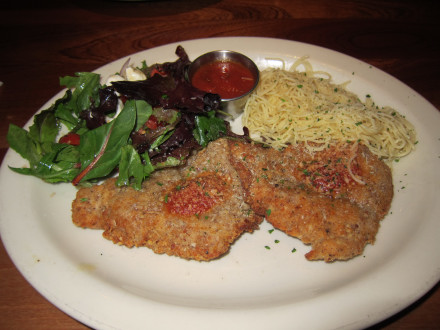 Parmesan crusted chicken
My Parmesan Crusted Chicken dinner was not much more expensive than the Reuben, and I think I can say that it is more filling. Although Charleston's has seasonal menus, I think this is one of the dishes that is a constant. It is one of five chicken dishes on the most recent menu I have seen--two of them being Italian style in addition to one Mexican (chicken enchiladas). Chicken dishes are one area where they do break the pattern of serving American style dishes.
My review of the parmesan crusted chicken in a nutshell is that it was a flavor experiment that went a little bit awry. The sauce, crust, and cheese just didn't quite come together correctly for me, although the chicken was good and all the ingredients tasted fresh.
The Mozzarella Salad that came on the plate was really quite impressive--it had good greens and good dressing (it was a house dressing but I don't remember whether I ordered it or whether it came with the salad by default). The salad comes with mozzarella balls that gave it extra flavor, although this was not a strong flavored cheese that overpowered everything else.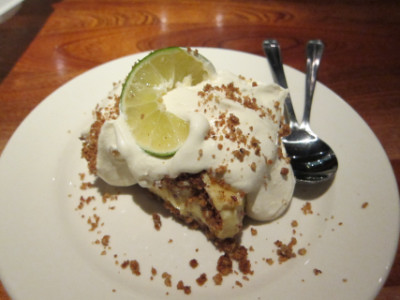 Key lime pie
The Key Lime Pie was disappointing because reviews I had seen on the Internet built it up more than I think was justified. Practically the whole pie seemed like it was whipped cream, and I did not get much key lime flavor with it. It was really more overpriced, though, than being something I did not like.
My impression of Charlestons is that you really need to spend the money to get one of their signature dishes. My dinner left me a little but underwhelmed but certainly open to going back for other items.
RESTAURANT DETAILS
RATING: 22
Cuisine: American
Cost: $$
Hours: Open Daily
Additional Location: 8 in OK, 3 in AZ, 2 in IN, 2 in NE, 1 in TX
Accessible: Yes
Smoking: No Smoking
Alcohol: Wine list
Most Recent Visit
Dec. 7, 2015
Number of Visits: 1
Best Item
Mozzarella Salad
Special Ratings
Parmesan Crusted Chicken:


Mozzarella Salad:


Key Lime Pie:

Restaurant Web Site
Charleston's
MORE ABOUT THIS WEB SITE