okgourmet.com&nbsp &nbsp Home of Steve's Restaurant Reviews
Castle Falls
820 N. MacArthur Blvd.
Oklahoma City, OK
(405) 942-6133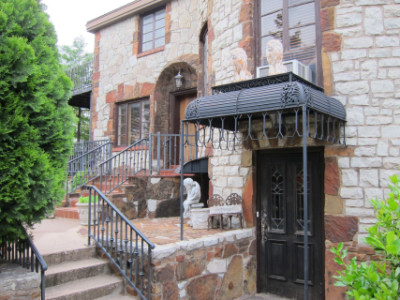 The original Keller in Kastle German Restaurant closed in 2004, and it looked as if Oklahoma would lose one of its best ethnic restaurants. For a while plans were being discussed to turn this Eurpoean castle style building into another use, but it reopened as Jutta's Keller at Castle Falls, serving the same food as before. Many of the former cooks and employees returned, continuing the same restaurant with a new name.
By 2009 the name had been changed to Castle Falls, and it largely got new personnel along with a new concept. Castle Falls (as opposed to the old "Keller") is actually a business devoted primarily to wedding receptions and parties, with several large buildings on the grounds that can take care of these events. The restaurant, called the Cellar at Castle Falls, occupies the ground floor in the building known as "The Castle," with probably less than a dozen tables available for patrons. Food is served Thursday, Friday, and Saturday evenings, but it is required that parties call ahead for reservations. I am told the reason for this is that the kitchen is so small they really cannot handle a large number of unexpected customers. There are other rooms upstairs for large groups which will not fit in "The Cellar," thus I think the proper name for the restaurant is simply "Castle Falls."
The food of Castle Falls is also slightly different than before, moving away from being strictly a German restaurant. The main dishes are mainly German, but side dishes do not include sauerkraut or other items typically found at German restaurants. I have been told they are working on instituting a more standard German menu, but for now I would just tell people that they are getting food which is "German style."
The restaurant also hosts periodic special dinners which are on the expensive side because they include extensive wine tasting, and the dinners usually have themes from different European countries. In all cases, though, it is necessary to call the restaurant and make reservations before you go.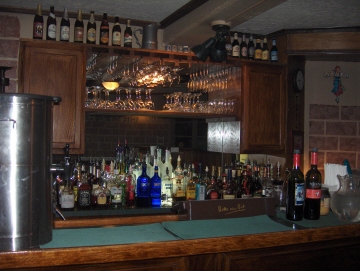 Castle Falls' bar greets visitors upon entering
Upon entering the building customers pass a full bar that seems to be stocked with just about anything a person would want. They do not have beer on tap, but bottled beers from Germany and other countries are available.
I had a very enjoyable German beer here, but I think it is probably something I could find in a store if I looked in the right place. I know that the German restaurant in Moore has beer on tap, and I believe this is the case at some other German restaurants (but not at Castle Falls).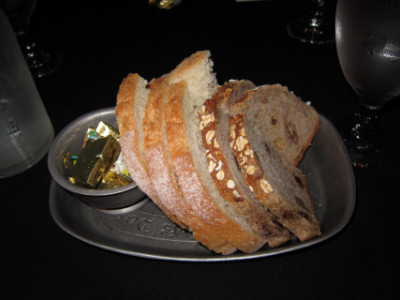 Complimentary bread
The bread served at the previous Keller restaurant was some of the best I have had anywhere. Now the variety of bread served is not as interesting, but it is still the same when it comes to freshness and flavor.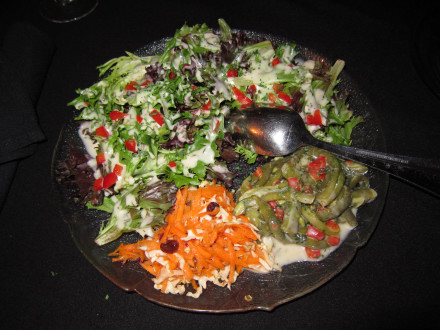 Jutta's 24 ingredient signature salad
Castle Falls has kept Jutta's 24 Ingredient Signature Salad on the menu, I am told because of popular demand by customers. This is no surprise to me, since I thought it was the most memorable feature from the times I had visited before. The salad is served on the plate as three items (green salad, carrot salad, and green beans), but all in all there are 24 different ingredients. The creamy salad dressing is made from a secret recipe, so I do not feel quite as bad for not being able to discern its ingredients. I really wish that most German restaurants would come close to offering a salad like this one (but few of them do).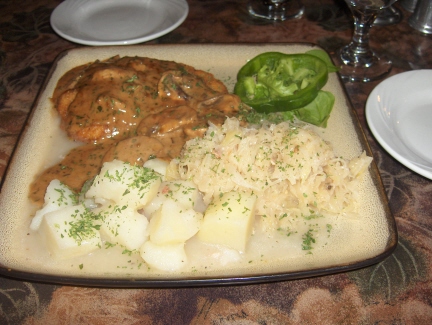 Haehnchen Schnitzel (made with chicken) served with Potato Salad and Sauerkraut
The Chicken Schnitzel was an entrée I tried in 2009 (this was my first visit after the changeover to "Castle Falls"). It is necessary to make this statement because the menu seems to change periodically, and items served in the past may no longer be available (and I know the sauerkraut is no longer available).
The schnitzel was made with breaded chicken and mushroom sauce. To me there are quite a few ways for a mushroom sauce to be disappointing, but the one here was quite good. This was not an elaborate dish, just a well executed one. I had ordered the same dish at Jutta's, and the one at Castle Falls was at the same level of excellence.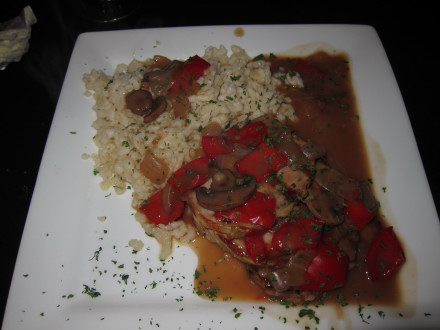 "Knight's Castle" Jaeger pork
Knight's Castle was a dish of pork jaeger schnitzel that I ordered in 2013. The meat was excellent, as has been the case with other meat dishes here. This dish had a mushroom sauce, something that seems to be a common element in the dishes I have enjoyed the most.
What I liked less were the Garlic Mashed Potatoes, which I ordered because some of the more common German side dishes were not available (such as sauerkraut, red cabbage, etc.). The manager explained that Castle Falls was not really a German restaurant, but my observation was that many of the main dishes were clearly German, and they are planning to reintroduce some of my favorite German side dishes to the menu at some time in the future (thus I still think of it as a German restaurant).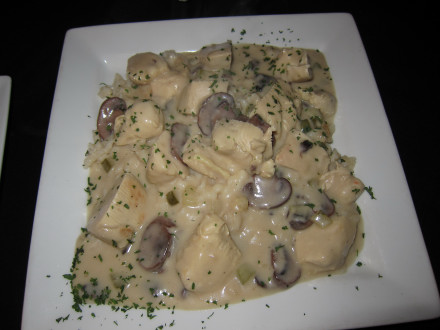 Chicken stroganoff
Chicken Stroganoff was a dish I only sampled, but even though it was a little less flavorful than the jaeger schnitzel, it is something I would like to order in the future.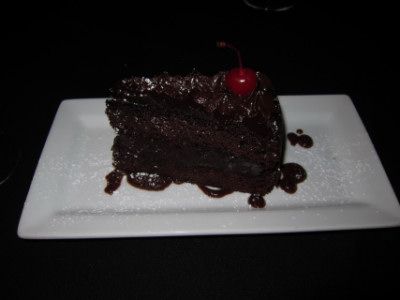 Chocolate cake
Normally I would not order a dessert after such a filling meal, but Castle Falls seemed like enough of a special meal that another treat would be in order (and the Chocolate Cake did not disappoint, although I was disappointed that I could not get a good photo of it).
There are quite a few quirks to Castle Falls, such as the fact that they only serve three evenings per week and you have to have reservations to go. They also have periodic special dinners, and the menu seems to be in a constant state of change (except for the 24 ingredient salad, which they said they would always have available). Steaks also seem to be always available, and the constant over the years is that the food has always been German inspired. The food here is a little too upscale for me to go very often, but I always enjoy it when I go. Come to think of it, there is very little German or "German inspired" food that I do not enjoy, especially when prepared well as it is here.
RESTAURANT DETAILS
RATING: 23
Cuisine: German
Cost: $$$
Hours: Open Thu.-Sat. evening by reservation only
Accessible: Yes
Smoking: No Smoking
Alcohol: Beer, Full Bar
Most Recent Visit
May 24, 2013
Number of Visits: 2
Best Items
Chicken Schnitzel, Jaeger Pork, 24 Ingredient Salad, Bread
Special Ratings
Chicken Schnitzel:


Jaeger Pork:


Chicken Stroganoff:


Signature Salad:


Mashed Potatoes:


Chocolate Cake:

Restaurant Web Site
Castle Falls
MORE ABOUT THIS WEB SITE