okgourmet.com&nbsp &nbsp Home of Steve's Restaurant Reviews
Casa Perico Mexican Grille
12219 N. Pennsylvania Ave.
Oklahoma City, OK
(405) 755-1506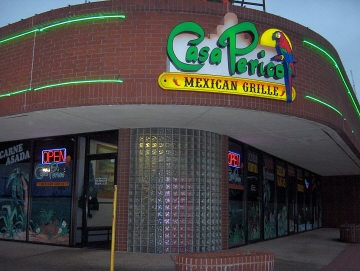 Casa Perico has a larger than average menu, with the added bonus that there is a parrot (périco) beside the items they consider to be the best. Casa Perico is probably a good example of the "new style" Tex-Mex restaurants that offer a wide variety of fajitas and all varieties of grilled meat, as well as quesadillas, shrimp, carnitas, tortilla soup, and many choices that go well beyond the standard enchiladas and tacos.
Some of the items that have been recently added to the menu include a cactus quesadilla (quesadilla de nopales), camarones al mojo de ajo (shrimp in garlic sauce), and other items that make me think they are beginning to offer some traditional Mexican dishes. For the most part, though, this is strictly Tex-Mex food.
The meal begins with complimentary chips, salsa, and queso. A spicy salsa is available on request, but although it contains the proper heat level, it does not have a flavor I like very much. The chips were almost a joke, being way too salty and tasting like they were store bought. The queso was good, but too thin. I liked the fact that the queso was made with white cheese, but it was not spicy enough. I enjoyed the queso much more with flour tortillas than trying to eat it with the oversalted chips.
The Chicken Flautas were not listed as one of the restaurant's "very best" items, but they were recommended by my waiter. I liked the golden brown color of the tortillas and the meat was better than is usually found in Oklahoma Mexican restaurants. The guacamole served on the side was mixed with sour cream, giving it a strange color for guacamole but a good flavor for spreading on top of the flautas. Overall the flautas were quite good, but were not among the best I have eaten.
Casa Perico has an interesting choice of side dishes. Several types of beans are served, including fried beans, which are much the same as refried beans only without the lard. The papas rancheras (fried potatoes with cheese and chile) were quite good, being one of the best parts of the meal.
Meals end with a complimentary sopaipilla that I thought was fluffy enough and quite tasty.
My major complaint about Casa Perico is that it suffers from what I call the "north side syndrome." It seems that just about every Mexican restaurant north of I-40 charges outrageous prices, serves exaggerated portions, and the food is average in quality. At Casa Perico you can order dinners that are not as large, but they cost almost the same as the large dinners.
Still, considering that this is a Tex-Mex restaurant, I have to say that the food is really all right, and probably better than average for Oklahoma City.
RESTAURANT DETAILS
RATING: 17
Cuisine: Mexican
Cost: $$
Smoking: No Smoking
Alcohol: Beer, Margaritas
Additional Location: 4521 N.W. 63rd St.
| | |
| --- | --- |
| Chile Index: | |
Most Recent Visit
Mar. 14, 2006
Number of Visits: 1
Best Items
Flautas
Special Ratings
Flautas:


Fried Beans:


Papas Rancheras:


Chips:


Salsa:


Queso:


Flour Tortillas:


Sopaipillas:

MORE ABOUT THIS WEB SITE