okgourmet.com&nbsp &nbsp Home of Steve's Restaurant Reviews
Casa Perico Mexican Grille
4521 N.W. 63rd St.
Oklahoma City, OK
(405) 721-3650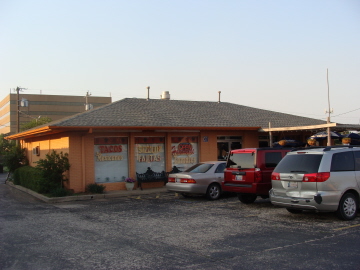 My first visit to Casa Perico was in 2006 (at the N. Penn. location), and since that time I have seen a noticeable improvement in the food. It could just be that I am making better choices from the menu. I also think, though, that the restaurant has been adding more interesting choices over time, joining the growing trend in Oklahoma City to serve more authentic Mexican food.
In one aspect Casa Perico is among my favorite Mexican restaurants in Oklahoma City. The "taken-for-granted" components of Mexican dinners (side dishes, chips, salsa, etc.) are frequently the areas which are the most disappointing when compared to restaurants in El Paso or other border areas. At Casa Perico, though, this is one area where I was pleasantly surprised, and I thought the whole meal had a good flavor (and not just the main dish, in which OKC restaurants are frequently very good). The salsa and some other aspects of Casa Perico might still use some work, but overall I thought the food was thoroughly enjoyable.
Main dishes at Casa Perico have been very solid, and on par with several other good local restaurants. For the best choices I would look for items marked with a parrot (perico) next to them, indicating what the restaurant recommends as the "dishes that we think are our very best." These also tend to be the most traditional (or authentic) Mexican dishes. I do not dislike the Tex-Mex dishes here, but the "authentic" menu has proven to be better.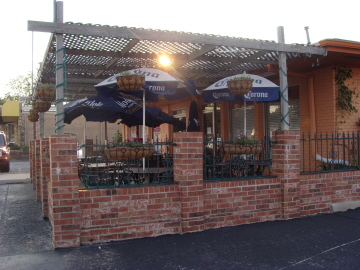 Casa Perico's outdoor patio
An outdoor patio is available, but anyone who has lived through the summer of 2011 would probably not be thinking much of dining outdoors. The dining room at this location seemed a little more cramped with the booths more dated than in the North Penn location, but I would say that this restaurant was casual rather than uncomfortable. There are certainly Mexican restaurants in town with nicer tables and nicer views where you can pay more for the food (such as one that overlooks Lake Hefner), but at Casa Perico you pay mainly for the food rather than the atmosphere.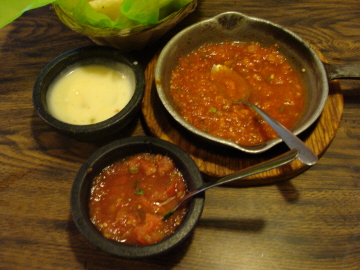 Salsa, habanero salsa, and cheese sauce
I generally do not indulge in the Cheese Sauce other than to try it in order to give it a rating. The one here was better than most, and I thought it had a good flavor but was too runny.
The Habanero Salsa was very good, and I ended up not only eating it with the chips but also using it to enhance the flavor of the tacos. A good table salsa does not always go well as an additive to the food, but in this case it did.
The Chips were thin and better than most in Oklahoma City. Most of all (and the thing that is coming to have the greatest importance to me) is the fact that they did not leave a corn oil aftertaste in my mouth.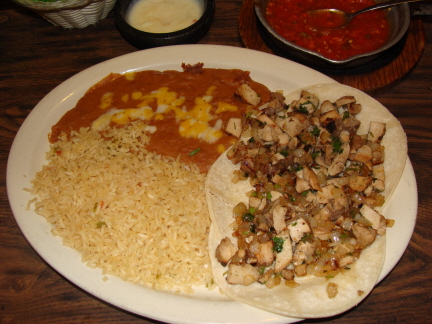 Mexican tacos with chicken
One recommended item (with a parrot next to it) was the Mexican Tacos, or "Tacos Mexicanos." These were tacos made with chicken fajita meat (beef is also available), cilantro, onions, and seasonings, making an excellent taco. Other restaurants offer both fajita tacos and "Mexican tacos," with the fajita tacos having a more American style seasoning, and I have discovered that the more authentic "Mexican tacos" are usually better. In this case, though, I thought the fajita meat was very good, and was what the waitress recommended as their authentic tacos. These tacos fit the description of being "Mexican style" by having soft tortillas, good meat, and a good flavor, and I really do not know if the fajita spices made them unauthentic or not.
Dinners come with "your choice of two sides," but the "default" order of rice and beans was a mixed bag for me. The Rice had a good flavor and was generally good in other aspects (not dried out, etc.). The Refried Beans, though, were very weak in the flavor department, and made me not want to order them in the future.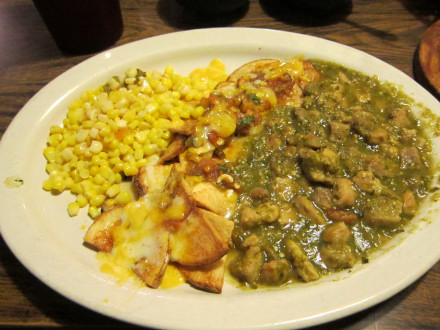 Puerco verde
The Puerco Verde was another one of the "Parrot specials" which I thought was worthy of this classification. Probably the most outstanding feature was the "special green chile sauce" (as the menu describes it), which to me had a satisfying and authentic Mexican flavor. It was spicy to the point of having "five chiles" on my one-to-five chile scale. This does not seem to be representative of the spice level found on other items at Casa Perico, and I usually do not like things this spicy but I enjoyed this one. The meat was a little tough, and I can say overall this was not quite as enjoyable as the Mexican tacos.
The choice I made of side dishes, though, was another reason this dinner turned out very well. The Papas Mexicanas were potatoes with a little bit of cheese, and fried almost as well as some of my favorite french fries. This is not gourmet Mexican food, but I enjoyed it for what it was. The Mexican Corn was better than I though it would be, having tried this same side dish at several other local restaurants.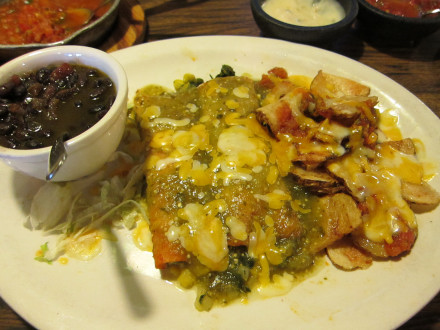 Enchiladas de rajas
Enchiladas de Rajas have been my favorite dish at Casa Perico so far. The green sauce on top was excellent (which I think made them more satisfying than the Mexican tacos), and they were filled with poblano peppers and vegetables. These were spicy, but not nearly as much so as the puerco verde. The fact that there was a small amount of cheese on top and none in the middle gave them an authenticity which I appreciated.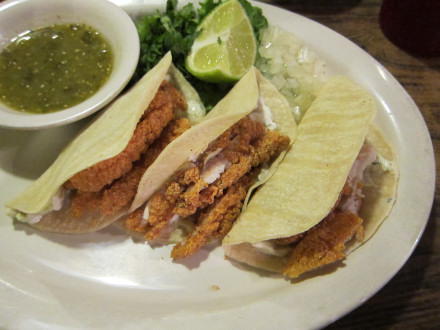 Fish tacos
The Fish Tacos had a tartar sauce and cole slaw topping that put them in the category of "Baja" tacos, and it was good to see this. The breading had a good flavor, but I would prefer that they not be so much on the "fried and crispy" side. They came with a green salsa, which gave a good flavor. I did not notice anything about the fish being either particularly good nor in having any negative aspects.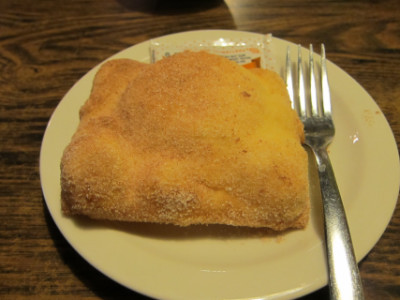 Sopapilla is served with dinners at no extra cost
A Sopapilla comes with all dinners, and I would recommend taking advantage of it since this one was better than most.
Probably the biggest disadvantage of Casa Perico is that they will not change the orders which are on the menu. For instance, the dinners shown in the photos only come with the two side dishes (either rice and beans or one of the several other items which can be substituted). This makes Casa Perico more expensive than other restaurants where I am able to downsize the meal. Casa Perico is a good value when I am hungry, and the food is good, but it is really hard to walk out without paying eleven or twelve dollars for a meal except at lunch.
Also I have not had any luck in asking for special orders. For instance, I asked for enchiladas suizas (chicken enchiladas with green sauce and sour cream). The flautas at Casa Perico have the green sauce I wanted and they serve items with sour cream (although the sour cream is American style and not the Mexican crema). I can find food I like without making special orders, but the problems are (1) that they do not seem willing to work with me in making special dishes, and (2) there are not enough interesting items on the menu to keep me coming back on a regular basis.
I did not see horchata on the menu, and there are other things I would like to see which Casa Perico does not have. Being used to Mexican food on the border, Casa Perico has not been totally satisfying to me. A couple of items, though (the enchiladas de rajas and the Mexican tacos) have been about as good as I have found anywhere.
My Comments in a Nutshell
What I like most:
A couple of very good main dishes
Good selection of vegetables that can be substituted for rice and beans at no extra charge
Disappointments:
This is not a good place for special orders, making substitutions, or making any kind of changes at all from the way food is listed on the menu.
The selection of items I consider to be "authentic" is very small.
All dinners come with two side orders (rice and beans or several alternative choices). I like most of the side dishes, but this makes for meals that I have to be very hungry to eat and which cause me to pay more than at many other restaurants.
Things to know:
I suggest ordering items with a parrot next to them on the menu.
A spicy salsa is available on request (and I think it's better than the regular salsa).
The "chile rating" might be higher if you order some of the authentic dishes such as enchiladas de rajas.
I like this restaurant better than the N.W. 122nd and Penn location, but this is probably because of what I ordered at the other restaurant.
RESTAURANT DETAILS
RATING: 20
Cuisine: Mexican
Cost: $$
Accessible: Building is accessible, but bathroom is not
Smoking: No Smoking
Alcohol: Beer
Additional Location: 12219 N. Pennsylvania Ave.
| | |
| --- | --- |
| Chile Index: | |
Most Recent Visit
Jul. 11, 2014
Number of Visits: 5
Best Items
Enchiladas de Rajas, Mexican Tacos, Papas Mexicanas
Special Ratings
Mexican Tacos:


Enchiladas de Rajas:


Puerco Verde:


Spinach Quesadilla:


Fish Tacos:


Rice:


Refried Beans:


Papas Mexicanas:


Mexican Corn:


Guacamole:


Chips:


Habanero Salsa:

spicy
Cheese Sauce:


Tortillas:


Sopapillas:

RELATED ARTICLES
Nov. 6, 2015 : Enchiladas Worth Seeking Out (Oklahoma City, OK)
MORE ABOUT THIS WEB SITE