okgourmet.com&nbsp &nbsp Home of Steve's Restaurant Reviews
Canton Restaurant
2908 N. MacArthur Blvd.
Oklahoma City, OK
(405) 946-8512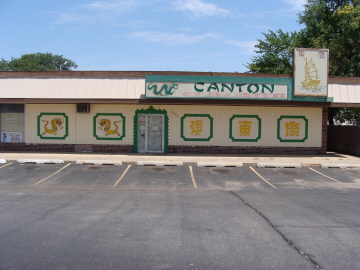 Canton has a large and loyal following, and I wanted to see what all the fuss was about. The name is very descriptive-- it has nothing but Cantonese food, or at least Cantonese food as it is commonly known in America such as chop suey, cashew chicken, egg foo young, etc. Although this is American style Cantonese food, it is done very well. Since I mainly like authentic Chinese food I would say the selection here is not very exciting, but it is fresh and well made.
The Chicken Almond Ding was flavorful, had only white meat chicken, and the half order was a good sized meal (at $3.40 it was a great deal). The only problem was that this dish did not have very many vegetables.
The oolong tea was very good, especially since I usually prefer jasmine (but Canton does not serve it). Although MSG is used in the food, it is in such small quantities I don't think it will affect most people who are sensitive to it.
By reputation the egg rolls are supposed to be the best in town (although this is another example of an Americanized item).
Undoubtedly the secret to Canton's success is not that you get authentic Cantonese food, but that it probably offers the most bang for the buck among the Americanized Chinese restaurants in OKC (and the food quality is good). In 2004 I ate lunch for less than $5, and prices have probably not gone up much since that time.
Two other Chinese Restaurants-- Fortune in OKC and Mandarin Express in Bethany-- are run by members of the same extended family, and all offer good food at low prices. However, the food is not exactly the same at each restaurant, and in my opinion it is worth exploring all three to see what they have.
RESTAURANT DETAILS
RATING: 19
Cuisine: Chinese
Cost: $
Hours: Closed Mon.
Tea: Oolong (brewed)
MSG: Yes
Smoking: No Smoking
Buffet: No
Most Recent Visit
Sep. 17, 2004
Number of Visits: 1
Best Item
Egg Drop Soup
Special Ratings
Chicken Almond Ding:


Egg Drop Soup:

MORE ABOUT THIS WEB SITE