okgourmet.com&nbsp &nbsp Home of Steve's Restaurant Reviews
Cafe Icon
311 S. Blackwelder Ave.
Edmond, OK
(405) 340-8956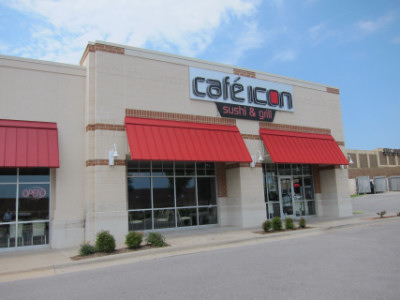 First of all, I am at somewhat of a disadvantage here because I did not try Cafe Icon's signature dish-- the sushi. On one hand I can say that I really was not looking to try sushi here, and on the other hand it did not have some of the factors I look for in order to want to try the sushi. Thus what I need to tell readers is that this review has nothing to do with Cafe Icon's sushi.
The reviews for Cafe Icon on several web sites are very good, but they are mostly for the sushi. I did see other comments that indicated the rest of the menu was good also, and this made me want to try it. In particular I saw comments that talked about the Japanese crepes that the owners of Tropical Cafe brought to Cafe Icon when their former restaurant closed, and this was something on my "want to try" list. The staff said, though, that crepes are no longer being served. While this was disappointing, there are still plenty of Japanese items I can usually order and enjoy.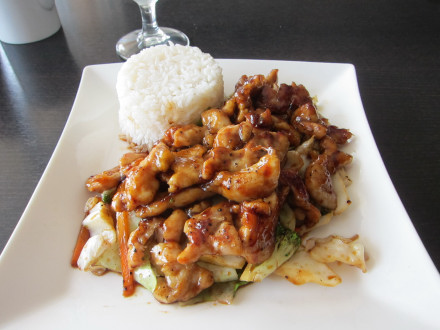 Hibachi chicken
What I settled on was the Hibachi Chicken. This was an item from the lunch menu, which was the price range I was willing to pay (so this limited the choices somewhat). There seemed to be several other names for this dish, including "Chicken Stir Fried," and "Teppan Grill." They cook it in the kitchen (not on a grill in front of you), and thankfully for me, this was not a teppan grill restaurant where you have to sit there and watch the show while they cook. The hibachi chicken consisted of chicken, vegetables, and a sauce. I think the term "stir fried" was a correct description of it.
The teriyaki sauce they put on the chicken was quite sweet, and I would say more sweet than I expected or that I thought was appropriate for Japanese food. A ginger sauce would have been very good on this dish (this is where the teppan grill restaurants usually do a pretty good job). The chicken was good and the vegetables were certainly not bad, but the sauce was the part that was disappointing.
The restaurant uses MSG, but it was not included in my dish when I asked them to cook it this way. The setting was nice, and lunch prices were not bad (but the choices were limited). They charge extra for hot tea (but there are other Japanese/sushi restaurants in the Oklahoma City area that give you hot green tea for free). Overall I was a little disappointed with Cafe Icon, but especially that I was not able to try the crepes. The hibachi chicken was fairly good, though.
RESTAURANT DETAILS
RATING: 19
Cuisine: Japanese
Cost: $$
Hours: Open Daily
Accessible: Yes
MSG: Yes
Smoking: No Smoking
Buffet: No
Most Recent Visit
Aug. 13, 2015
Number of Visits: 1
Special Ratings
Hibachi Chicken:

MORE ABOUT THIS WEB SITE