okgourmet.com&nbsp &nbsp Home of Steve's Restaurant Reviews
Cafe 501
501 S. Boulevard St.
Edmond, OK
(405) 359-1501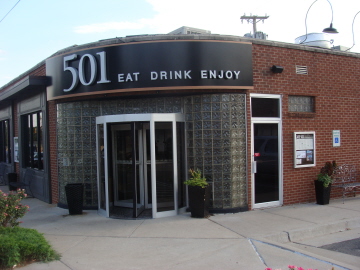 Cafe 501 and Boulevard Steakhouse, located in the same building and having the same ownership, are two of Edmond's most well known and well regarded restaurants. Cafe 501 is the less expensive and more casual of the two, although I think it gives a "fine dining" experience in the way that I define it. Boulevard Steakhouse serves steaks and a few other entrees, and is distinguished from other steakhouses partly because of the high quality salads, appetizers, and side dishes it serves. Cafe 501 has a much more varied menu, and is probably the place to go if you are looking for something other than a steak (although it does have a steak selection that is more limited than at Boulevard).
Cafe 501 is open for lunch and has quite a large sandwich menu (many of these are also available at dinner). The menu is somewhat intimidating because there are so many choices, and it is a "special occasion" restaurant in the sense that a lot of items are available that I probably will not find or have the chance to order elsewhere. It is also on the expensive side, so this exerts some pressure to order something that would be fitting of a special meal. Fortunately, though, it is reasonable enough that I will not have to think twice about making a return trip.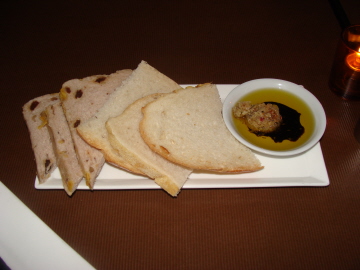 Bread served as an appetizer
Cafe 501 has an in-house bakery, and freshly baked bread is served as an appetizer for each meal. My favorite was the walnut raisin, but five types of bread are made at the bakery and all are available for take-home.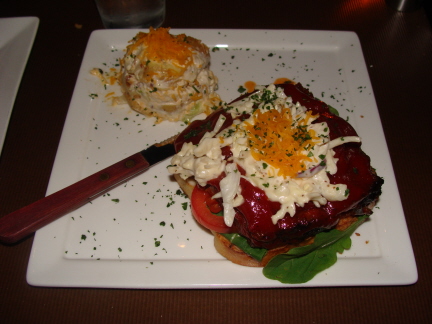 Open-faced meatloaf sandwich
The Open-Faced Meatloaf Sandwich on the dinner menu demonstrated that the sandwiches here are much more than the traditional sandwich. Actually the meat was a smaller version of the meatloaf dinner, with toppings added. This was a delicious combination of flavors, in which the layers of ingredients could be eaten together or be pulled out to be eaten separately (either way it was excellent). If eaten as a sandwich, the cole slaw on top and tomato and arugula at the bottom of the sandwich provided a very good flavor mix.
One of the best features of the sandwich (which does not come with the meatloaf dinner) was the Potato Salad served on the side. This was one of the best I have eaten anywhere.
One difference between this restaurant and Boulevard Steakhouse seems to be that each entree has accompanying side dishes, while at Boulevard the main dishes and side dishes are served separately (and side dishes come "family style" where they can be shared). Even though Cafe 501 gives less flexibility on the side dishes that come with each entree, I have enjoyed being pleasantly surprised by items that I might not otherwise have ordered.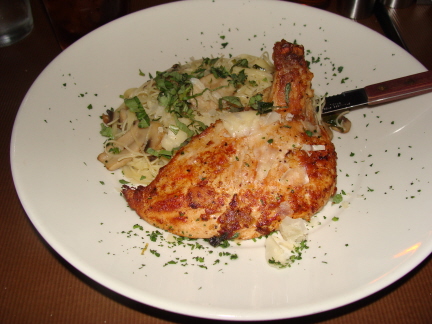 Grilled citrus chicken
Cafe 501 describes itself as having "European inspired cuisine," and I could definitely tell that there was an international aspect to it (although the meat loaf was a good example that they can also prepare traditional American dishes). In ordering the Grilled Citrus Chicken I was probably expecting a dish with an Asian influence (not knowing that the international cuisine was limited primarily to Europe), but in any case I thought it would be worth a try. I think what I got was actually a "chef's creation" that may have been inspired by food from other countries, but it was something unique and unlike anything I had tried in other restaurants.
The citrus flavor came from a lime basil vin blanc, and was infused into the meat (along with what seemed to be quite a few other spices). Otherwise the meat seemed like a traditional American style grilled chicken (and was very good quality). I thought it was an excellent dish in every way, although the flavor did not wow me as much as the meatloaf.
On the side was Vermicelli with Basil (another clue that I thought pointed to this being an Asian inspired dish when I ordered it), but like the chicken I could not tell what country was the inspiration for this dish. There may have been an Italian influence, but I really did not like this vermicelli nearly as much as the potato salad that came with the meatloaf sandwich. In fact, the chicken and vermicelli together were more than I could eat, and this dish bordered on being an oversized portion (although I thought the chicken was about the right size). I was also aware of the fact that I had eaten quite a bit of bread as an appetizer which left less room for the dinner.
Cafe 501 is a little more expensive than average, but everything seems to be very good quality. Part of the fun in coming here is to try something different that has the chef's own spin on it. As I found from the meatloaf, though, ordinary sounding dishes can rise to levels well above what I would expect.
RESTAURANT DETAILS
RATING: 24
Cuisine: American
Cost: $$$
Hours: Open Daily except Sun. evening
Additional Location: 5825 N.W. Grand Blvd. (OKC)
Accessible: Yes
Smoking: No Smoking
Alcohol: Extensive wine list
Special Features: Sunday brunch; Bakery
Most Recent Visit
Jul. 27, 2011
Number of Visits: 1
Best Item
Meatloaf
Special Ratings
Meatloaf Sandwich:


Citrus Chicken:


Potato Salad:

Restaurant Web Site
Cafe 501
MORE ABOUT THIS WEB SITE