okgourmet.com&nbsp &nbsp Home of Steve's Restaurant Reviews
Bhing's Café (Closed)
4305 N. Meridian Ave.
Oklahoma City, OK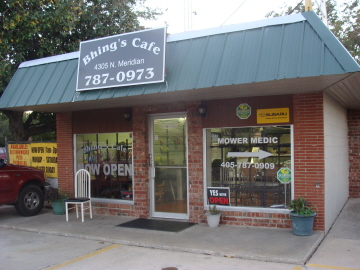 These reviews tend to focus on small and ethnic restaurants with good food that might be overlooked by many people. Of particular interest to me are the more obscure and hard to find cuisines that I seek out just to find out what they are like. Bhing's Café managed to fit all of these criteria, being the only Filipino restaurant I have found in Oklahoma City. Any restaurant that serves good food can certainly qualify as one of my favorites, but it seems more interesting when a cuisine is good that I did not necessarily know was this good.
About twenty years ago there was a Filipino restaurant in El Paso that I went to quite a bit and enjoyed. Trying Bhing's Café, though, was somewhat of a revelation to me concerning the variety of Filipino food available and how good it really was. Some Filipino dishes are closely related to Southeast Asian cuisine while others seem more Western or Latin American (at least with Spanish sounding names). All of the food I tried at Bhing's Café tasted home made and was very good.
Bhing's Café also has an American menu with pizza and sandwiches. I had heard that the Filipino food is only served on Fridays and Saturdays. While I do not know for sure if this is true, my first visit was on the weekend so that there was no question that I could try the Filipino cuisine that is obviously the restaurant's specialty.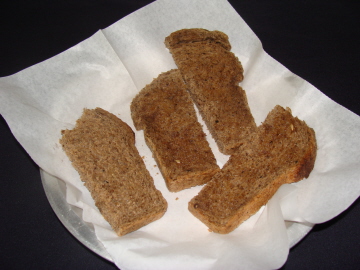 Slightly nibbled on bread served as an appetizer
Patrons are served freshly baked bread as an appetizer, and I thought this was some of the best I have had anywhere. I am not sure if the bread is only served with the Filipino food, but it looked as if it can be purchased to take home if it does not come with the sandwiches or pizza. In any case, I think it is definitely worthwhile trying.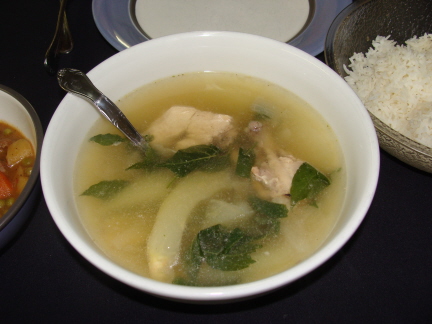 Tinolang Manok
Tinolang Manok was one of about seven or eight Filipino specialties that were available on my first visit. The Filipino menu was written on a board, so it may change daily. Prices were not marked, but I found out the dishes were around seven to nine dollars each.
The Tinolang Manok at first did not look like something I wanted to order for a dinner, since it was a soup. It came with large pieces of chicken, though, and turned out to be quite filling. It had an all natural chicken broth (which was evident in the flavor) with ginger, garlic, and lemongrass. It was flavored with green papaya, and had chile leaves which the owner grew in her yard (it was not spicy, though). I thought it was very much like a Southeast Asian soup, and the flavors were very satisfying. After trying it I now think it is substantial enough for a meal, although I liked it even better family style along with the menudo pork.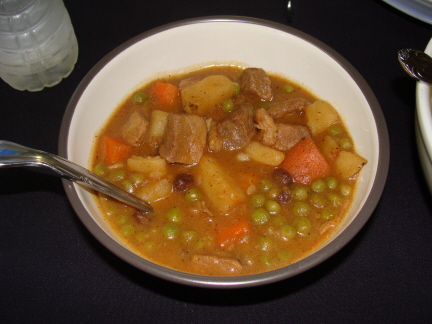 Menudo pork
The Menudo Pork was very noteworthy because this was probably the best example I have found in the city of dishes I would classify as a "stew." I am not sure which other restaurants even offer anything comparable, except that I have recently enjoyed the Irish stew at Sean Cummings' Pub (the one at Sean Cummings' was beef instead of pork, though). I think Bhing's Café and Sean Cummings' are both examples that sometimes items I would like to order at American restaurants are either not available or are better at ethnic restaurants.
The meat, potatoes, carrots, bell pepper, onions, and green peas in this dish made what I would call a classic stew. The added touch of garlic and raisins, though, helped to make this something I enjoyed much more than the ordinary stew. The stew came with a large bowl of white rice, and this gave it a definite Asian influence (and was one of the reasons I liked it so much). Even though the menu described the ingredients in the stew, I told the owner I was familiar with Mexican style menudo and she assured me that the Filipino dish was different (there is a Wikipedia article describing it).
The first time I tried to go to Bhing's Café it was closed and a sign said they had a "family emergency." Situations like this are inevitable in a small family run business, but the small scale is one of the main reasons the food is so good (and I assume is very consistent since there is only one cook). The dining room is also very small and it seemed that they only had very large tables and very small ones (but it seems that there is less business at dinner so diners have more of a choice about where they want to sit).
There is a lot more on the menu than the Filipino food, but to me the delicious and seemingly authentic cuisine from the Philippines was the real find here.
RESTAURANT DETAILS
RATING: 23
Cuisine: Filipino & American
Cost: $$
Hours: Closed Sun. & Mon.
Smoking: No Smoking
Most Recent Visit
Oct. 14, 2011
Number of Visits: 1
Best Item
Menudo Pork
Special Ratings
Menudo Pork:


Tinolang Manok:


Bread:

MORE ABOUT THIS WEB SITE