okgourmet.com&nbsp &nbsp Home of Steve's Restaurant Reviews
Bella Italia Italian Restaurant (Closed)
6400 N. W. 39th Expressway
Bethany, OK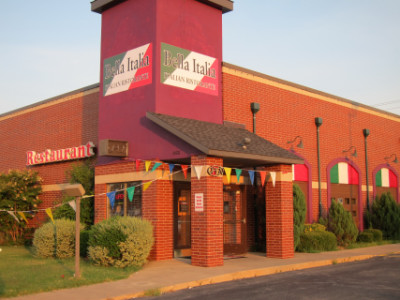 Bella Italia has given me such different experiences that I am not sure what to think about it. On one occasion I had such a flavorful, well prepared meal that in this instance I thought it was better than Papa Dio's (and for me that is a big deal). On another occasion, though, it just seemed like so many other Italian restaurants that make me feel as if I had taken in a large number of calories without much to show for it in the way of flavor or enjoyement. In both cases I felt that I got more than just calories-- I got fresh and nutritious ingredients. It is just the flavor and the way it was prepared that seemed to be off on some of the items.
The restaurant opened in early 2012 where Harbor House (and several other restaurants) used to be located. This seems to be a doomed location for any restaurant, but so far Bella Italia has had quite a good business and seems to be popular enough that it will stay open. Some of the food I have ordered has confirmed that it is busy for good reason, and there is every reason to believe it should stay this way. This is a family run business (usually my favorite kind), and the family are immigrants from Europe (where they should know good Italian food). I am even open to the strong possibility that Bella Italia prepares some dishes that deviate from the norm for Oklahoma, but which is the traditional way of cooking in Europe.
There is a bar, and this restaurant along with several others dispute the notion that you cannot get alcohol in Bethany. I liked the seating except for the fact that most of the restaurant seemed very cold because of the air conditioning. The music was very good.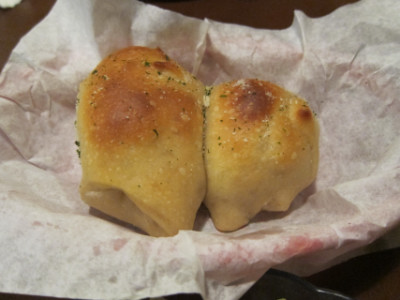 Complimentary bread
The complimentary bread was very good, and on one visit they gave us extra pieces (which I think is always available if you ask). There is no butter to go with the bread, though, but only a margarine blend.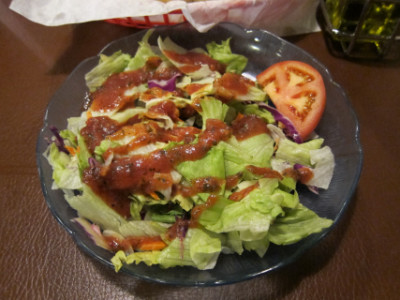 Salad
The Salad had a flavorful house Italian dressing with pesto, and was pretty substantial in quantity (although it does cost extra). I did not see any soups on the menu.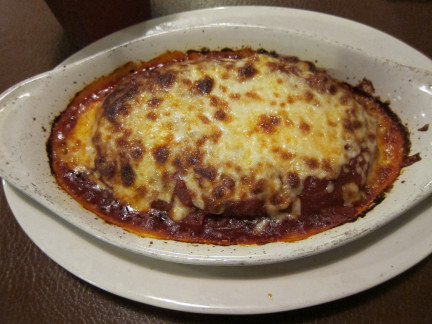 Eggplant parmigiana
The Eggplant Parmigiana has been the highlight of what I have tried so far. From looking at the photos I noted that many items seem to have the same sauce, but it is mainly what is inside that determines whether a dish is delicious or not. In this case Bella Italia served what was probably the best eggplant parmigiana I have had in Oklahoma City. The most impressive part was the lightly flavored breading and the eggplant that had just the right texture and flavor. There is usually some component of the dish I do not like very much, but I found no fault with this one.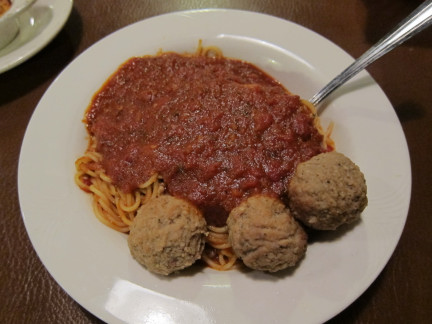 Spaghetti and meatballs
The Spaghetti and Meatballs had a good sauce, and I especially liked the way the spaghetti was cooked at Bella Italia. Unfortunately, though, having sampled the meatballs at Custino's a few days earlier I thought the ones at Bella Italia fell short on flavor.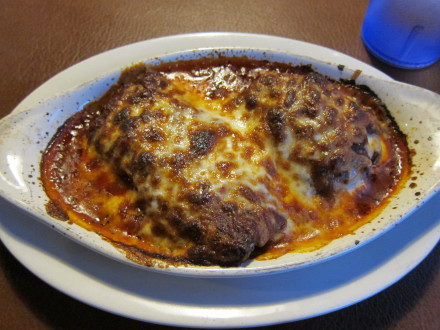 Eggplant rollentini
Wanting to try a different eggplant dish, I also ordered the Eggplant Rollentini, a breaded eggplant stuffed with ricotta cheese. In this case, though, the ricotta cheese seemed to detract from the flavor and the eggplant did not taste as good as in the parmigiana dish.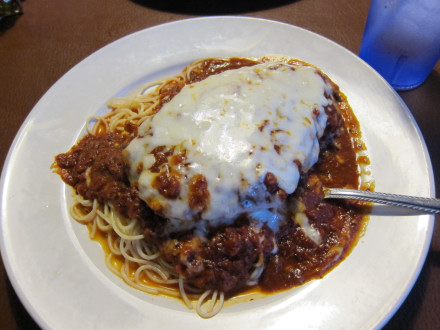 Chicken parmigiana
The Chicken Parmigiana seemed to have several flaws, including a piece of chicken that was very large but not very flavorful. The sauce also seemed to have too many spices so that it overwhelmed the meat instead of complementing it. Still, though, the meat was good quality, and for some reason I especially enjoy the spaghetti here (which was served underneath the chicken). The cheese was good, but I would say the sauce did not seem to be right for this dish.
The restaurant has a nice atmosphere but at the same time is kid-friendly. My only disappointment was that after getting eggplant parmigiana that was possibly the best in OKC, I did not find the other dishes to be equally good. Still, though, I think it is worth further exploring the menu. The menu is very much like Venezia in that there are more items available than I will probably ever be able to try.
RESTAURANT DETAILS
RATING: 20
Cuisine: Italian
Cost: $$
Hours: Closed Mon.
Accessible: Yes
Smoking: No Smoking
Alcohol: Beer, Wine
Most Recent Visit
Jul. 7, 2012
Number of Visits: 2
Best Item
Eggplant Parmigiana
Special Ratings
Eggplant Parmigiana:


Spaghetti and Meatballs:


Eggplant Rollentini:


Chicken Parmigiana:


Salad:

MORE ABOUT THIS WEB SITE