okgourmet.com&nbsp &nbsp Home of Steve's Restaurant Reviews
Athens Greek & American Restaurant (Closed)
7700 N.W. 23rd St.
Bethany, OK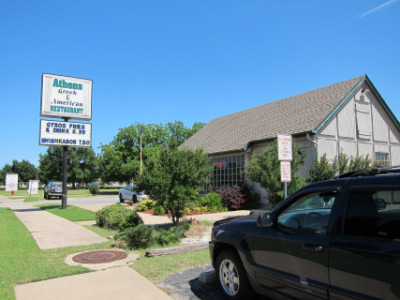 Update 2014: I hear that this restaurant now has new owners, and that the food may have changed.
I consider it a cause for celebration when a fast food chain restaurant gets converted into a true neighborhood ethnic restaurant, such as Athens Greek & American Restaurant in Bethany, a suburb of Oklahoma City. Athens operates in a building that looks like it once housed a Taco Bell or Long John Silver's. Although orders are still placed at the counter in a "fast food" format, the food is now individually cooked and the restaurant stays pretty close to its ethnic traditions.
Several dinners are offered, and I tried one that featured Grilled Chicken Breast with Hot Pita Bread. The chicken was served on top of the pita, and came with hummus and taboli on the side. The chicken was well spiced, and tasted better than many of the fajita dishes that are served in Mexican restaurants. I am not usually very impressed with grilled chicken but this one was very enjoyable. It was made even more enjoyable by the cup of yogurt that was provided for dipping the meat into, or spreading on the pita like a sandwich.
Gyros and Salad
Gyros seems to be one of the specialties of the restaurant, with a choice of side dishes being available with the sandwich. The spices added more flavor than I found on the chicken, and I can understand why this is one of the most popular items at the restaurant. I have not tried many other gyros to compare whether or not the one at Athens was one of the best, but I thought it was good. One good feature was the fact that the meat was tender, and absent any noticeable fat or gristle.
The Hummus had a texture sort of like potato salad. It was rather stange but tasted OK.
The Taboli had a very fresh and light flavor. The main problem with this and the hummus on my dinner was that there was not enough of either one.
I ordered Dolma on the side (four of these rice filled grape leaves are served in an order) that I enjoyed about as much as anything I have tried at the restaurant.
The Dinner Salad was excellent with feta cheese providing the bulk of the flavor. The fresh lettuce and vegetables, though, also contributed to its quality.
Athens is a small restaurant, with orders cooked individually in front of the customers. The menu is limited, and many items I normally associate with Greek restaurants are not served. The gyros and other meat items served, though, are not only usually available, they are many times on special for such a good price they are hard to resist.
The most expensive item I could find was the shish-kabob dinner, served from 5 p.m. to closing, with one beef skewer and one chicken skewer. One time I tried to order it, though, it was not available. Between the restaurant being out of some things and not being able to substitute items on the dinner plates, there are some things that looked good that I have not yet been able to try. At least what I have had, though, has been good, and I have yet to order a meal that was out of my "inexpensive" cost category.
The "American" side of the menu consists mainly of hamburgers, but also includes chili cheese fries and a B.L.T. The restaurant is "family friendly," and will not break the bank if you bring a large group of people. It is open from 11 a.m. to 8:30 p.m. most days. Patrons pour their own fountain drinks, tea, or water, and the restaurant has a "fast food" setup with plastic forks and spoons. It is not fancy, but it is satisfying with good quality food (that tastes like anything but "fast food").
RESTAURANT DETAILS
RATING: 19
Cuisine: Greek
Cost: $
Hours: Closed Sun.
Accessible: Yes
Smoking: No Smoking
Alcohol: No
Most Recent Visit
Mar. 18, 2009
Number of Visits: 3
Best Items
Grilled Chicken Breast, Gyros, Tabouli, Dolma, Garden Salad
Special Ratings
Grilled Chicken Breast:


Gyros:


Taboli:


Hummus:


Dolma:


Garden Salad:

MORE ABOUT THIS WEB SITE