okgourmet.com&nbsp &nbsp Home of Steve's Restaurant Reviews
1982 Oklahoma City Gourmet Tour
These were some of my favorite restaurants in 1982
Home &nbsp > &nbsp Special Features &nbsp > &nbsp Articles &nbsp > &nbsp Oklahoma Articles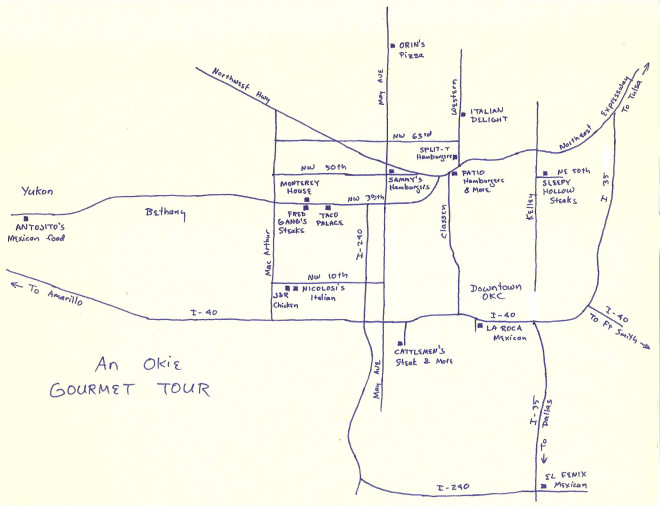 Restaurant recommendations of 1982
This is a copy of my first list of restaurant recommendations for Oklahoma City, drawn in 1982. Although there are some "special occasion" restaurants, much of it reflects the philosophy that I follow even today of trying to find budget restaurants with enjoyable food.
Some Notes About These Restaurants
Split-T and Patio probably had the best hamburgers ever. The sauce they both used, as well as the charcoal broiling cooking method (made famous by Split-T) are used today by Johnnie's Charcoal Broiler.
Cattlemen's on S. Agnew is operating today, but I am not sure the steaks are quite as good as they were in 1982.
Sleepy Hollow remained in business for years, and as late as 2008 was still operating (but with different owners).
Monterey House was a chain that I think came out of Houston, and it served pretty good and very cheap Tex-Mex food.
Taco Palace is where some of my friends from Texas and I used to go to get the most authentic "true to Texas" tasting Mexican food on the north side of OKC.
Antojito's in Yukon was in the building where Poquito de Mexico is now located, but the 1982 restaurant served authentic San Antonio style Tex-Mex food.
La Roca was one of the premier "south of I-40" restaurants which at the time generally offered the best quality Mexican food in Oklahoma City.