okgourmet.com&nbsp &nbsp Home of Steve's Restaurant Reviews
Archived Restaurant Review
A view of the restaurant before the 2010 remodeling


OKLAHOMA CITY, OK--Hunan Wok
Location: 6812 Northwest Expressway, Oklahoma City, OK
Date of Review: Mar. 2010
Additional Review: Apr. 2017
Restaurant Status: Open (remodeled and menu was changed in Fall 2010)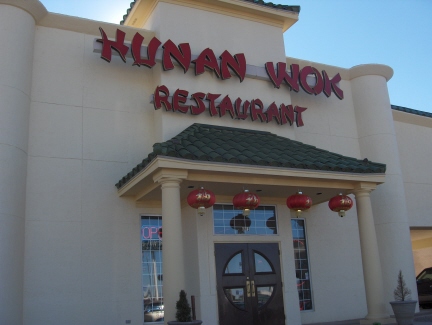 When entering Hunan Wok a large buffet is immediately noticeable, with possibly the largest selection in Oklahoma City. Although I am not a fan of Chinese buffets, and for the most part I do not think they serve "real" Chinese food, the buffet at Hunan Wok is a step in the right direction with no MSG and enough variety that flavorful items can be found. A Mongolian barbecue is available, something that I think vastly improves a normal buffet. I have never seen the buffet closed during any hours the restaurant is open, and food seems to be refreshed fairly often.
Unlike many buffet restaurants, however, Hunan Wok has a fairly extensive menu with interesting dishes. I have talked to the staff on several occasions and I find them to be quite knowledgeable about Chinese cuisine, purposely introducing more traditional Chinese dishes in addition to ones that are most familiar to Americans. They will recommend dishes, and will not insult your intelligence by saying "everything is good."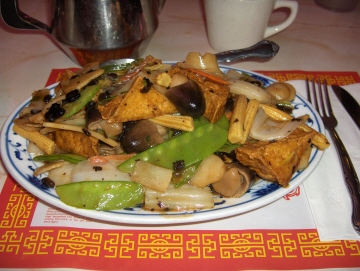 Bean curd family style with black bean sauce
One item I think is very good is the Bean Curd Family Style modified to be a spicy Hunan style dish. When made with black bean sauce, though, I think it is even better, and is more like the dishes I find in "authentic" Chinese restaurants. For a while I was on the hunt for the best family style tofu dish, and I found Hunan Wok's to be one of the better ones. I have complimented the owners and staff that this dish tasted very authentic, and they have assured me that there are even more authentic offerings on the menu such as Moo Shu Pork, Orange Peel Chicken, or any of the shrimp dishes (especially Szechuan Shrimp).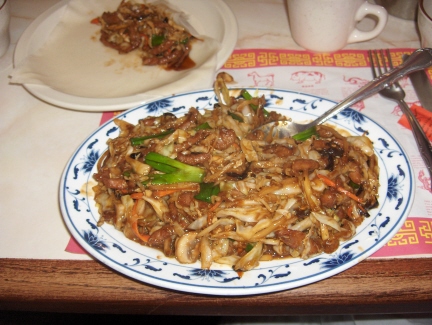 Moo shu pork at Hunan Wok
One of the recommended dishes, Moo Shu Pork, was a flavorful mixture of meat and vegetables in a dark sauce on pancakes that were meant to be rolled up like tortillas with the moo shu inside. I thought this dish was very good, although it still did not break the barrier for me between "popular" Chinese food and the more traditional food that the Chinese themselves might eat at home for daily meals (by "popular" I do not mean unauthentic, only that it has become widely available on U.S. menus). For "popular" food, though, this was pretty good.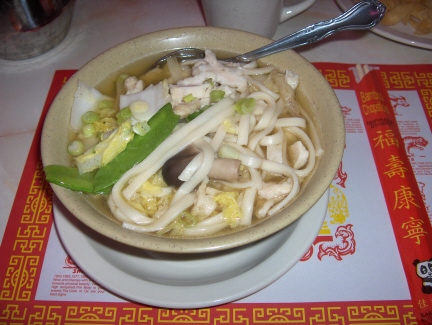 Noodle soup with chicken and vegetables
Noodle Soup is an item that makes a great meal when I have an average appetite, but comes at a well below average price. Although it is more appropriate for lunch or a light dinner, it is a good way to get a balanced meal of chicken, noodles, and vegetables with a rich flavor. I find this to be one of the most "Chinese" tasting menu items, and I like the noodle soup here better than at the majority of other Chinese restaurants.
The hot and sour soup is usually very good; it is one of the ones I enjoy most in OKC.
I appreciate the fact that they are trying to give the public something besides the typical buffet. The prices are low enough that I do not mind experimenting with different dishes. So far I have had several good ones.
RESTAURANT DETAILS
RATING: 19
Cuisine: Chinese
Cost: $$
Hours: Open Daily
Accessible: Yes
Tea: Jasmine (bags)
MSG: No
Smoking: No Smoking
Buffet: Yes
Most Recent Visit
Sep. 7, 2009
Number of Visits: 10+
Best Items
Chicken Noodle Soup, Moo Shu Pork, Family Style Tofu, Hot and Sour Soup
Special Ratings
Chicken Noodle Soup:


Moo Shu Pork:


Family Style Tofu:


Hot and Sour Soup: