okgourmet.com&nbsp &nbsp Home of Steve's Restaurant Reviews
Annie Okie's Runway Cafe
Wiley Post Airport (off of Rockwell & N.W. 50th)
Oklahoma City, OK
(405) 787-7732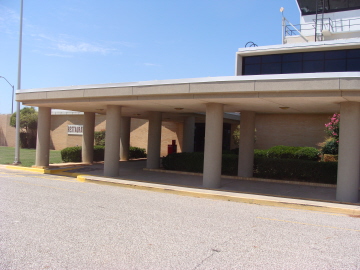 Even if Annie Okie's Runway Cafe did not have good food it would be a fun place to eat, having full view of the main runway at Wiley Post Airport (OKC's main airport for private planes). I am sure it started out as a place for pilots and owners of the planes to eat, but Runway Cafe has become quite popular with the local population and business people on lunch break. Although it is in the airport terminal, parking is free and coming here is no more difficult than going to a strip shopping mall. The only problem seems to be letting people know the restaurant is here.
Runway Cafe is open only during the day, and serves breakfast and lunch items. All seating is at tables (there is no counter or "diner" dining), and seats next to the window overlooking the airport fill up quickly. Of course the food is just as good no matter where you sit (and all tables can see the planes). Each order is individually cooked, so service is slower than at a fast food restaurant (or at places where they anticipate what people will order and begin the preparation process beforehand). I had heard from several sources before I went that the food was better than average, and I think it has to do with the food being freshly prepared.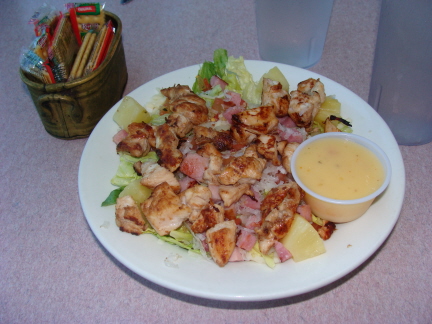 Caribbean salad
In looking at the picture of the Caribbean Salad it may not appear to be anything special, but I thought the freshness of everything and the quality of the meat made it quite good. The salad included both chicken and ham, and I thought both were excellent. The pineapple tasted fresh, and the only thing I thought was ordinary (but still good) was the lettuce. It included both white and yellow cheese, making this aspect of it better than the standard salad found in American restaurants.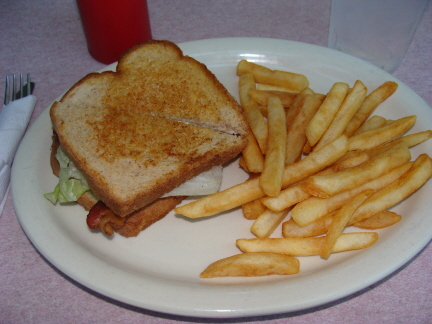 Bacon, lettuce, and tomato, otherwise known as BLT
The Bacon, Lettuce, and Tomato Sandwich was good, but for me it is a matter of comparison, and I preferred the one at Mae's in Yukon. The main point is that Runway Cafe has a variety of sandwiches, and you can get just about anything you want.
Breakfast is the main attraction at the restaurant. I am anxious to try it, but I suspect it would not leave much room for lunch.
The restaurant is listed as Runway Cafe in the telephone directory, but signs in the restaurant say "Annie Okie's Runway Cafe" (or just "Restaurant" on the outside of the Wiley Post Terminal Building), so I am not sure of its official name. In any case, I thought the food lived up to its reputation, and especially when I tried the Caribbean Salad. In many American restaurants the salad seems to be the weak point, but here I think it is one of the best items.
RESTAURANT DETAILS
RATING: 20
Cuisine: American
Cost: $$
Accessible: Yes
Smoking: No Smoking
Alcohol: No
Most Recent Visit
Aug. 26, 2009
Number of Visits: 2
Best Item
Caribbean Salad
Special Ratings
Caribbean Salad:


BLT:


French Fries:

MORE ABOUT THIS WEB SITE