okgourmet.com&nbsp &nbsp Home of Steve's Restaurant Reviews
Alfredo's Mexican Cafe
3800 N. MacArthur Blvd.
Oklahoma City, OK &nbsp Warr Acres
(405) 603-1847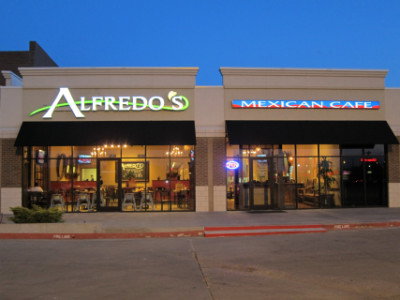 My standard for judging Mexican restaurants is the consistency and enjoyment that I came to expect while I was in El Paso, even though many other styles of Mexican food could be just as enjoyable if they follow the same standard of quality. After my first visit to Alfredo's, I have to say that this restaurant comes tantalizingly close to what I expect in a good Mexican restaurant. Alfredo's is more expensive than I think Mexican food needs to be, and this is largely because of all the "extras" the serve such as a cheese dip and several garnishes. There is a consistent quality in all of these items, though, along with the main dishes and sides. There was no horchata here, and it is not my perfect place to go, but it was very good.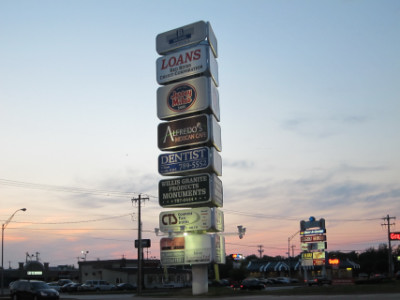 Look for the shopping center with the iconic sign on MacArthur just south of NW 39th
The Bethany/ Warr Acres area already had at least three or four of my favorite Mexican restaurants in the OKC metro before I even tried Alfredo's. Thus it is hard to say that Alfredo's is really the best among this stiff competition, but the quality of the chips, salsa, tortillas, and side dishes did make up for a lot of the areas where some otherwise good restaurants are lacking. I need to try some of the other main dishes, but my first impression of Alfredo's was very good.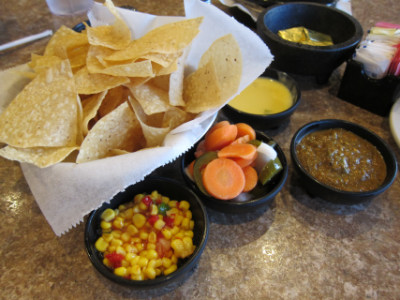 Alfredo's chips, corn relish, carrots and jalapeno, cheese dip, and spicy salsa
The Chips tasted fresh and were not overly drenched in corn oil, so overall I thought they were very good.
The Salsa was one of the best out of a city where I have really low expectations, but I really did think it was enjoyable. The Spicy Salsa was good enough for me to want to take some home, but I am giving it four stars out of five simply because my expectations were a little higher in terms of the flavor.
Also notable were some extra relishes they served such as the fresh corn mixed with a rather potent chile.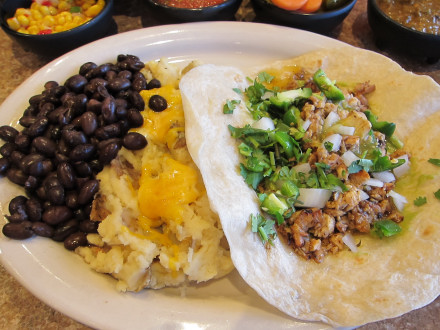 Small order of Mexican street tacos with chicken
The Mexican Street Tacos were comparable to several in the city which I think are very good. The main difference here was that that it had a flavorful tomatillo salsa which represented a change from the tacos other restaurants serve. I thought it needed to be spicier, and the spicy salsa from the table really did not have the right flavor to go well with the taco. Overall, though, I can say that I was happy with the dinner (especially with the flavor of the chicken and the quantity of the food).
One reason the dinner was so enjoyable was because of the choices of side dishes which are available. The Mexican Mashed Potatoes was the type of food that I though would be served in Mexico, with the potato peels mixed in. Everything about this side dish was good, including the cheese which was just soft enough to mix in well with the potatoes.
The Black Beans were not particularly flavorful, but I liked them fine in what seemed to be their natural state (without too much salt or other additives).
I think Alfredo's sets a high bar in terms of the food, but everything here comes with chips and cheese dip (so it is not what I would call a traditional Mexican restaurant). I think it might have the potential for an even higher rating than I have given it, but I need to try some other items.
This is the newest Alfredo's location, and apparently its other locations in Yukon, Edmond, and Moore are also quite popular.
The Warr Acres location is a reuse of the former Luby's Cafeteria which was at this location. The shopping center has a well known large sign in front that is hard to miss (although it almost went missing in the spring of 2014 when a large windstorm came close to blowing it down).
RESTAURANT DETAILS
RATING: 21
Cuisine: Mexican
Cost: $$
Hours: Open Daily
Accessible: Yes (but parking is poorly marked)
Additional Locations: 3409 S. Broadway (Edmond), 2713 S. I-35 Service Road (Moore), 1751 Garth Brooks (Yukon)
Smoking: No Smoking
Alcohol: Beer, Margaritas
| | |
| --- | --- |
| Chile Index: | |
Most Recent Visit
May 17, 2014
Number of Visits: 1
Best Item
Street Tacos
Special Ratings
Street Tacos:

chicken
Mashed Potatoes:


Black Beans:


Chips:


Salsa:


Salsa:

spicy
MORE ABOUT THIS WEB SITE