okgourmet.com&nbsp &nbsp Home of Steve's Restaurant Reviews
Ajanta Cuisine of India
12215 N. Pennsylvania Ave.
Oklahoma City, OK
(405) 752-5283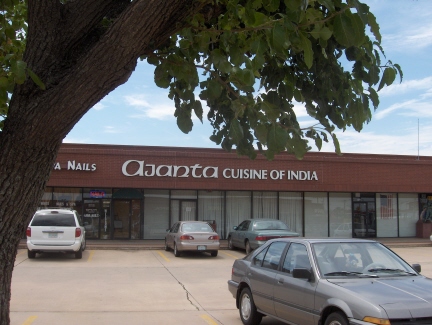 My opinion about Indian food in Oklahoma is that most of it is good, but there is usually little to distinguish one restaurant from another. This may be a good thing, since I think flavorful dishes are available at just about any Indian restaurant in the metro, and Ajanta falls into this category. Ajanta has been noticeable, though, because I usually end up spending more money here than at any other Indian restaurant. This is not a distinction that I think Ajanta is trying to make for themselves by design.
I do believe, though, that the high prices charged at Ajanta go along with consistently good food quality. One thing I have noticed is that everything served has been fresh, the vegetables have been good, and nothing has tasted as if it were mass produced. One big problem with some Indian restaurants is having good curries but vegetables that taste like they came out of a can, but this is not the case with Ajanta.
In 2008 the restaurant moved from 11921 N. Pennsylvania to a new location in the same shopping center, so this is a good sign that Ajanta plans to stay around for a while. To me the new space looked smaller than before, but it was still comfortable. Ajanta has a buffet at lunch, but I do not know how the food quality compares to orders from the menu. It is the food cooked in the kitchen upon the customer's order, though, that seems to be especially good here.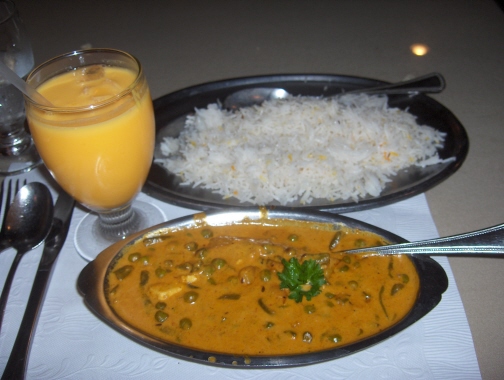 Navrattan korma with mango lassi drink
The Navrattan Korma had a mixture of several vegetables in a cream sauce (and unlike some Indian restaurants, they did not load it up with potatoes as filler). The cream sauce was medium spicy (just about the right amount). I thought the sauce was rather boring, though, and the vegetables really made the dish enjoyable. I am being very careful here not to say there was anything wrong with the food, only that I found it good but not exciting. I suppose at the prices that are charged I expected more.
The Navrattan Curry had the same vegetables as the korma, but with a spicier and more flavorful sauce. This is something I would recommend, and would order again.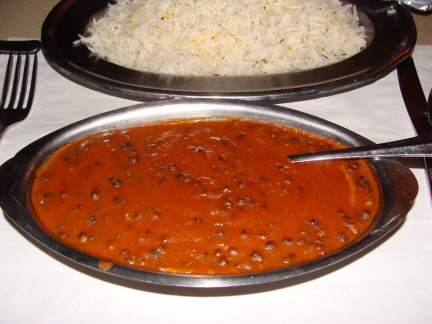 Dal makhni
I discovered Dal Makhni, a lentil dish, at another Indian restaurant, and was pleased to find it at Ajanta. As with many of the other dishes the main issue at Ajanta is that you pay more than at other restaurants, but I did feel that the dal makhni was a good bargain considering the quality. Also, Ajanta always serves enough food to fill me up, an issue with vegetarian meals at some of the other restaurants.
A portion of a channa masala order to take home
Channa Masala was my favorite dish at an El Paso north Indian restaurant, and I would say it is the best dish I have tried here. I had a take-home order that was actually twice as big as the portion shown in the photo, but the picture of the half order is the one that came out the best. The quantities of the orders are certainly substantial at Ajanta, and this is important when ordering vegetarian food as I do at Indian restaurants.
The channa masala was spicier than other dishes I have tried (it comes this way by default unless you order it otherwise), and it made me think they cook the food the authentic way that is not modified for American tastes. This dish has a slight tomato flavor, and the garbanzo beans are both filling and flavorful.
Ajanta serves hot chai, but a waiter recommended Masala Tea instead, a spiced tea of which refills are provided at no extra charge. Accompanied by a small container of cream, there is probably very little difference between this tea and the more expensive chai.
A Mango Lassi drink provides cool refreshment, and goes well with spicy food. I have had lassi drinks I liked better in other restaurants, but the one here was good.
Ajanta provides a papadum appetizer with a couple of delicious sauces to start out the meal. Naan does not come free with meals, but is excellent. The rice was very good, and is served with all orders.
Ajanta serves north Indian food, which is less spicy than in other parts of India and I think sometimes less flavorful. I think they do this type of food well, though, and I have tried several items I really liked. I give it good marks for freshness and quality, which to me is more important than how spicy it is, or even if I think it could be more flavorful.
The prices are really not too bad because of the fact that orders are filling, nutritious, and vegetables taste as if they come fresh from the market.
RESTAURANT DETAILS
RATING: 23
Cuisine: Indian North
Cost: $$
Hours: Open Daily
Accessible: Yes
Tea: Chai, Masala Tea
MSG: No
Smoking: No Smoking
Buffet: Lunch
Most Recent Visit
Oct. 27, 2010
Number of Visits: 5
Best Items
Channa Masala, Navrattan Curry, Dal Makhni
Special Ratings
Channa Masala:


Navrattan Curry:


Navrattan Korma:


Dal Makhni:


Masala Tea:


Mango Lassi Drink:

MORE ABOUT THIS WEB SITE