okgourmet.com&nbsp &nbsp Home of Steve's Restaurant Reviews
Tacos El Abuelo Taco Truck
Anthony Dr. (just north of TX state line)
Anthony, NM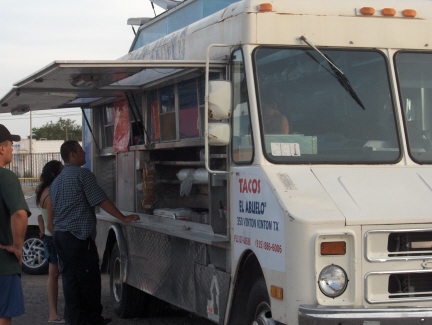 Tacos El Abuelo is a taco truck that is currently parked on Anthony Drive across from Little Mexico, just north of the Texas state line in Anthony, New Mexico (I think it used to be about a mile to the north). There are many small, family run eateries of all kinds around Anthony and the El Paso upper valley, many of which do not really qualify as "restaurants." This taco truck, as the name implies, serves tacos, with some other items available such as burritos, hamburgers, and quesadillas.
Although there are a couple of chairs in front, you should really plan to take the food home, eat in the car, or eat standing up, since this is "Mexican street food" in the truest sense. Of the non-restaurant and quasi-restaurant establishements in the area, though, I think this has some of the best food, and is worthwhile trying. Although just about everything contains some form of beef, it seems to be better than average quality. It is no wonder that customers were literally swarming the truck to get a cheap and good meal.
I tried a Quesadilla that had beef on it, and I liked the square beef cubes that were served as well as the other flavors (cheese, guacamole, flour tortilla, etc.). One advantage of eating the meal at the truck is that you can pour on delicious red or green salsa from mustard bottles.
Another advantage of eating on-site is that you can quaff one of the home made drinks including lemonade, horchata, and canteloupe-- I thought the Lemonade was delicious (probably too many calories, but made just like the ones found on the street in Mexico).
Another item I tried, a Bean Burrito with asadero cheese, was surprisingly good, with the refried beans not being too greasy or detracting from the overall enjoyment of the burrito.
There are also chicken items (such as mole burritos), but when I went late in the evening they had run out.
One word of warning, though, is that the owners do not speak English, and in fact I don't think they know enough to even conduct a transaction (such as letting you know how much an item costs), but everything is on the menu and I think just about anyone should be able to order an item, point to the drink you want, pay cash, and get change without having to speak Spanish.
RESTAURANT DETAILS
RATING: 18
Cuisine: Mexican Chihuahua
Cost: $
| | |
| --- | --- |
| Chile Index: | |
Most Recent Visit
Jun. 22, 2005
Number of Visits: 1
Best Items
Bean Burrito, Lemonade
Special Ratings
Quesadilla:

Beef
Bean Burrito:


Lemonade:

MORE ABOUT THIS WEB SITE