okgourmet.com&nbsp &nbsp Home of Steve's Restaurant Reviews
Saeng's Orient
19 Lasso Rd. (Take Ranchvale Road north from Cannon AFB)
Clovis, NM
(575) 791-6791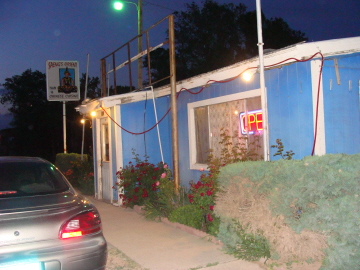 Saeng's is a small, rustic-looking restaurant located on Ranchvale Road just north of the Cannon Air Force Base entrance (several miles west of the city of Clovis). When I pulled into the "parking lot" (actually a dirt area with spaces for four vehicles) on my first visit to the restaurant I had to wait for a jackrabbit to move before I could pull in. Actually the jackrabbit may have been a sign of what the inhabitants of this area would look like if Cannon AFB had closed as proposed by the BRAC (this stands for something like "base realignment commission") in 2005. Fortunately this did not happen because I doubt that this true Asian food treasure could have survived the loss of a great part of its customer base. Although Saeng's may serve as a destination for travelers looking for good food in Clovis, as it does for me, I doubt that it is as well known as it should be around New Mexico and west Texas.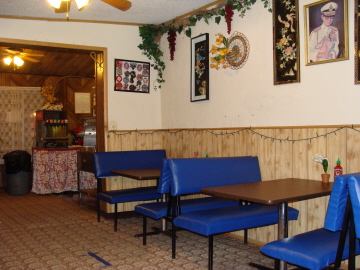 One of two dining rooms
Many Air Force personnel and their families seem to be accustomed to the spicy Thai food served here, having traveled to Southeast Asia and other areas of the world where the heat level is much higher than in America. I think because of this, Saeng the co-owner and cook, takes it seriously when you order something "Thai spicy." My only warning would be that even if you order something "medium," it might have more spice than is normally served in American Thai restaurants.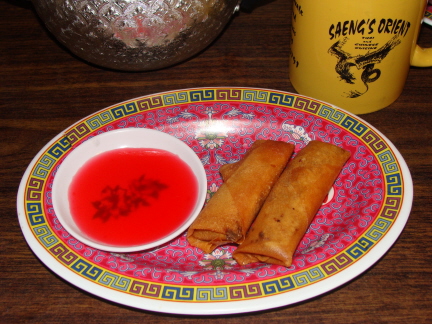 Spring rolls
One way to start out the meal with lots of flavor but not a high spice level is to order the Spring Rolls as an appetizer. These come in two flavors, the regular spring roll with cabbage or the spicy Lumpia with jalapeño. Compared to the spicy Thai entrées, though, the lumpia was only mildly spicy. Both types of spring roll were excellent.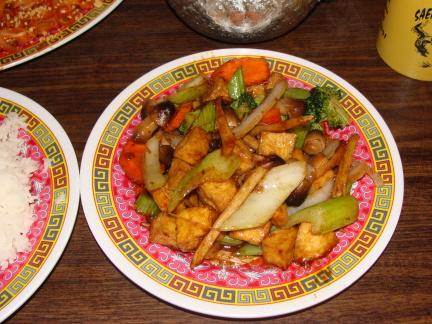 Ginger stir fry
On my initial visit I tried the Ginger Stir Fry, and I found it to have all the Thai flavors, spiciness, and deliciousness I find at many of the best Thai restaurants throughout the country. I asked Saeng to add fish sauce, and she agreed that this is the way she would prepare it if she were eating it, but the default method is without the fish sauce since "many customers do not like it." After trying the ginger stir fry a second time I confirmed that this is one of my favorite dishes, and in fact I found out that it is one that Saeng eats quite often. For variety, though, it can be ordered with different kinds of meat, while as infrequently as I am able to order it I probably will stick to the tofu.
Many ginger dishes at other Thai restaurants are very sweet, but the one at Saeng's was well balanced and had a "Thai" taste. Leaving out the fish sauce may result in it being sweeter with a more "American" taste, but it may be more to the liking of many customers. If I could go to Saeng's more often I would definitely try it both ways.
The rice had a nice flavor, and overall I would rate this as excellent Thai food.
On my initial visit the waitress served me green tea, but then found some jasmine which I had originally requested. It turned out, though, that the green tea was my favorite of the two. Thai ice tea is also available, but they sometimes run out at night and I was not able to try it when I requested it. I was told it takes about two hours to brew, and this is the reason they were not able to prepare more.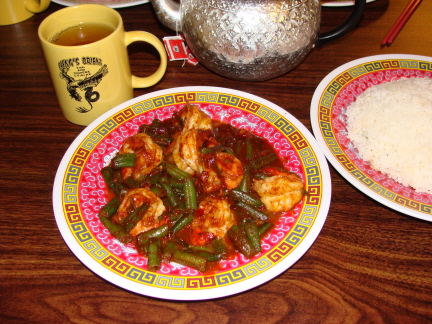 Pad prik khing
Pad Prik Khing was another memorable dish at Saeng's, with what I would judge to have an authentic Thai taste (after ordering this dish at numerous Thai restaurants around the country). This is a curry with a little different taste because it is made without coconut milk. The one here had a flavor that was among the top ones I had tried throughout the country, and was more complex than most. They made a mistake on my order and prepared it spicier than I wanted (the spice level was switched with the larb nua order). I still thought this was one of the most delicious Thai dishes I have eaten, although I could only eat a portion of it because it was so hot.
At Saeng's it is probably a good idea to order things at a lower spice level than at most other Thai restaurants, since they use the "Thai spice" scale here. At least if a meal comes out less spicy then you want, you can always add more. The restaurant can also make mistakes and they probably would have corrected this one, but I did not know it was prepared spicier than I ordered until Saeng came out of the kitchen and I talked to her. Now I try to talk to Saeng before she cooks the food if I have a question about how spicy it should be.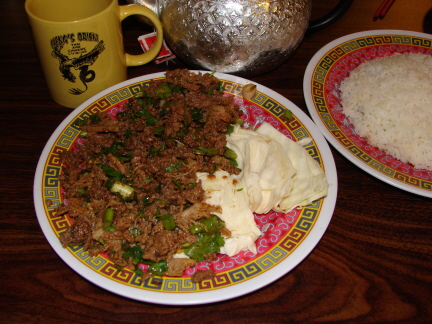 Larb nua
The Larb Nua, or Thai beef salad, was another example of the rich flavors served at Saeng's. This was quite a good dish that in my case was served at a more moderate spice level (although all dishes can be ordered with a heat level according to taste). In the case of Thai salads it may be a good idea to start of fairly mild, and add your own chiles as desired. I certainly think the flavor will not suffer if this dish is served with a low spice level.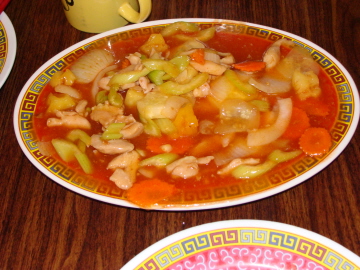 Thai sweet and sour
I did not expect much out of a Sweet and Sour Chicken dish that was meant to provide a cool contrast to the fiery hot foods that were served, but this dish also provided the type of rich flavors that are seldom found in Americanized versions of this dish. I find most Thai sweet and sour dishes to be very good, as this one was, as opposed to Americanized sweet and sour in Chinese restaurants that tends mostly to be sweet.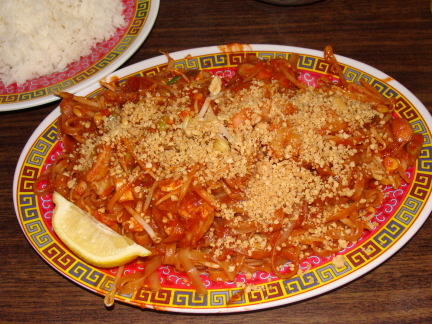 Pad thai
The Pad Thai was somewhat surprising because it had a red color that was the style many Chowhounds and other bloggers derogatorily call "ketchup," but the resemblance of these to the one at Saeng's is only in appearance. The red sauce here is actually tamarind mixed with paprika and other spices. Saeng said she experimented and came up with her own recipe, and I think it is one of the best I have tried (and certainly the best "red style" I have tried).
Saeng's has a Chinese menu, but probably some of the dishes, such as the sweet and sour, are really Thai versions of what had started out to be Chinese dishes before gaining their own traditions in Thailand. I don't know if some of Saeng's food is actually Chinese, but it does not seem to suffer the same Americanization that is common in U.S. Chinese restaurants.
Saeng's is a small restaurant a few miles west of the main part of Clovis with home-cooked Thai food. It takes a while for orders to be prepared, so don't stop if you are looking for "fast food" (although things may be speedier when the lunch buffet is served). I doubt, though, if many people simply driving through town would even find Saeng's, since it is located a couple of blocks off the main highway. Instead, this is more of a "destination restaurant" for Thai food, and for me it was certainly in an unexpected location.
I believe many people in larger cities such as Albuquerque and Las Cruces would flock to Saeng's if it were located in one of these larger population centers, and the food would make this restaurant quite popular no matter where it was located. I saw on a web site with user reviews that Saeng's was rated the number one restaurant in Clovis, and I think for good reason. It is not just because of a relative lack of competition in Clovis, but because the food really is that good.
RESTAURANT DETAILS
RATING: 23
Cuisine: Thai
Cost: $$
Hours: Closed Sun.
Accessible: Yes
Tea: Jasmine/ Thai Tea
MSG: Yes
Smoking: No Smoking
Buffet: Lunch
Most Recent Visit
May 18, 2010
Number of Visits: 3
Best Items
Ginger Stir Fry, Pad Prik Khing
Special Ratings
Ginger Stir Fry:


Pad Prik Khing:


Larb Nua:


Thai Sweet and Sour:


Pad Thai:


Spring Roll:

Restaurant Web Site
Saeng's
MORE ABOUT THIS WEB SITE