okgourmet.com&nbsp &nbsp Home of Steve's Restaurant Reviews
Roberto's Mexican Food
908 E. Amador Ave.
Las Cruces, NM
(575) 523-1851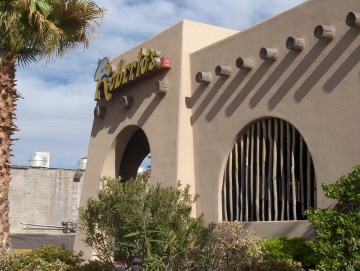 Roberto's is a place people in Las Cruces probably take for granted. With the food ordered and served at the counter, it is a casual, quick, and cheap place to get a meal of traditional southern New Mexico style food. The take-out window is so busy the proprietors have built a driveway that goes around the building to accommodate the queue.
The owner of Roberto's has become famous by constructing the world's largest enchilada every October for Las Cruces' Whole Enchilada Festival. This is a giant flat Red Enchilada served with tortillas, red chile sauce, and cheddar cheese. The one served in the restaurant has the same ingredients, and is about as typical of this dish as can be found. The chile here is hot enough to require some sort of relief in between bites, but not so hot that the only flavor that can be distinguished is the chile. The yellow cheese put on top may not be the most gourmet variety, and certainly is not authentic Mexican cheese, but it seems to go well on New Mexican red enchiladas.
I usually use sopaipillas to cut the heat of spicy chile, and the ones served at Roberto's are small Sopas with a choice of fillings. These are regular sized sopaipillas, like the ones normally served for dessert, with either meat or refried beans inside. The one I ordered, with beans, was as close as I could get to the stuffed sopaipillas that I like to order at other restaurants. Some of the ingredients I wanted, such as the lettuce, tomato, and red chile, came from the enchilada plate, but combining these two items made a very good side dish. I did not care much for the refried beans served inside-- the whole beans served with the enchiladas were much better. I also did not think the sopaipillas were as light or had as good a flavor as ones served in other restaurants. As is usually the case, though, it was the combination of all these ingredients served together that made the Sopa good.
The Horchata was made from a mix, but was better than I would have expected from a drink that was not made from scratch.
While the Las Cruces and Mesilla area has a number of tourist traps, Roberto's is a good choice if you want to experience the food the locals eat.
RESTAURANT DETAILS
RATING: 23
Cuisine: Mexican New Mexican
Cost: $
Hours: Closed Sun.
Cooking Oil: Vegetable
Smoking: No Smoking
Special Features: Serves breakfast
| | |
| --- | --- |
| Chile Index: | |
Most Recent Visit
Jul. 22, 2006
Number of Visits: 2
Best Item
Red Enchiladas
Special Ratings
Red Enchiladas:


Sopa:


Beans:


Rice:


Refried Beans:


Horchata:

MORE ABOUT THIS WEB SITE