okgourmet.com&nbsp &nbsp Home of Steve's Restaurant Reviews
Los Compas Restaurant
603 S. Nevarez St.
Las Cruces, NM
(575) 523-1778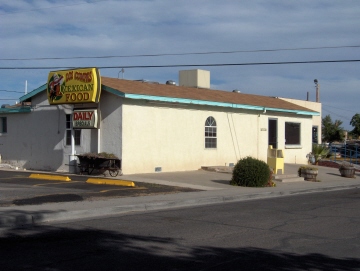 Los Compas is the epitome of a local hangout for Mexican food. Located across the street from Si Señor, I must have driven by Los Compas dozens of times without noticing it, while Si Señor is hard to miss with large signs, a full parking lot, and billboards along the Interstates approaching Las Cruces giving directions to the restaurant in case anybody could miss it.
Los Compas, in contrast, seems to be known only by locals, and the majority seem to order take-out. The service is "fast food" style, with orders given and food picked up at the counter. There are some tables for dining in the restaurant, but no table service. The meals are served on plate orders with limited combinations available. Chips and salsa are available at an extra charge, as are sopaipillas.
I tried an Enchilada plate with red chile, and the red chile was about as good as any I have had in Las Cruces. The overall plate was a letdown, though, primarily because the yellow cheese did not add much in the way of flavor.
The Chile Relleno was spicier than the enchilada, and it tasted as if it were made with either a Hatch or Mesilla Valley chile. Green chile was served on top of the chile relleno, and I thought it was one of the better versions of green chile in the city (but not as good as at Chope's). The relleno suffered from a common problem, though-- it had a greasy egg batter that would not have been good if eaten plain with no chile on top.
I really enjoyed the refried beans here, but the rice was average.
The most popular dishes seem to be the meat items, particularly the carne adovada. I really enjoyed both the red and green chile, but the fact that you do not get served at the table detracts somewhat from the experience, along with the greasy relleno, yellow cheese, and the fact that the restroom was not clean. Also I was still hungry after eating the meal, probably because no chips and salsa were served, and I did not order them extra.
Although I like the food here, there are places in town that I think are better.
RESTAURANT DETAILS
RATING: 20
Cuisine: Mexican New Mexican
Cost: $
Hours: Open Daily except Sun. evening
Additional Location: 6335 Bataan Hwy.
Cooking Oil: Vegetable
Smoking: No Smoking
Alcohol: Beer, Wine
Special Features: Serves breakfast
| | |
| --- | --- |
| Chile Index: | |
Most Recent Visit
May 14, 2005
Number of Visits: 1
Best Item
Red Enchiladas
Special Ratings
Red Enchiladas:


Chile Relleno:

Green Sauce
Beans:


Rice:

MORE ABOUT THIS WEB SITE