okgourmet.com&nbsp &nbsp Home of Steve's Restaurant Reviews
Little Mexico (Closed)
200 Anthony Dr.
Anthony, NM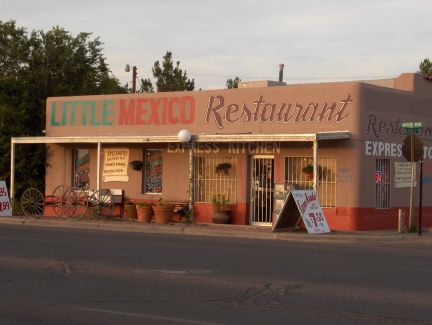 A good way to describe Little Mexico might be "Mexican cooking meets New Mexico chile." I have run across some similar places in Las Cruces, where Mexican cooking styles and recipes are used, but they try to use the local chiles and tailor it to local tastes. Many times they end up producing the same food that is served in many El Paso restaurants, but not as good. Little Mexico, however, has a flavor that to me is very close to home made (such as is found in many mom and pop restaurants in Mexico), but uses the "real" New Mexico chiles (as opposed to many sauces in northern Mexico that are less spicy and contain a lot of spices and other ingredients that dilute the flavor of the chile).
Little Mexico, formerly known as Zapo's Tacos, seems to be adding items to the menu as it becomes more popular. With the choice of numerous Mexican restaurants around Anthony and the Mesilla Valley, Little Mexico distinguished itself to me by the Zapo's Flautas, an order of five rather thin flautas (in other parts of the country they are called rolled tacos) on a bed of lettuce, tomato, cucumber, and vegetables with guacamole, sour cream, and white cheese to top it off. Although they didn't blow me away like the ones down the road at Flautas Tepalca in Canutillo, Texas, they made quite a substantial meal for $3.99, and I liked the fact that they came with either beef or chicken (Flautas Tepalca only serves beef).
The Pozole, with a red chile base, was outstanding-- comparable to ones I have had in northern New Mexico. Avocado chunks are provided on the side to place into the pozole, and I think this is a very nice touch (it's probably more of a Mexican tradition than one found in New Mexican cooking).
The green chile served on Burritos is also a worthy New Mexico example, and is better than some I have had in Las Cruces. The only feature I did not like was the deshebrada beef in the burrito I tried--it was dry to the point that the ends were curled up (I eat very little beef, and when I do indulge I want the quality to be better than this).
The Norteño Plate is a serving of beef or chicken with long green chile strips, topped off by Mexican cheese. I thought the chicken was very moist and tasty (it was all white meat), and the cheese was very good. The chiles were not too spicy, and overall I did not like the dish as much as the Chicken Tampiqueña served at Jaxon's in El Paso.
The restaurant's green salsa is mild and there is something about it that I do not like very much. The red salsa, though, which I have been receiving on the most recent visits, is very good.
One other feature I like is the Mexican pastries that are cooked in a brick oven, and available daily.
While the food may not be very different from other Mexican restaurants in the area, it is the "extras" that make it a good choice (the Mexican pastries, horchata, avocado served in the pozole, etc.). Overall it is quite a good restaurant. So far I have only been disappointed by the deshebrada beef.
RESTAURANT DETAILS
RATING: 20
Cuisine: Mexican Chihuahua
Cost: $$
Hours: Open Daily (except Sun. dinner)
Smoking: No Smoking
Special Features: Serves breakfast
| | |
| --- | --- |
| Chile Index: | |
Most Recent Visit
May 5, 2006
Number of Visits: 3
Best Items
Zapos Flautas, Pozole
Special Ratings
Flautas:

Beef or Chicken
Pozole:


Beef Burrito:

Green Chile
Norteño Plate:

Chicken
Chips:


Salsa:


Horchata:

MORE ABOUT THIS WEB SITE