okgourmet.com&nbsp &nbsp Home of Steve's Restaurant Reviews
Lemongrass Thai Cuisine (Closed)
2540 El Paseo Rd.
Las Cruces, NM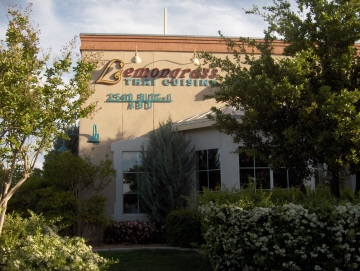 I'm trying very hard to like this upscale Thai restaurant, and this part of the Southwest desperately needs good Asian food, but I don't think Lemongrass is quite at that point. The best feature of Lemongrass is the high quality ingredients used in the food. The chicken is actually edible (and not consisting of nondescript, gristly parts as is found in many restaurants). Noodles and vegetables taste fresh, and if you order something with seafood it will be fresh also.
The problem with Lemongrass is that ingredients are not put together in what I would consider to be a "Thai" way. For instance, you would be hard pressed to find anything that contains fish sauce. I once asked for recommendations as to dishes that would contain fish sauce, and the Phad Thai was the only one mentioned (at least on the lunch menu). This dish, though, will only be "fishy" if you add Thai green chiles and fish sauce that comes on the side. This Thai chile is not set on the table, and you would never know it existed unless you specifically requested it. Sometimes that doesn't even work, and I have been brought chiles without the fish sauce.
The Tom Yum has lots of lime and galanga, but I did not perceive any chile paste as I have had at other restaurants. I have eaten with other people who have ordered curry dishes, and from what I could tell the curry did not seem to be very "hard core."
Lunches are fairly expensive (probably over $10 by the time you get a drink), and dinners are outrageous compared to the prices I'm used to paying in Oklahoma City and Seattle. Although I think the phad thai at Lemongrass is one of the best I've found in the El Paso/ Las Cruces area, I haven't really discovered anything else worth making a special effort to order.
RESTAURANT DETAILS
RATING: 20
Cuisine: Thai
Cost: $$$
Hours: Open daily for dinner; Lunch Mon.-Fri.
Accessible: Yes
Tea: Jasmine (bags)
MSG: No
Smoking: No Smoking
Alcohol: Beer, Wine
Most Recent Visit
Mar. 1, 2005
Number of Visits: 8
Best Items
Phad Thai, Thai Ice Tea
Special Ratings
Phad Thai:


Tom Yum Soup:


Thai Ice Tea:

MORE ABOUT THIS WEB SITE