okgourmet.com&nbsp &nbsp Home of Steve's Restaurant Reviews
Las Trancas Restaurant
1008 S. Solano Dr.
Las Cruces, NM
(575) 524-1430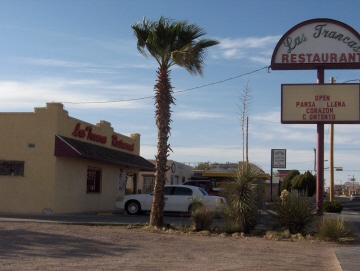 Note: Since my visits to the restaurant readers have given me reports of disappointing experiences with the food. While I had good experiences in 2005 and earlier, this may no longer be representative of Las Trancas.
Since Nellie's is closed in the evenings I am rarely able to eat there, and it has been quite frustrating trying to find another restaurant that serves the same caliber of New Mexican food, but I believe Las Trancas may be such a place.
Beginning when the chips and salsa are served, you know you have found your way to someplace special. The chips are toasted just right with an excellent flavor, the only flaw being that they are way too salty. The salsa is superb-- I think much better than at Chope's-- and although it starts out innocently enough it soon demonstrates that it is made with some serious New Mexico chiles.
The Stuffed Sopaipilla, although not superior to any others in town, is at least equal to the best ones I have tried. The key ingredients, sopaipilla and red chile, are quite good, although I think the red chile is somewhat tepid by New Mexico standards.
I was expecting the Green Enchiladas to be as disappointing as at most other Las Cruces restaurants, but I was pleasantly surprised by the ones here. Served New Mexico style with green chile chunks and both white and yellow cheese, they are almost as satisfying as the ones from northern New Mexico. The green chile varies in spiciness-- it can go from medium to hot (depending on the chile crop from which it comes), the latter making you glad that all meals come with complimentary sopaipillas and honey that will take some of the sting out of the hot spice.
I will have to say that the Sopaipillas are addictive, and are comparable to some of the best around Albuquerque or Santa Fe.
The only item I've found that detracts from the overall enjoyment of the meal is the rice-- it is a type of Spanish rice that tastes like the one served at Luby's Cafeteria.
The restroom seems quite clean, as does the entire restaurant.
Several Mexican restaurants in Las Cruces use vegetable oil, but the canola oil used by Las Trancas is far better than most, having a very light flavor, very little aftertaste, and apparently providing for maximum food digestion so that those who might normally have trouble with spicy Mexican food would most likely find the food here easier to handle.
Even for serious chileheads, though, I think the flavor of the food and quality of the ingredients goes a long way to offset the sometimes less than fiery-hot chile. I think this is a serious New Mexican style restaurant-- it is just that it uses local southern New Mexico ingredients rather than the northern New Mexico food to which many are more accustomed.
RESTAURANT DETAILS
RATING: 23
Cuisine: Mexican New Mexican
Cost: $$
Cooking Oil: Vegetable
Smoking: No Smoking
Special Features: Serves Breakfast, Complimentary Sopaipillas
| | |
| --- | --- |
| Chile Index: | |
Most Recent Visit
Jul. 2, 2005
Number of Visits: 2
Best Items
Stuffed Sopaipilla, Enchiladas, Salsa
Special Ratings
Green Enchiladas:


Stuffed Sopaipilla:

Red Sauce
Rice:


Chips:


Salsa:


Sopaipillas:

MORE ABOUT THIS WEB SITE