okgourmet.com&nbsp &nbsp Home of Steve's Restaurant Reviews
Kiva Patio Cafe (Closed)
600 E. Amador Ave.
Las Cruces, NM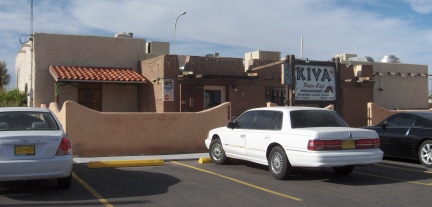 When judging New Mexican food a couple of factors are very important to me: quality and freshness of the ingredients and authenticity of style. Kiva Patio Cafe gets an A+ for the first but about a B- for the second. The menu had items such as Sandia Chile Rellenos, Tesuque Enchilada Plate, and Taos Sopaipilla Compuesta, leading me to believe that I had finally found a northern New Mexico style restaurant in Las Cruces. What I found, though, were elements of northern NM, southern NM, and Mexico.
The owner is from Mexico, and I think what has happened is that recipes from Mexico have been combined with some dishes familiar to the other cooks, who are used to cooking New Mexico style food. Most of the old style southern New Mexico restaurants cook with lard, but the owner has insisted on changing to vegetable oil for all the cooking, and even has a large vegetarian menu (so far, so good).
There are two types of stuffed sopaipillas on the menu-- the stuffed one is a regular sopaipilla filled with meat or beans, cheese, lettuce, and tomatoes, while the Sopaipilla Compuesta is pretty much the same thing only larger (this makes a whole meal). I ordered the smaller one with red chile, and the chile turned out to be the best part of the dish. The sopaipilla was rather strange, being much thicker than I normally see. The filling was good but made of the basic ingredients that can be found anywhere. The red chile was darker than normal for New Mexico (it seemed to have some Mexican spices blended in, but made with real Mesilla Valley chile).
I also wanted to try a Green Enchilada and it really tasted excellent, except for the fact that the chile was puréed. The cheese was top quality (a mixture of white and yellow), and the whole beans with the meal made a good balance to the spicy chile (I almost gave the restaurant a five-chile rating).
Chips and salsa were excellent also-- the salsa had a strong flavor of cilantro.
Added to the positives are the fact that the place was very clean (including the restroom), the kitchen was open and you could watch the food being prepared, and the service was excellent (including answering all my questions about the food).
The biggest negative is that this is not classic New Mexico style food, but in a lot of ways it may be just as good.
RESTAURANT DETAILS
RATING: 22
Cuisine: Mexican New Mexican
Cost: $$
Hours: Open Daily
Cooking Oil: Vegetable
Smoking: No Smoking
Special Features: Serves Breakfast
| | |
| --- | --- |
| Chile Index: | |
Most Recent Visit
Mar. 26, 2005
Number of Visits: 1
Best Items
Green Enchiladas, Salsa
Special Ratings
Green Enchiladas:


Stuffed Sopaipilla:


Chips:


Salsa:

MORE ABOUT THIS WEB SITE