okgourmet.com&nbsp &nbsp Home of Steve's Restaurant Reviews
Irma's Restaurant
123 S. Silver Ave.
Deming, NM
(575) 544-4580

One amazing thing about New Mexico is that you can go to just about any town in the state and get good New Mexican food. These are traditional dishes from northern Mexico made with New Mexico grown chiles and modified over the years to create a distintive style of food.

The city of Deming in southwestern New Mexico has its share of New Mexican style restaurants. Being a few miles from the border with Chihuahua, I would think it would also have some traditional Mexican restaurants. All the ones I have ever heard about, though, are New Mexican.

Irma's is a restaurant that I had not heard of before I found it by driving around the downtown area. With all of Deming's sprawl and acreages that look as if they may have been laid out to sell thorough mail order to people from out of state, the downtown is surprisingly vibrant and full of a number of restaurant choices. Irma's is what I would call a local place-- it cannot be seen from the highway and occupies a storefront space on one of downtown's side streets.

Upon entering Irma's I immediately spotted a number of patrons eating red enchiladas served flat with an egg on top. This indicated that the food here may be even better than in a number of Las Cruces restaurants where it is more of a southern New Mexico style with rolled enchiladas and a strong influence from El Paso style Mexican food. Both walls of the restaurant were lined with booths, and I thought the decor looked simple but comfortable.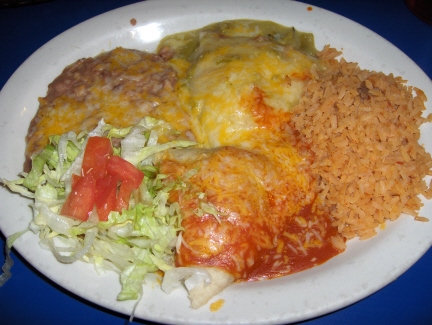 Stuffed sopaipillas with red and green sauce
Although the enchiladas seemed popular, the waitress recommended the Stuffed Sopaipillas. It was actually very helpful that she would make a suggestion to help me find the best food. The sopaipillas were small so I could order two of them, one with red chile and one with green. There was also a choice of stuffings so I decided on one bean and one beef.
The sopaipillas were excellent, although it is hard to recall a time in New Mexico when I have not been served sopaipillas that were top quality. The chile was not the most extraordinary I have ever eaten, but it was better than appearances indicated with rather dull red and green colors. Apparently the waitress has to sample the chile daily to determine which is hotter, the red or the green (the day I went the red was hotter). For those who have not been to New Mexico I can tell you that this is a good sign-- it means the chile is fresh and prepared daily. All in all I thought the chile was the outstanding feature of Irma's Restaurant.
In contrast to the chile, though, I did not care much for either the bean or beef stuffing. The beans were refried and I thought somewhat greasy. The beef was ground hamburger meat that had a good spice, but my idea of good stuffed sopaipillas is the shredded beef they use at Nellie's or other places in Las Cruces where I first tried them. Chicken was the third choice for stuffing, and the only one I did not order. I suspect I might have been better off avoiding all of them and getting enchiladas instead, but all the other aspects of the sopaipillas made me think the waitress made a good suggestion by recommending them.
The lettuce salad served on the side is normally considered just a garnish, but I thought it was good to complete the ingredients I normally put in the sopaipillas.
The ice tea was good as was the rice. The beans were not bad, but I wished they had served whole pinto beans. The chile was very good, but I was especially impressed with the green one.
Whether Irma's is better than most Las Cruces restaurants is hard to say, but I think it is at least comparable. Other than the beans and the ground beef, I certainly thought Irma's was very good.
RESTAURANT DETAILS
RATING: 21
Cuisine: Mexican New Mexican
Cost: $$
Smoking: No Smoking
| | |
| --- | --- |
| Chile Index: | |
Most Recent Visit
Nov 8, 2007
Number of Visits: 1
Special Ratings
Stuffed Sopaipillas:


Beans:


Rice:


Chips:


Salsa:

MORE ABOUT THIS WEB SITE