okgourmet.com&nbsp &nbsp Home of Steve's Restaurant Reviews
Hunan Chinese Restaurant
2609 N. Main St.
Roswell, NM
(575) 623-8630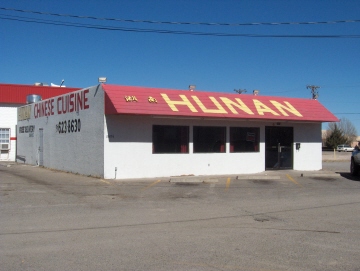 If someone had told me Roswell, New Mexico could be home to "real" Chinese food I might not have believed it, and probably even less so from looking at the outside of the building. Actually several reviews I have read on the Internet did indicate that Hunan had quite good food, but considering other Chinese food I have eaten in Southeastern New Mexico I was not sure how much confidence to place in any such reviews.
I have also seen contrary opinions stating that Hunan was not the best Chinese restaurant in Roswell, and that people should go elsewhere for items such as chow mein and egg rolls. It may be that other restaurants are better for Americanized dishes such as chow mein, but I found Hunan one of the best places for authentic Chinese food I have found in New Mexico. In fact, based on my first visit, I would recommend it even to people from other parts of the country who are used to very good Chinese food.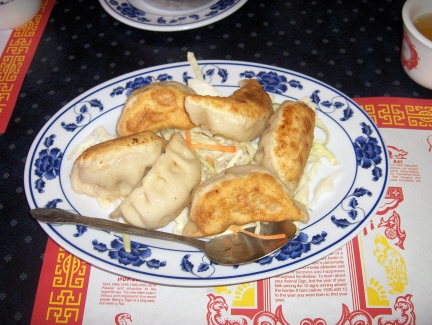 An order of meat pot stickers
Pot Stickers are one of the appetizers offered, with a choice of meat or vegetables inside. These were steamed and then fried on the outside to make them crispy. The meat version was good, and I enjoyed the sauce. Since this is not something I normally order I do not know how to compare the ones here with those served at other restaurants. I thought the ones at Hunan, though, were a good sign that other food to follow would be of higher than average quality.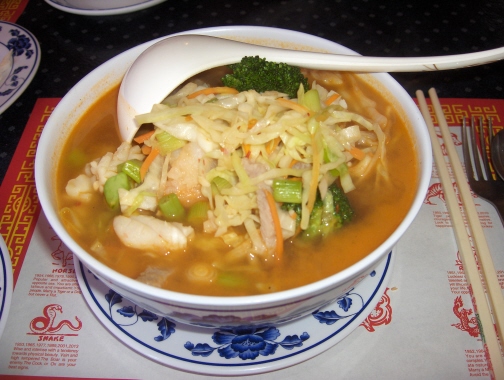 Three flower spicy noodle soup with seafood and vegetables
Three Flower Spicy Noodle Soup is one of the types of noodle soup served, and is similar to the seafood noodle soup but with a spicy broth. This came with different types of seafood as well as a mixture of vegetables. I was impressed with the squid and other seafood included, since this is something not normally done very well in the desert Southwest. I probably would not give a five-star rating to the seafood itself, but it was good enough, along with the flavorful broth and fresh vegetables, for the soup to rate very well overall.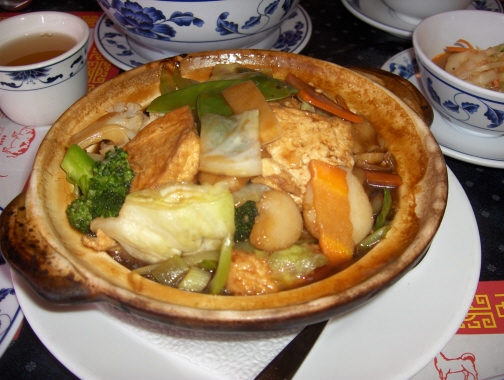 Tofu and vegetable clay pot
A Tofu and Vegetable Clay Pot was impressive on two levels. First, it was very good with the brown sauce being one of the most important elements. The tofu was cooked right, and it had a good ginger flavor. Second, though, it was not listed on the menu, and I discovered that the chefs can prepare special orders as long as all the ingredients necessary are on hand. Although some of the vegetables, such as nappa cabbage, were the same as in the noodle soup, I did not like the mixture quite as much as the one in the soup. It was still quite good, though, compared to many vegetable clay pot dishes I have eaten.
Most of Hunan's menu consists of the type of Americanized dishes that probably would not show off the restaurant's best cooking skills. The person in my party who ordered a lunch special, though, enjoyed it quite a bit. I think Hunan prepares high quality food no matter what is ordered. There is no buffet, though, so those who are expecting buffet style fried and candied food might be disappointed with what is served here (particularly since the prices are a little higher than the typical Chinese restaurant).
The Jasime Tea, made with loose leaves, was another sign that this is an excellent restaurant. I would not say any Chinese food you could find in Southeastern New Mexico would be the best available in the United States, but I thought the quality at Hunan was quite surprising.
The name "Hunan" to me is somewhat unfortunate since I would not classify it as an authentic Hunan style restaurant. The dishes on the menu that look more authentic, though, are mostly Cantonese style, and the clay pot dish I ordered tasted like a true Cantonese style dish to me. As I like to repeat on this web site, I am not an authority on authentic Chinese food. I do have an idea what is good, though, and what is not purposely "dumbed down" for people who are only looking for some semblance of Chinese food served at bargain prices. Everything I tried at Hunan was definitely good.
RESTAURANT DETAILS
RATING: 22
Cuisine: Chinese
Cost: $$
Hours: Closed Sun.
Accessible: Yes
Tea: Jasmine (loose leaves)
MSG: Yes
Smoking: No Smoking
Buffet: No
Special Features: Lunch specials Mon.-Sat.
Most Recent Visit
Jun. 2, 2008
Number of Visits: 1
Best Item
Clay Pot
Special Ratings
Tofu Clay Pot:


Three Flower Noodle Soup:


Pot Stickers:

MORE ABOUT THIS WEB SITE