okgourmet.com&nbsp &nbsp Home of Steve's Restaurant Reviews
Hong Kong Super Buffet
113 N. Chicago Ave.
Portales, NM
(575) 226-0017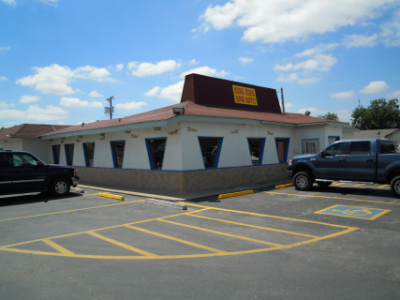 Hong Kong's "Super Buffet" follows all the stereotypes common to the southern Great Plains: unlimited quantities of Americanized fried and syrupy foods at cheap prices, topped off with Dairy Queen style ice cream from a machine. What I look for in this type of restaurant, though, is whether it also has a menu on which I can find more traditional or healthy items. Hong Kong has an extensive menu, and I have found that if I ask for "traditional style" Chinese food the chef is more than happy to prepare it.
The buffet is popular because customers can get a large variety of items and can eat all they want. The fact that more traditional food is available is likely due to the presence of Eastern New Mexico State University. I was told that this was home to almost a hundred Chinese students, many of whom come to Hong Kong Super Buffet to get a taste of home in the middle of cattle country. As a result the restaurant prepares special dishes upon request that cater to the Chinese palate. It is this possibility of going "beyond the menu" that sets Hong Kong apart from other Chinese restaurants in eastern New Mexico.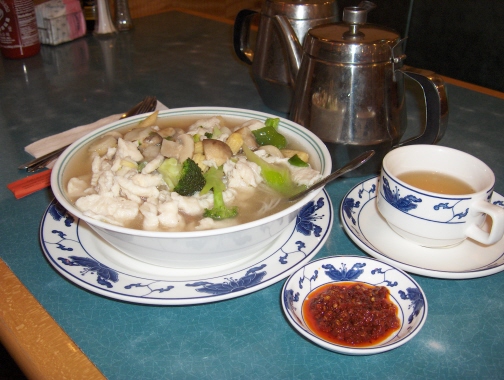 Chicken noodle soup
One of the "special" dishes I tried was Chicken Noodle Soup, a light broth with white meat chicken, vegetables, and noodles. Although this description may make it sound rather dull, the broth really provided the flavor in this dish. To me it seemed like the authentic Chinese soups I have found in large cities, and it was understandable that the dish was reputedly popular with Chinese students. Some Chinese spices were included, including Chinese pickles that are usually served only in restaurants that cater predominantly to Chinese clients. If this is not flavorful enough they offer a bowl of chile oil on the side. To me the dish seemed to have more than enough flavor to impress me as a fairly authentic Chinese dish. I really cannot judge when a soup is truly representative of the ones served in China, but I doubt many could be found in the U.S. with better flavor or freshness.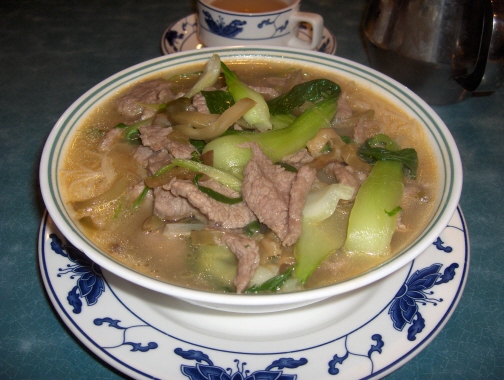 Beef noodle soup with Chinese pickle
Beef Noodle Soup with Chinese Pickle was another version of a Chinese style soup that the chef prepared upon request. When I was told that the specialty of the restaurant was actually Mandarin style food, this sounded like a good test of the chef's skills. The soup came out pretty much as I had hoped except for having beef that was somewhat tough and unflavoful. The flavor of the soup, though, was good, as it had been with the chicken soup. The small bok choy was more tender than the larger plants used in many restaurants, so I appreciated this aspect of the soup.
Both of these soups were "special request" items, meaning that they were not on the menu. Of course the problem with ordering traditional Chinese food at many American restaurants is that customers do not know what to order, especially if the items are not listed on the menu. If you have a favorite type of authentic Chinese food, though, chances are that the chefs at Hong Kong can prepare it. The owners told me that some items they would especially suggest are steamed fish, bean curd soup, and Chinese green vegetables with black bean sauce.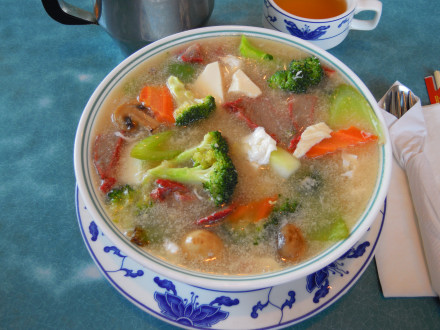 Bean curd soup with pork
Knowing that the bean curd soup was one of the owner's suggestions, I asked for this on a subsequent visit. Being hopeful that I would not have to explain all the ingredients that I wanted in the soup (I usually leave this up to the chef) I was relieved that the only choice I had to make was the type of meat to be included. Trying to stick with the traditional Chinese style, I ordered Bean Curd Soup with Pork. The soup stock was chicken, so the pork provided a good offsetting flavor. The meat used was barbecue pork, and it was the freshest and most flavorful meat I had eaten at Hong Kong Super Buffet. Egg whites and tomato in the soup gave it a traditional Chinese flavor, along with mushrooms, celery, and other vegetables. The broccoli seemed to be an accommodation to the fact that American vegetables are more available than Chinese ones in this part of the country. One feature that I really enjoyed was the fact that the owners included Chinese melons (similar to wintermelon) grown in their yard, and which would not have been available in any store. The bean curd was soft and tasted fresh, topping off what turned out to be an excellent dish.
For those interested in the buffet, this does not seem to be a bad choice. The owners gave me a sample of the Hunan Beef from the buffet, which seemed quite good except for the broccoli. Like most buffets this one did not have particularly authentic Chinese food, but it did seem to have good quality and freshness (the buffet is open all day, and refreshed periodically).
In my opinion Hong Kong Super Buffet deserves recognition in a region of New Mexico where it is frankly difficult to find anything approaching authentic Chinese food, much less the variety of options that are available here. The specialty of the restaurant is Mandarin cuisine, but they can just as easily prepare Cantonese or Szechuan style dishes. Some of the ingredients are limited, and only two types of noodles are available, but they will do quite a good job for a town that is so far from any major metropolitan area.
RESTAURANT DETAILS
RATING: 22
Cuisine: Chinese
Cost: $
Hours: Open Daily
Accessible: Yes
Tea: Jasmine (brewed)
MSG: Yes
Smoking: No Smoking
Buffet: Yes
Most Recent Visit
Sep. 8, 2010
Number of Visits: 4
Best Items
Chicken Noodle Soup, Bean Curd Soup with Pork
Special Ratings
Chicken Noodle Soup:


Beef Noodle Soup:


Bean Curd Soup with Pork:


Hunan Beef:

MORE ABOUT THIS WEB SITE