okgourmet.com&nbsp &nbsp Home of Steve's Restaurant Reviews
Great Wall of China
2913 Sudderth Dr.
Ruidoso, NM
(575) 257-2522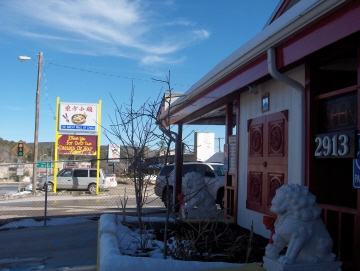 Most towns the size of Ruidoso would not have a Chinese restaurant as good as Great Wall of China, but since it caters to tourists the food has to be a little more upscale in this mountain resort. Great Wall has very amiable owners, and I will have to say the staff does just about everything possible to please the customers even though many come from out of town and may not be able to return on a frequent basis. I am treated like a regular customer even though my visits may be a few months apart. Chef Ryan and his wife always have kind words as well as helpful suggestions in ordering.
I am like many customers who go to Chinese restaurants and find out what they like best by trying different dishes. Along with my different visits to Great Wall of China, though, I have also become more knowledgeable about Chinese food, so that I now have a better idea about what to order based on my experiences at other restaurants. Like many Chinese restaurants, Great Wall adjusts the taste of the food to meet the expectations of many customers, primarily by making it more sweet than it would be served in China. Unlike many Chinese restaurants, though, Great Wall is willing to adjust the dishes to make them more authentic, provided that this is what the customer really wants. It is not my purpose to advise people to give up the flavor they like for something "more authentic," but I do want to let people know that at Great Wall they have a choice. I have found the "American style" food to be good, but the "authentic" food to be better.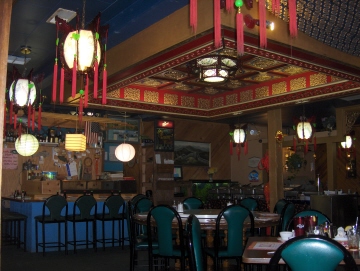 Dining room and sushi bar at Great Wall
Great Wall specializes in spicy Hunan and Szechuan style food, but can also serve other styles such as Shanghai cuisine. A mark of a good Chinese restaurant is that each style is distinguishable. At Great Wall the Hunan and Szechuan dishes each have their own sauce, as opposed to some other restaurants that use a generic brown sauce on all dishes but simply add some chiles to make "Szechuan" or "Hunan" style dishes. Most of my orders at Great Wall have been somewhat spicy to very spicy, in keeping with southern Chinese (Szechuan and Hunan) cuisine, but some of the non-spicy dishes are good as well.
I have learned over the years to ask Chinese restaurants whether they can prepare "authentic" or "traditional" Chinese dishes, but I was not yet at this point when I first visited Great Wall. Consequently my initial experiences were with dishes as they are normally prepared from the menu. The Hot Vegetable Delight had excellent vegetables and tofu cooked just right, but it came with a sweet tasting sauce that was supposed to be the Hunan sauce, but I think they actually put Szechuan sauce. In any case I was disappointed with the sauce, but I liked everything else.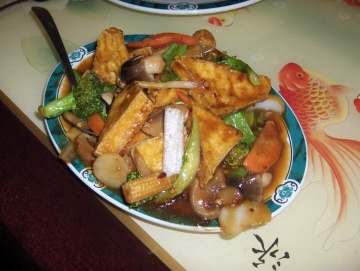 Half order of vegetable delight with tofu and Hunan sauce
On a subsequent visit I tried the Hot Vegetable Delight with Hunan sauce, and it turned out to be better than on my previous visit. Along with the first rate vegetables and the tofu which had been added, it would be hard to ask for a better dish. This was my first clue that if I told the staff how I wanted the food to be prepared and what I did not like about previous dishes, they would modify it according to the customer's wishes.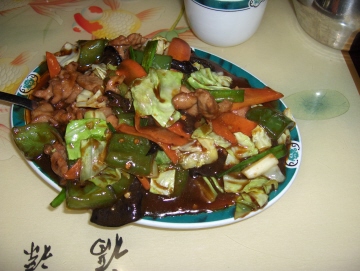 Half order of twice cooked pork
The specialty of the chef is Hunan and Szechuan style cooking, so on one visit Ryan suggested that I try Twice Cooked Pork. This was a spicy dish with a somewhat sweet sauce, with the sweetness providing an offset to the chile. I thought the meat was good, and as I had found with the tofu dishes, the main elements (meat and vegetables) were really more notable than the sauce.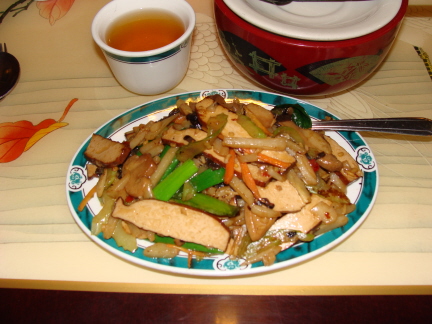 Half order of Szechuan vegetable delight with tofu added
The above photo shows the latest version of a half order (or lunch portion) of Szechuan Vegetable Delight with tofu added. Note that in 2009, when this was served, the tofu had changed from the previous versions, and although I was very happy with the tofu served before, this one was probably better and more healthy. The most important change to this dish, though, was in the sauce. The owner suggested a more authentic Chinese version of the Szechuan sauce made with ginger and garlic, and not made sweet (to the normal American taste) like the regular Szechuan sauce. This turned out to be the best vegetable dish of all the ones I had tried, and I was happy to find out that the sauce could be as enjoyable as the rest of the dish.
Other people may not be as adamant as me about ordering authentic Chinese food versus the Americanized version, but the important thing about Great Wall is that the authentic food is available if you request it.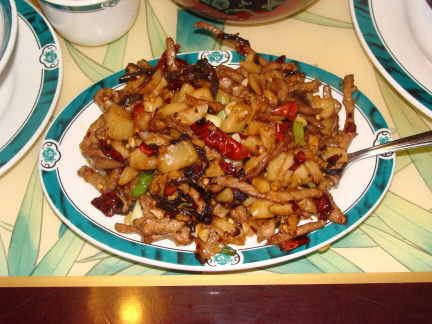 Small order of Szechuan pork served "authentic" style
A lunch portion of Szechuan Pork, served with the same authentic non-sweet sauce that I had tried on the vegetables, was an almost perfect version of this dish. In fact, I don't think the authentic Sichuan restaurants on the west coast could have made it much better. Using a simple sauce with ginger and garlic, I thought the food was really much better without the added sweetness I had experienced earlier at Great Wall and at most other Chinese restaurants. I need to emphasize that customers need to ask for the authentic non-sweet version of dishes if that is what they want, but I think it is well worthwhile if they really enjoy a true Chinese flavor to the food. I will have to add, though, that I really enjoyed the vegetables, meat, texture, flavor, and spiciness of the main elements of this dish (not taking the sauce into account). I would recommend this as one of the best items at Great Wall, even if you choose to go with the sweet sauce.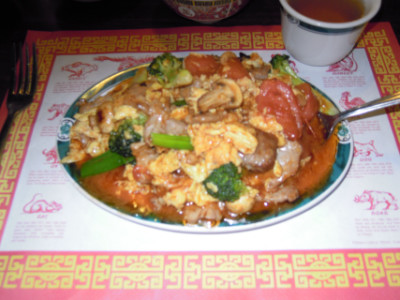 Shanghai style eggs with tomato
Even though chef Ryan warned me that Shanghai style food was sweet, I had to try it since Great Wall was one of the few places in the United States I was able to order it. Shanghai cuisine is one of the types of food Ryan learned to cook in order to expand the choices available to customers, and I would say his efforts were well worthwhile. Shanghai style food is not on the menu, so the problem is that customers either need to know what they want to order from experience at other restaurants or rely on Ryan for suggestions. The latter is not a bad idea, since Ryan suggested that I try the Shanghai style eggs with tomato.
This version of Eggs and Tomato was made with mushrooms, broccoli, and pork, but different ingredients can be requested. Even though it was sweet, I liked it because it was prepared the way it was supposed to be made according to the Chinese tastes in the Shanghai region. It was a little different from the Americanized sweet dishes in that Shangai cuisine is balanced so that the sweetness is one of its components, rather than the sweetness being added (as it is in many Americanized versions) so that the sweetness is overwhelming.
Of course a good Chinese meal is usually made even better with soup, and Great Wall offers several good choices. Some lunch specials are available with soup, but virtually everything I have tried has been from the regular menu, meaning that soup has to be ordered separately.
Hot and Sour Soup goes well with the Sichuan and Hunan dishes, and is always available. I believe it is made fresh since you are able to request it without MSG. After trying literally hundreds of hot and sour soups all over the country, though, I would put the one at Great Wall about in the middle in terms of flavor.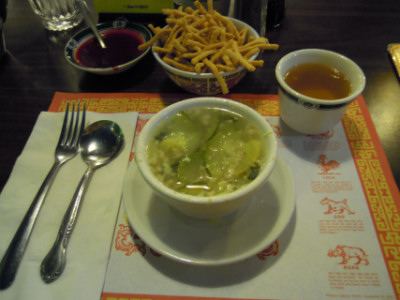 Zucchini soup is one of the special soups that are sometimes available
I was offered Zucchini Soup as a choice for the soup of the day, and until my visit on which I ordered the Shanghai style food, I was not even aware that an additional soup of the day choice was available (in addition to the standard egg drop and hot and sour). The next time I probably will not go with my hopes up about the soup, but if I can get anything as delicous as the zucchini soup I will be happy. This was made with chicken, green and yellow squash, and the "secret" ingredients that made it taste Chinese.
One of Ryan's biggest passions seems to be the sushi bar which is open every day (except when the restaurant is closed on Monday). I have not tried the sushi, but I have enough confidence in the chef to guess that it is probably very good (I believe sushi was Ryan's first area of expertise before he started cooking Chinese food along with his wife).
Great Wall has a large wine and beer list, nice decor, and courteous but sometimes slow service. I do not mind the restaurant being slow, though, when the reason is that orders are individually cooked to taste, using traditional Chinese cooking methods. Also I have found when I go for lunch on Fridays I sometimes have to add waiting for a table to become available to the time calculation.
Chef Ryan said he is now serving a buffet twice a week. I imagine this is largely as competition to the Inn of the Mountain Gods, since the food at Great Wall is probably similar in quality.
One of the good features of Great Wall is that they try to work with customers to provide special requests. They probably do not have many customers ordering food "family style," with shared plates (as is the custom at many "Chinatown" restaurants), but they can accommodate this type of dining by serving smaller plates with meats, steamed vegetables, or vegetable main dishes. Tofu can be added to vegetable dishes, and in fact I think most substitutions within reason can be accommodated. The important thing is to tell the staff what you want, and they will do their best to prepare it.
Chef Ryan periodically goes to well known cooking schools to learn how to prepare different cuisines (the latest trip he told me about was to Las Vegas in 2010 to learn the techniques of Thai cooking). The special items at Great Wall might not be available the few times Ryan is away, but I know other people are able to cook good meals, including his wife and co-owner of the restaurant. When Ryan is available to cook, though, I look forward to some of the different types of cuisine that are not normally available in small town New Mexico (and not this good even in many larger cities).
Great Wall is located on Sudderth Drive, Ruidoso's main drag, west of Mechem, but before you get to the traffic circle (why Ruidoso needs a traffic circle I cannot figure out). It is obvious that the owners try hard to give customers an enjoyable meal, and most customers seem to really appreciate the effort.
RESTAURANT DETAILS
RATING: 23
Cuisine: Chinese
Cost: $$
Hours: Tues.-Sun. 11:30 a.m. to 9:00 p.m.
Accessible: Yes
Tea: Jasmine (brewed)
MSG: Yes
Smoking: No Smoking
Alcohol: Beer and Wine
Special Features: Sushi bar
Buffet: No
Most Recent Visit
Jul. 15, 2010
Number of Visits: 6
Best Items
Szechuan Pork, Szechuan Vegetable Delight (both with Chinese style Szechuan Sauce), Shanghai Style Dishes, Special Soup
Special Ratings
Hot Vegetable Delight with Tofu:

Hunan sauce
Szechuan Vegetable Delight with Tofu:


Twice Cooked Pork:


Hot and Sour Soup:

Special Ratings (Traditional Chinese Style)
Szechuan Pork:


Szechuan Vegetable Delight with Tofu:


Eggs with Tomato:

Shanghai style
Zucchini Soup:

MORE ABOUT THIS WEB SITE