okgourmet.com&nbsp &nbsp Home of Steve's Restaurant Reviews
El Sombrero Patio Cafe
363 S. Espina St.
Las Cruces, NM
(575) 524-9911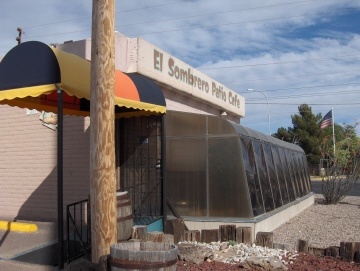 El Sombrero is a family owned restaurant that has been operating since 1956, so it is a good place to experience the true "taste of Las Cruces." Although Las Cruces New Mexican food is not quite the same as that found in northern New Mexico, some places are better than others in preparing the southern style, and El Sombrero is one of the best.
I don't generally like the Green Enchiladas as much as the red ones, but I tried the green one here. The green chiles are served in chunks here, as I like it, but they are mild and in small amounts. The green sauce was actually a mixture of chile and cheese (mostly cheese), similar to the "cheese tacos" served at Tex-Mex restaurants. One good thing about the enchiladas here is that they only cost 75 cents when ordered individually.
There are specials every day, and I went when Pozole was being offered-- this came in an excellent tasting red "chile con carne" type sauce, but was pretty mild (and therefore not up to the ones I have tried in Santa Fe).
A Stuffed Sopaipilla I ordered turned out to be the outstanding dish I tried. It came with a red chile that, like the other sauces, I though was too mild. However, it was much more substantial than the green sauce, and tasted pretty good. The stuffed sopaipilla was somewhat of a misnomer, since it had so much "stuffing" that most of it was overflowing outside the sopaipilla all over the plate. With both yellow and white cheese, pinto beans, lettuce and tomato, it came together in an excellent tasting combination, in no small part due to the delicious sopaipilla.
If you would like you can try the outdoor patio-- something very popular in Las Cruces most of the year.
RESTAURANT DETAILS
RATING: 21
Cuisine: Mexican New Mexican
Cost: $
Hours: Closed Sun.
Cooking Oil: Vegetable
Smoking: No Smoking
Alcohol: Beer, Wine
| | |
| --- | --- |
| Chile Index: | |
Most Recent Visit
Apr. 20, 2005
Number of Visits: 1
Best Item
Stuffed Sopaipilla
Special Ratings
Stuffed Sopaipilla:

Red Sauce
Green Enchiladas:


Pozole:


Chips:


Salsa:

MORE ABOUT THIS WEB SITE