okgourmet.com&nbsp &nbsp Home of Steve's Restaurant Reviews
Doņa Chole Tortillas & Tostadas
1809 McNutt Rd.
Sunland Park, NM
(575) 874-1198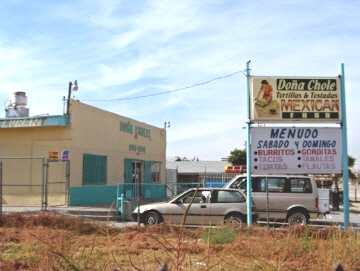 If someone holds the belief that the U.S. border is too porous, a cruise down the main drag of Sunland Park, about a mile from the northern limit of the Republic of Mexico, would do little to dispel this notion. Lined with small shops and markets, it is more a replication of village life south of the border than an attempt to attain the "American dream" of strip shopping centers and fast food franchises.
Whether the Mexican influence in Sunland Park is intentional or accidental, it is a sure bet (borrowing a phrase from the nearby Sunland Park Race Track) that no anglosized Mexican food would last long in this environment. Opening near the turn of the millennium, Doņa Chole Tortillas & Tostadas has proved its popularity with the local population. Specializing in burritos, tacos, tortas, and sopes, it operates primarily as a fast food style taquería with a few tables for dine-in service. Mexican Cokes are available from a refrigerator, and plastic forks are available for those who wish to enjoy their meals on the premises.
With everything in the several cafeteria style containers looking good, I turned to the owner for some suggestions as to what to order. Upon learning that Enchiladas were her favorite dish, I made an a la carte order to sample them. This was the Mexican style of enchiladas, especially prevalent in the northern state of Chihuahua, that is piled with grated cheese on top but very little sauce. While these "authentic" enchiladas are normally quite greasy and far less enjoyable than the ones served in El Paso or northern New Mexico, Doņa Chole's version was a superior version of the south of the border style. Although having so little red chile it was almost dry, it was not lacking in chile flavor--an especially potent and undiluted sauce must have been used. The white and yellow cheeses sprinkled on top were especially flavorful, and overall it was quite good (although I gave a four-star rating, I would put it in the top end of this category, and it would not be a stretch to rate it at five stars).
Tacos de Picadillo were another recommended dish, made with a crisp shell, seasoned ground beef, and potatoes. While I enjoyed them somewhat more than the enchiladas, it may have been as much because of the texture of the lettuce, meat, and potatoes against what seemed like a home made shell as the actual flavor. While Doņa Chole would probably not be recogized by the people who publish the "Top 50 Mexican Restaurants in the U.S." list, the tacos did taste like ones I have had in friends' houses at meals that seem to give an experience that can never be duplicated in restaurants.
The Salsa is freshly made, and is likely a result of the ingredients that can be found at the market more than an actual recipe that is followed.
Aguas Frescas are available. The Lemonade I tried was too thin and too sweet, but having the flavor that comes from being made from scratch.
While many of the more authentic "hole in the wall" places I visit require a good knowledge of Spanish in order to communicate with the staff, such is not the case here. Doņa Chole provides the enjoyment of south of the border dining along with the atmosphere while assuring customers they are still in their own homeland. When the Sunland Park Drive bridge is completed across the Rio Grande, Doņa Chole will be within easy reach of I-10 and west El Paso, providing a much needed alternative to the predominant chains and commercialized Mexican food that seem to drown out the competition.
RESTAURANT DETAILS
RATING: 22
Cuisine: Mexican Chihuahua
Cost: $
Smoking: No Smoking
Accessible: Disabled parking, but no ramp (except possibly in back of building)
| | |
| --- | --- |
| Chile Index: | |
Most Recent Visit
Nov. 1, 2006
Number of Visits: 1
Best Items
Tacos, Salsa
Special Ratings
Tacos:

picadillo
Enchiladas:


Lemonade:


Salsa:

MORE ABOUT THIS WEB SITE