okgourmet.com&nbsp &nbsp Home of Steve's Restaurant Reviews
Billy Crews Dining Room
1200 Country Club Rd.
Santa Teresa, NM
(575) 589-2071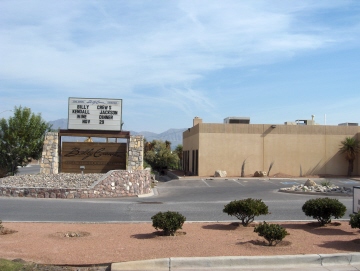 For years Billy Crews has been known as one of the best steak restaurants in the El Paso area, and it is equally famous for its wine collection. With over 15,000 bottles of wine available, there is something for every taste and budget. The marquée in front advertises frequent special wine tasting events and dinners that feature wine pairings.
Dinners at Billy Crews are special occasions in their own right. Steaks are put out in a display case to be viewed and selected as desired, much the same as at Cattleman's at the opposite end of the El Paso metro. Unlike Cattleman's, though, Billy Crews limits the choices to a few cuts. Seafood, chicken, and pork chops are available, providing an adequate variety of fine dining choices.
The Monterey Chicken is one of the two available chicken entrées, consisting of a grilled chicken breast topped with a delicious white Mexican cheese. Although I would have preferred that it include green chile strips, it was just about perfect except for this one point. The chicken was of a quality that I have seldom if ever found in the El Paso area, or in just about any other city for that matter. Served on a bed of wild rice, the flavors blended perfectly, with the rice providing extra flavor and nutrition rather than being a "filler" as is frequently the case at other restaurants.
The House Salad was rather ordinary, but this in itself made it pretty special for the El Paso area, where many of the salads served are practically inedible. The Italian dressing was supposedly made from scratch, but I thought this was the weakest part of the salad. The greens were good, with a variety of light and dark green lettuce being stuffed inside a half lettuce head that served as the "bowl."
Although just about any type of wine is available, probably at just about any price, some fairly good Chilean wine is served by the glass as the "house wine."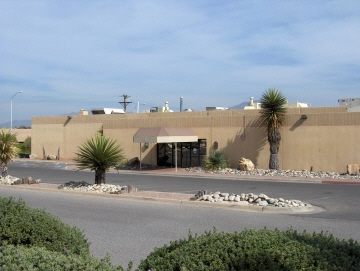 A view of the west entrance
The service at Billy Crews is of a quality that normally can only be found at a country club or the traditional steak houses in Chihuahua. Each waiter serves several tables, but each table is made to feel that they have the waiter at their disposal to provide anything they need. It is amazing to me that the prices are as reasonable as they are with the great food, service, and wine that are provided.
Many of the wine tasting events take place on the outdoor patio, but I enjoy the fact that the dining room is smoke free.
Billy Crews is located on Country Club Road close to the entrance to Santa Teresa Country Club. The road is an extension of Country Club Road in west El Paso.
RESTAURANT DETAILS
RATING: 25
Cuisine: Fine Dining/Steaks
Cost: $$$
Hours: Open Daily
Accessible: Yes
Smoking: Smoking in the bar only
Alcohol: Beer, Wine, Mixed Drinks
Most Recent Visit
Aug. 12, 2006
Number of Visits: 1
Best Item
Monterey Chicken
Special Ratings
Monterey Chicken:


House Salad:

MORE ABOUT THIS WEB SITE